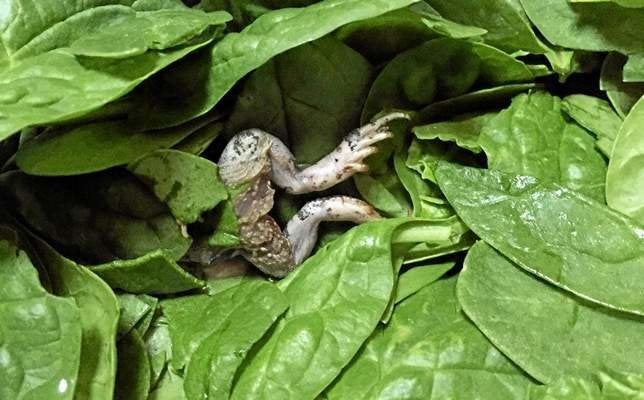 An unwelcome discovery in a package of spinach had a California woman feeling a little green last week. 
"I'm just really disgusted. I don't think I can ever eat a salad again," Souza told the newspaper. "How could they miss a dead frog?"
Quite easily, it turns out. 
The spinach was packaged by a company called Taylor Farms. Kari Valdes, the company's food safety and quality assurance director, wrote a letter to Souza explaining that a malfunctioning laser sorter was to blame for the presence of the large, whole frog.
"On the day this product was processed, this particular line had one laser that was not properly functioning," Valdes wrote in her letter, according to the Tribune. "It is possible that while the product passed the laser the frog was covered behind a piece of spinach not allowing sight of the laser to the frog."
In an email to The Huffington Post on Monday, Souza said she got a refund from Sam's Club, but said it'll be a long time before she's able to trust packaged greens again.
"The anger is gone now, but I am grossed out by the sight of salad products... I think [Taylor Farms] has a great system in place, but when one part is not working and there's no backup, I [can't] trust it as of now," Souza wrote. "I'll need to figure out another low-cal meal."  
Because the incident appears to be isolated, it's unlikely that a recall will be issued. But frogs have ended up in store-bought bags of spinach before. Consumerist urged people who find frogs and other surprises in their packaged food to report them, since it helps companies spot trends. 
"It says 'wash before use,' but you don't expect to see a live frog," she said in the video.
PHOTO GALLERY
Mealbreakers
REAL LIFE. REAL NEWS. REAL VOICES.
Help us tell more of the stories that matter from voices that too often remain unheard.