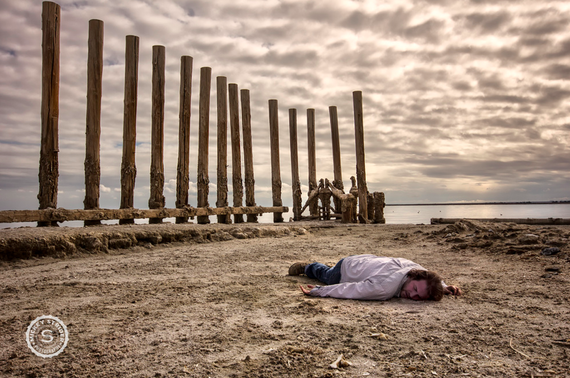 They are also compellingly beautiful, and impossible to turn away from. They challenge the viewer not just to look, but also to see.
They command you to explore the visual space Strider has created. They compel you to discover an explanation for the scene. At the same time, they repel you with their brazenness.
Strider has worked in advertising and film for years, working with big-time names, big-time clients, and big-time budgets. But regardless of how big anything is, he is continually and passionately drawn to the small lens world of still photography.
Strider's Dead Mickeys inspire repulsion and attraction all in one fell swoop. And the how and why of them is as intriguing as the photographs themselves.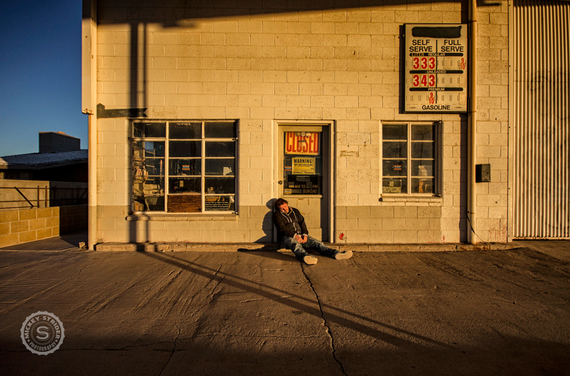 When did you start the Dead Mickeys?
I started shooting these in 2012. The first one was taken while I was exploring an abandoned apartment building in Borrego Springs, California. I was in unit No. 7, and as I explored and shot other photos, it felt like a crime scene to me. It seemed like a place that a body could be dumped and I wondered how long it would be before someone would stumble across it. So I set up my tripod and went about creating my own crime scene. My own death.
I guess I have always had a dark sense of humor, and at that initial moment I thought it would be amusing to stage my own death. It immediately brought to mind the movie Harold and Maude and the fake deaths/suicides that Harold stages. It also reminded me of a book published in the early '90s that I loved, a book by Luc Sante called Evidence. It was a collection of evidence and crime scene photographs taken by New York City Police between 1914 and 1918, and there were some gruesome photos. But I was fascinated by them.
I wasn't sure that I would share that first one; but it definitely intrigued me. I was happy with how it turned out, shared it, and began plotting my future deaths. As I shot more, I always had one rule, and still do, I wanted them to be good photographs, a photo that I would take and be proud of anyway, even without my "dead" body included.
So far, they have all been taken when I am out shooting alone. No one goes with me when I shoot the self-portraits. Sometimes it takes several shots to get something I am happy with and others are single takes. Some are planned and scouted and others happen organically while out shooting other subjects.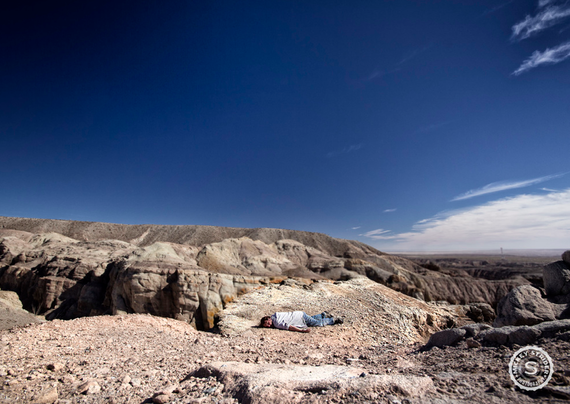 What have people's reactions been?
The reaction has been interesting. I'm not sure people knew what to make of them at first. I had one friend who really didn't like them to start with. I guess it was a little dark for her. She dreaded the thought of a new one being added to the series. When it was just one I could see how that might be morbid to some people, but as they continued, the response has been great.
The series has really taken on a life of its own, and people start to ask for another when I haven't shared one in awhile. I get a lot of disappointment when I share a nice landscape photograph without a "dead" Mickey included. There is always a lot of interaction when a new one is shared and people have even taken to requesting specific death scenes. I have even had people want to take them of me, which I have done, but they are not part of the self-portrait series.
As I get older, I am obviously confronted with my own mortality. Death is something that most people don't want to talk about. I think that's why some people didn't initially like the portraits. It's uncomfortable for some to face. These portraits have been a way for me to get more comfortable with the fact that my time here is limited. By picturing what my "end" may look like, I have come to terms with that fact and as I explore more it has helped me embrace that.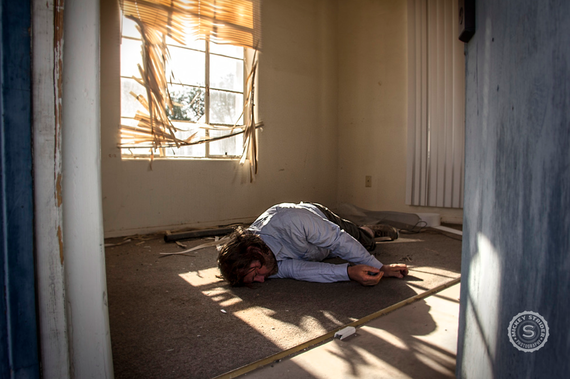 What's your favorite one so far?
I still love that first one in Unit 7 in Borrego Springs. But my favorite is the shot at the abandoned gas station in Westmoreland, California with the "OPEN 24 HOURS" still painted on the window. I love the mood and color of that one. It feels very much like an Edward Hopper painting to me. That was shot on a warm summer night in the desert last year, and there were these little black bugs crawling all over the ground that I had to contend with and ultimately lay in the middle of. However, it was definitely worth it.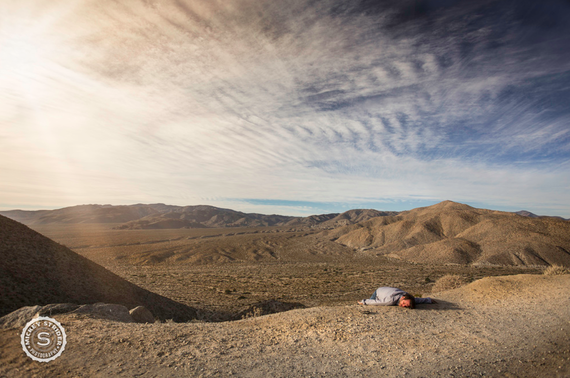 Does your interest in death reveal itself in other work as well?
I also create characters from actual dead fish from the Salton Sea that I have preserved through a process that I have researched and perfected. A bit of extreme taxidermy, if you will. In doing this I have actually given them immortality. My entire collection of fish were exhibited for a month last year in Encinitas at the Civic Center Gallery. There was even a local newspaper article on them.
Do you imagine yourself continuing create the Dead Mickeys for some time?
I already have a couple of new ideas in the planning stages that I am looking to shoot in the next month. This is a project that I don't think will ever be finished, except maybe with the actual final death shot. I think that, as morbid as that might be, would be a perfect ending to the project.
See the entire gallery of Dead Mickeys here.
REAL LIFE. REAL NEWS. REAL VOICES.
Help us tell more of the stories that matter from voices that too often remain unheard.