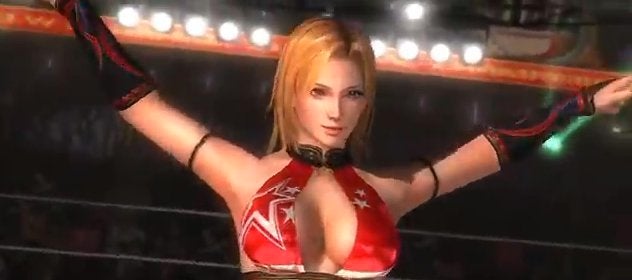 The results are in: Gamers want to see bigger breasts.
When Japanese video game developers at Team Ninja, maker of the "Dead or Alive" series, were designing "Dead or Alive 5" they asked for customer feedback. What did consumers say they wanted most? Bigger-breasted characters.
"We actually got a lot of feedback from people who were playing it, saying, 'We want bigger breasts. Make the characters more like that.' That was kind of surprising," director Yohei Shimbori told Gamasutra. "There's definitely still room for having sexualized aspects. If you have a solid fighting game system there, there's nothing wrong with having beautiful characters as a layer on top of that -- that's another layer of entertainment that there's a need for. If there wasn't a need for it, people wouldn't have responded to the alpha demo like they did, and send us feedback."
The "Dead or Alive" series is a collection of fighting games, and scantily clad characters have become synonymous with the franchise since the first game hit shelves in 1996. "Dead or Alive 5" boasts "trademark eye candy in abundance," with very "well-detailed" assets, according to a review written by the New York Daily News.
A "Dead or Alive 5" trailer from August featured bunny angels with ample assets duking it out in white bikinis, so fans knew what was coming.
Although many customers requested to see bigger breasts, not everyone was happy with Team Ninja's final product.
"Sexy characters are fine. What disturbs me is that for Team Ninja, sexy automatically (and exclusively) equals massive, unrealistically large breasts that move like caravans in a hurricane," writes Destructoid's Jim Sterling. He adds, "Ultimately, I don't find the Dead or Alive characters very sexy at all. They look like children (and some of them have been), with huge balloons made of skin stapled to their chests. They look like creepy sex dolls brought to life..."
With the representation of female characters in the Dead or Alive franchise, we've always wanted to make the girls look as attractive as possible, and that's something that's not going to change for us at all.

We are a Japanese developer, and we're making the female characters with our common sense and our creative sense. When you take that to countries outside of Japan, it tends to be very misinterpreted in some cases, people considering it sexist or derogatory etc.

For us, within our culture, we're showing women like that, and we're trying to make them look attractive. We can't help if other cultures in other countries around the globe think that it's a bad representation. Within our nationality and within our national borders, we obviously have morals that we create our female characters from, but within our Japanese sensibilities, we've made those characters the way they are and we're not going to stop doing that.

"Dead or Alive 5" was released on Sept. 25. It was voted the No. 3 "Sexiest Games Coming Over in 2012" by XBox 360 magazine. Check out IGNentertainment's review of the game below.