Originally published on Youthradio.org, the premier source for youth generated news throughout the globe.
In the aftermath of President Barack Obama's election and inauguration as America's 44th president, many once outspoken rap artists have forsaken the political approach to hip-hop. However for groups such as Dead Prez, the inauguration wasn't the end of politically conscious rap; it was the beginning of new challenges. I caught up with Dead Prez in Los Angeles, one of many stops on their current tour: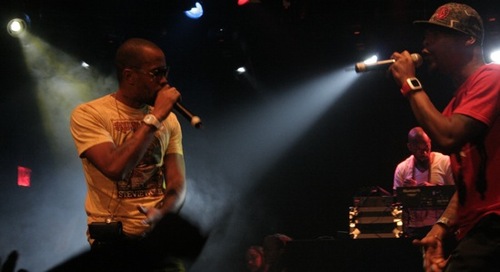 Things are changing rapidly. We've just seen the introduction of the new African president of world imperialism. This is something historic for this period in the world, in history, and times reflect that. Times reflect hardship. 40-50% joblessness.
I asked band member M-1 what he thought about the surge then slump in rappers being politically involved:
Hip-hop was seen as an asset, certainly to a campaign like Barack Obama who could use those kinds of influences to make hip-hop a tool for influencing the popular vote to his candidacy, and it worked... A lot of rappers went willingly, but a lot of rappers also used it as an opportunistic way to get another job, or have another way to keep their careers alive.
Music artists' keeping their careers alive is always a challenge. With so many rising and falling stars in the music industry what challenges does a group like Dead Prez face in keeping their style of hip hop amidst the mainstream blinging?
The thing is, it's not a style. What we're maintaining is integrity and we're maintaining principal, which is hard to do in a place where everybody is trading in principal for a brand new piece of the pie everyday.
So how does Dead Prez maintain the money and the message in hip-hop?
You see the whole thing is contingent upon the certain kind of support from our community. Because if people just suck the life blood out of the music that we make, not regarding its worth and don't give a penny, even if it's just a penny you know, don't download the [expletive] for free. And I'm not the anti-Napster dude, this is RBG, I don't give a [expletive] what you do with Coldplay, but whatever you do with Dead Prez is different because we're going to do something that's going to reflect our community, and the worldwide community, even if your rich.
With a world-renowned name, Dead Prez is able to spread a message that people seem to be relating to. So how are they being treated by fans on the rode?
I'm just coming back from Stravania, Copenhegan and Lund and Stockholm, much love out there. Just coming from Portland and Seattle. Just coming from Tri City, Tennessee, much love out there. We're now in LA in the Key Club. Every time we're here, there's a lot of love. I'm a world citizen. I know that there's people like me everywhere we are in the world.
However, for music artists who are politically and socially active, life is not all about the music says M-1.
Music ain't everything. You know what I mean? This is not everything. Life is what matters, life is what makes music important. There wouldn't even be importance in music if we were not out here making experiences and history and memories to live by, to place all this music to. That's what makes it so significant, so that we can have a place to live a place to cry and music is the perfect occasion for that.
So besides promoting your new album Information Age and rocking shows around the world, what other projects is Dead Prez involved in?
I'm flying to Dubai on the 5th [of March] to do a panel discussion about the siege that's happening in Gaza against Palestine. And from there I'm going to fly to Zanzibar, which is located in Tanzania and work on a film and studio recording project there with a whole bunch of artists from Dar-es-Salaam.
As far as the situation in Gaza, M-1 has an idea of why peace is a concept that is hard to put into practice there.
At the seat at every one of these motions that happen in the Middle East is the instability that's brought on by the oppression that's been in that region forever. Since 1948, there, the interjection of the same type of imperialism that shakes the world everywhere around in Africa, in the U.S. The reason I act the way I act is the same reason why the Palestinian people are being attacked. And I think there's one way out, there's one way towards peace and that's the same thing as Peter Tosh say, equal rights and justice.
After the interview Dead Prez took the stage and gave the crowd a great performance with songs from earlier albums, including their hit It's Bigger Than Hip Hop, as well as recent releases. Like Barack Obama, Dead Prez, or any other music group or artist for that matter, is not a savior of humanity. No, not at all. However, much like Obama, groups like Dead Prez can be personified figures of the hopes, dreams and lives of the people.
Youth Radio/Youth Media International (YMI) is a youth-driven converged media production company that delivers the best youth news, culture and undiscovered talent to a cross section of audiences. To read more youth news from around the globe and explore high quality audio and video features, visit Youthradio.org
Popular in the Community