The puffins were not supposed to be there. Though the birds are a common sight on the Alaskan island of St. Paul, they typically fly the coop before October, heading south to overwinter.
But a few bedraggled birds had been discovered on the wind-swept, rocky shoreline of the North Pacific island during the first week of October. "It was odd because we don't usually see them here this time of year," said Aaron Lestenkof, who monitors the local environment as one of St. Paul's island sentinels.
Stranger still, the puffins didn't startle and move away when people approached them. Some fell over onto their bellies, too weak to waddle.
Local conservationists began investigating the cause of the orange-beaked birds' incapacity. Then their probe took a grim turn.
"By mid-October the dead ones started showing up," Lestenkof told The Huffington Post over email last week.
"The first week collecting birds, I went out every day and was picking up a carcass every 15 feet in some areas."
Lestenkof had collected dozens of dead puffins within days, the lifelong resident of the island said.
"In past years, we would find about two or three dead puffins in a season, which was fairly common," said Paul Melovidov, another sentinel who has spent weeks combing beaches for puffin carcasses and photographing the finds. "When you have 40 to 50 dead and fully intact puffins arrive on your shore within a week, it's cause for alarm."
At least 250 dead puffins have since been found on St. Paul, according to reports.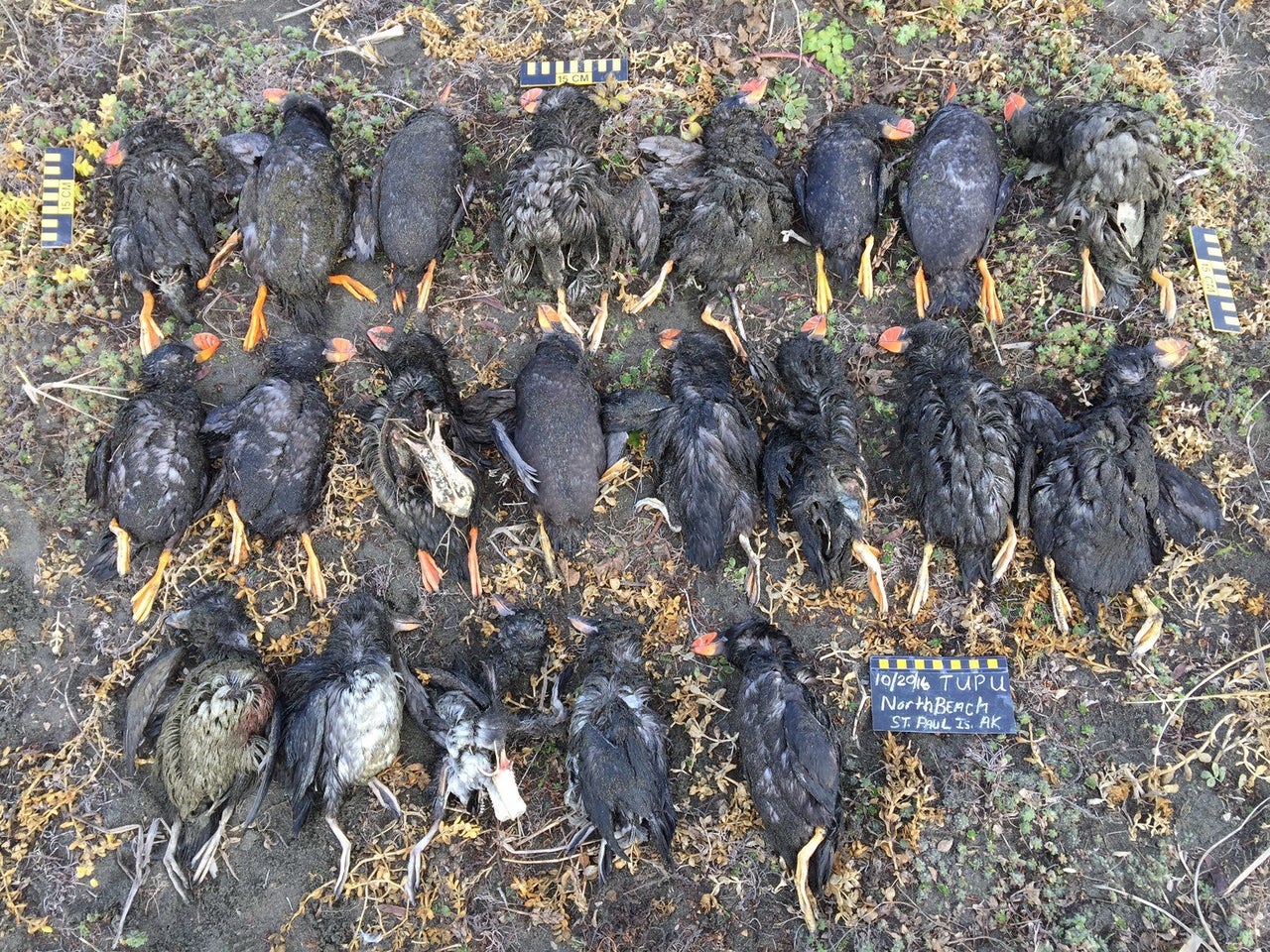 Bering Sea 'Off-The-Charts Warm'
Scientists fear thousands more may have died in the surrounding areas, ravaging local populations of the bird. And they worry that the mass deaths could signal an impending collapse of ecosystems in the vast Bering Sea, whose turquoise waters lap St. Paul's shores.
It's home to whales, walrus, orca, fur seals and many species of seabird. It also supports some of America's most productive fisheries, including a $1 billion-a-year pollock fishing industry. The sea, which touches Russia on one side and Alaska on the other, is said to provide more seafood than any other in North America.
Experts are still trying to determine the cause of the puffin deaths and what it all could mean, but some are blaming climate change. It already appears to be transforming the Bering Sea, and devastating the ecosystems and communities that depend on it.
"The Bering Sea has been off-the-charts warm," Nate Mantua, an ecologist at the National Oceanic and Atmospheric Administration's Southwest Fisheries Science Center, told National Geographic. "We've never seen anything like this. We're in uncharted territory. We're in the midst of an extraordinary time."
The maximum summer temperatures this year in the Bering Sea were the warmest ever recorded. Janet Duffy-Anderson of NOAA's Alaska Fisheries Science Center told HuffPost that 2016 was the "the third warm year in a row for the Bering."
And there's no respite in sight. "2017 is also forecasted to be very warm," Duffy-Anderson added.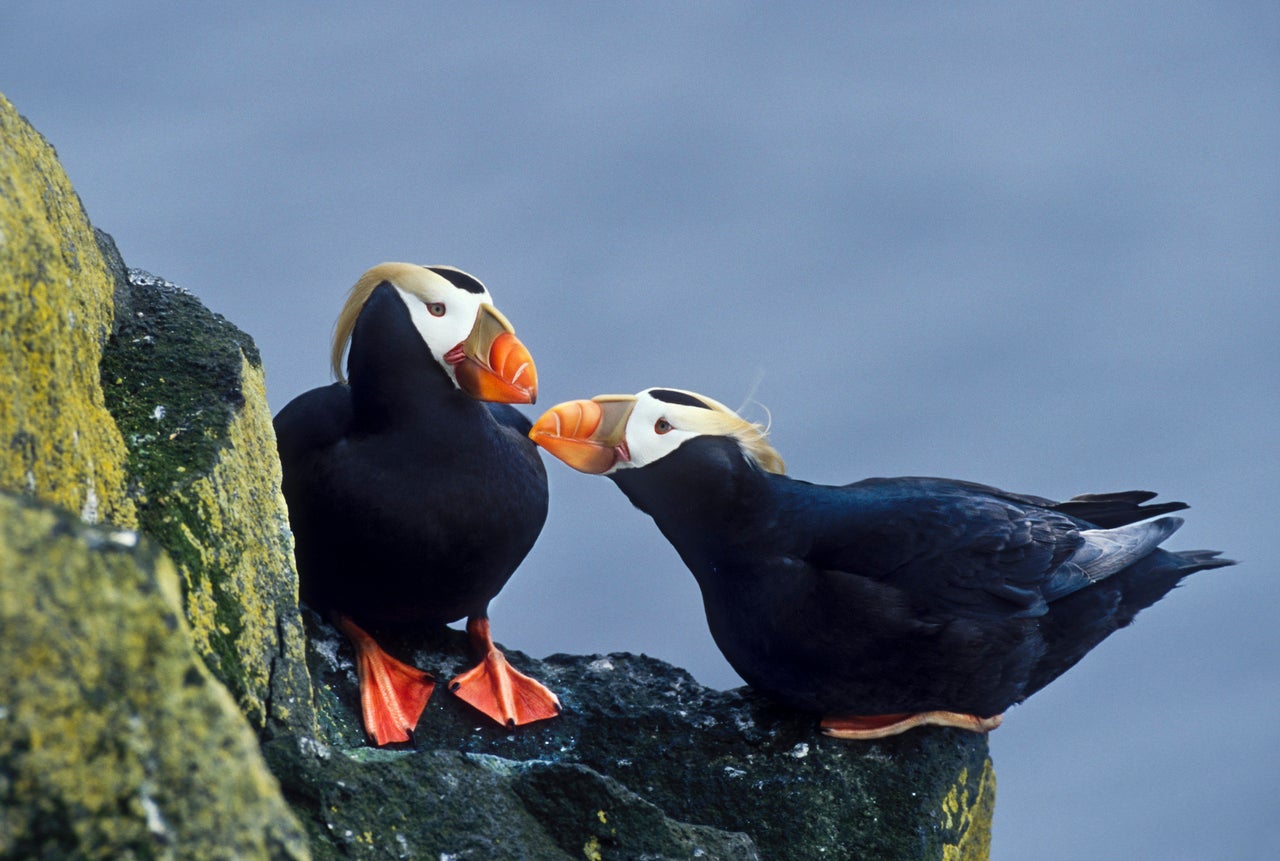 As oceans heat up, puffins have been dropping dead in droves across the globe. This year — on track to be the hottest on record — the Atlantic puffin population in the Gulf of Maine suffered its worst reproductive season ever. In 2013, The Associated Press described dozens of emaciated puffin carcasses washing up in the Gulf. Chick survival rates were plummeting and adults were starving to death, the report said.
"Clearly something very weird is going on," Julia Parrish, an ecologist at the University of Washington, told National Geographic. "It's basically every year now we're getting some huge mass-mortality event."
And it's not just puffins. Seabirds as a group appear to be especially vulnerable to changes in climate. "It's our marine canary in a coal mine, if you will," Rebecca Holberton, a University of Maine professor, told the AP in 2013.
Exactly how warming impacts these birds is not yet fully understood, but several factors appear to be at play. Climate-driven changes in wind could be impacting migration; many seabird species are vulnerable to temperature changes. In some cases, like with the puffins in the Gulf of Maine, extreme ocean conditions have washed away burrows of fledglings or destroyed habitats completely. But there's one factor in particular that seems to be having the greatest impact: A lack of food.
Warming reduces the amount of basic food produced in oceans. Higher temperatures tend to result in fewer, smaller and less fatty zooplankton, the tiny organisms that many fish rely on for survival, according to Parrish. That, in turn, leads to less prey for seabirds.
"In the past three years, there have been massive die-offs of several different kinds of seabirds along the West Coast of the U.S. and in Alaska," Parrish, who coordinates COASTT, a West Coast volunteer bird-monitoring network, told HuffPost. "The die-offs have spanned from San Francisco now up into the Bering Sea. And they have collectively killed perhaps a million birds."
These mass deaths indicate "major shifts in the marine ecosystem" in the entire North Pacific, she said. "I am quite concerned that the ecosystem shifts associated with ocean warming are profound, lasting and very negative at least for some species."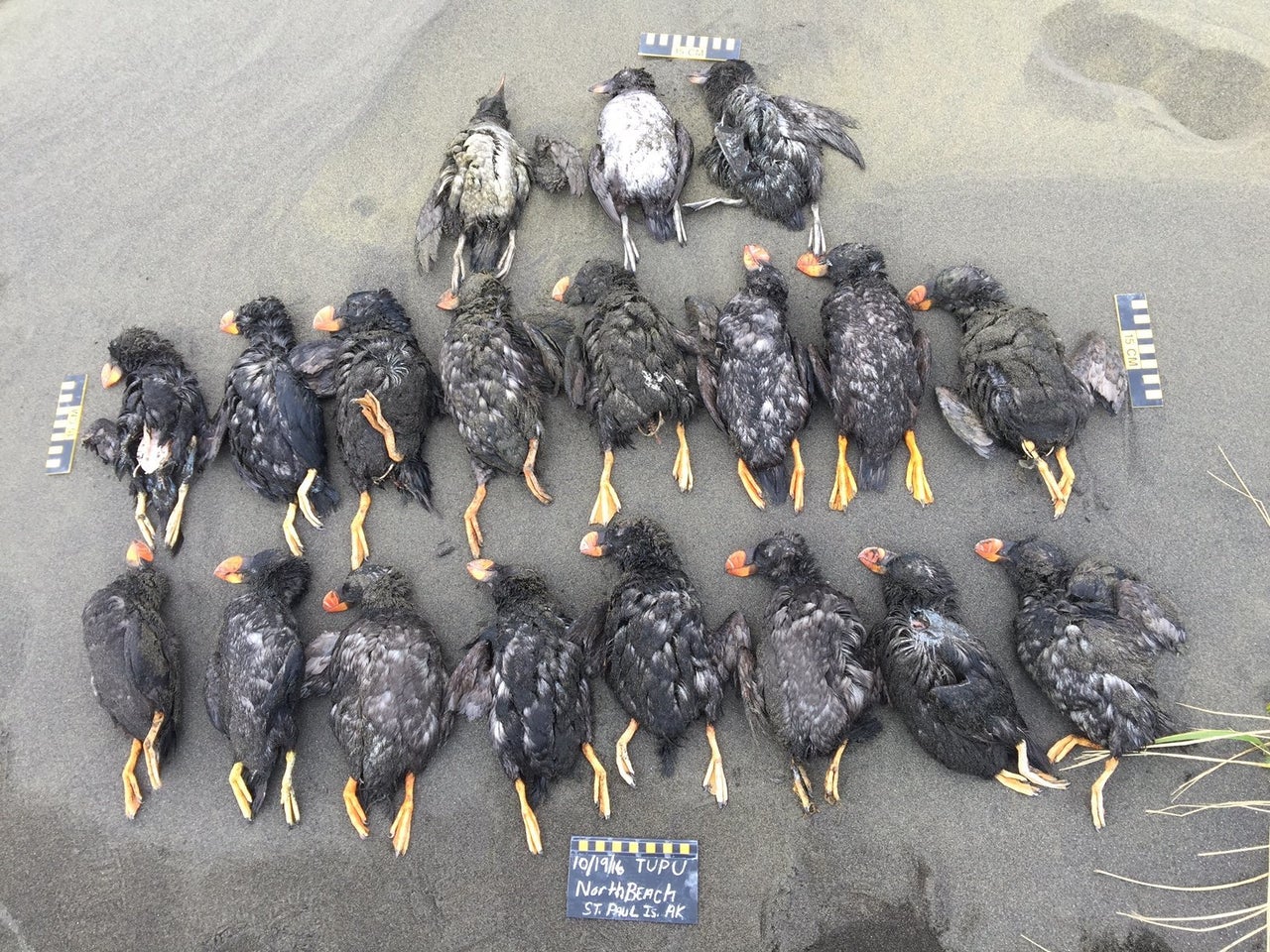 Starvation Strikes Population
Like the puffins in the Gulf of Maine, starvation appears to have killed St. Paul's puffins, too.
"All of the birds were severely emaciated," said Lauren Divine, co-director of the ecosystem conservation office for the Aleut Community of St. Paul Island. "They all overwhelmingly had severe atrophy in their muscle tissues, empty stomachs, and gastrointestinal bleeding indicative of late stage starvation."
The puffin population in the Bering Sea is estimated to number around 6,000. Up to half may have been impacted by the recent die-off, scientists say.
But despite evidence pointing to climate change as a culprit for the mass deaths, many still hesitate to draw definitive conclusions.
"Certainly the warming trends that we are seeing are unprecedented," said Duffy-Anderson. "[But] climate change is hard to pin down."
Locals, however, have been far more unequivocal. Climate change has been transforming the environment of St. Paul, they say. The puffins are just the latest example in a steady decline.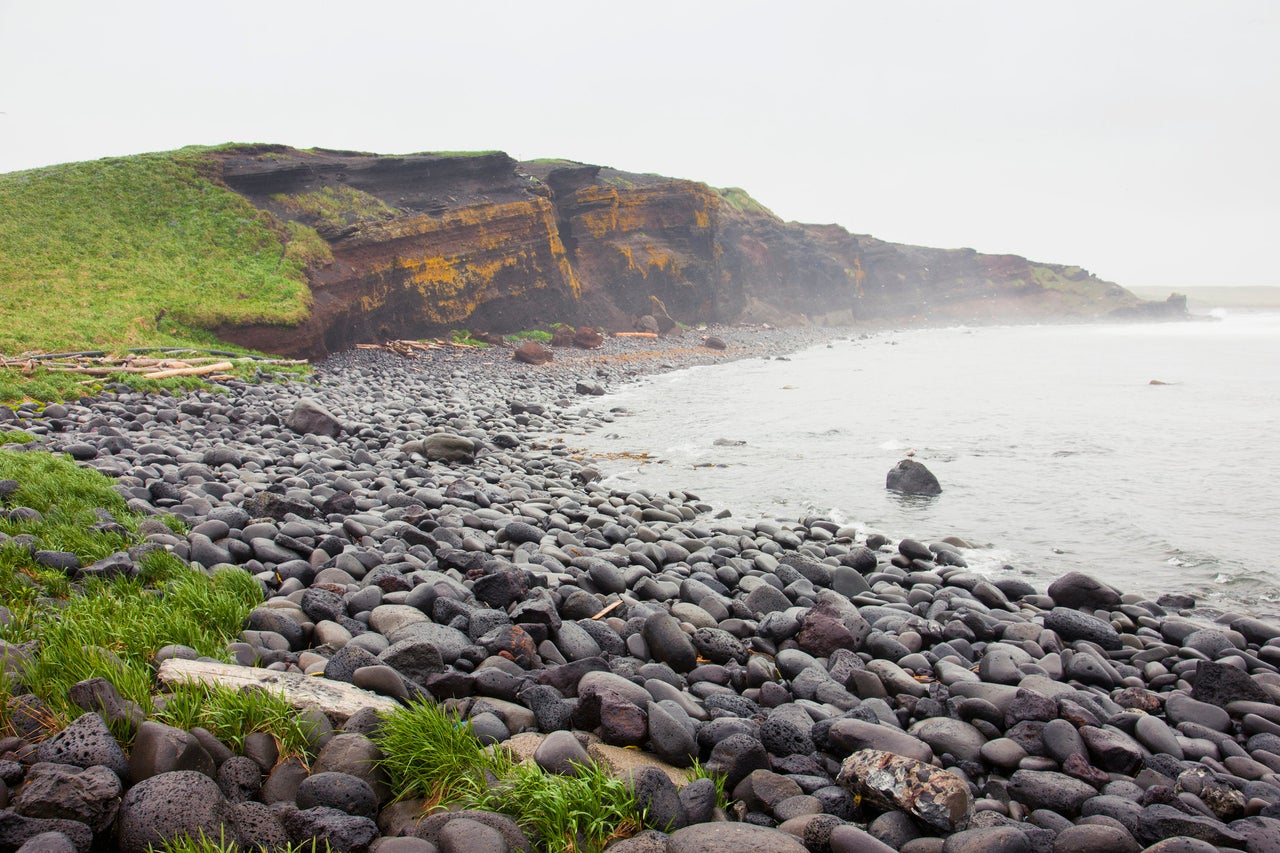 Biodiversity Threat
St. Paul is the biggest of Alaska's four Pribilof islands. It has a land area of 40 square miles and is home to the largest Aleut community in the United States.
A mix of rocky plateaus and valleys, sandy beaches and towering bluffs, the island boasts incredible biodiversity. Half the world's northern fur seals breed there, as do hundreds of thousands of seabirds. A reindeer herd numbering 400 also call St. Paul home, as do Stellar sea lions, harbor seals and arctic foxes.
"Locals are immersed in their marine and terrestrial environment out there — beach combing, four wheeling, hunting, fishing, and hiking," Divine said.
"We get a lot of misplaced migratory birds and it's funny, locals can be out on a walk and hear a bird and know it's something unusual before ever seeing it. People just know their environment."
And they've noticed that something's seriously amiss.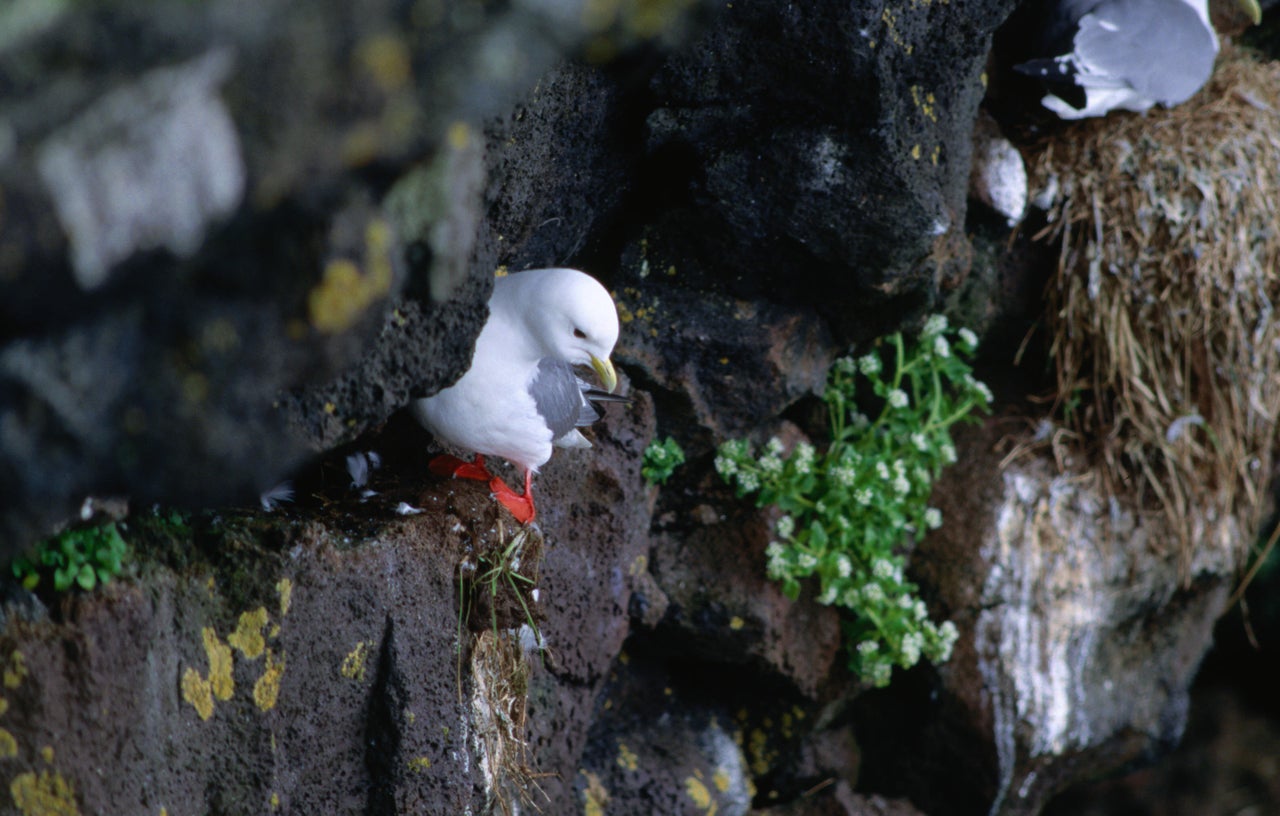 Sea Lion Numbers 'All Over The Place'
"There is no question in my mind that the puffin die-off is linked to other ecological changes we have seen," Divine said.
"Paul [Melovidov] told me that local hunters are seeing less Steller sea lions this year. Just the other day, he and his nephew went to the north end of the island to subsistence hunt Steller sea lion. They only saw four in the two hours they were there.
"Typically, they would've seen 15 to 20 sea lions in that amount of time at this time of year."
Melovidov said sea lion numbers have been "all over the place" in recent years. "Nothing is consistent anymore," he said.
And that unpredictability has been seen islandwide.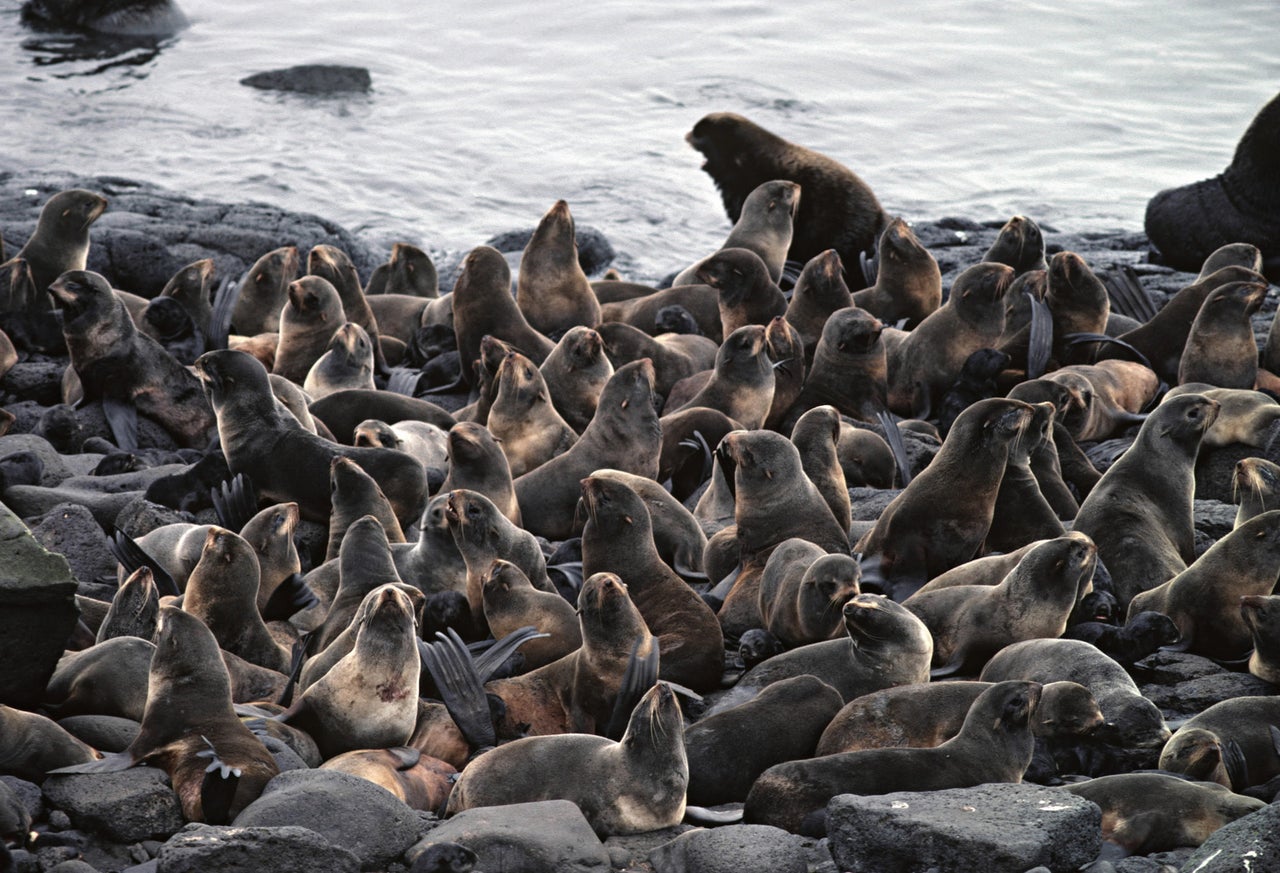 Consistent Marine Mammal Decline
"Just this season, we have had red king crab and snow crab slashed for commercial quotas," Divine said.
"Tanner crab is closed down south, we saw next to nil in productivity of our seabirds on the cliffs this year, and we had a terribly warm summer. Our flowers were blooming too early, we had more bugs than we should have."
When asked what these changes could mean, Melovidov replied, "Climate change."
"Weather patterns have changed, temperatures in the summer are now 1 to 2 degrees higher, while winters have been pretty mild since 2013," he said.
"[We're seeing] a serious consistent decline on our marine mammals, birds and fishing industry. Severe storms have created erosion at different parts of the island."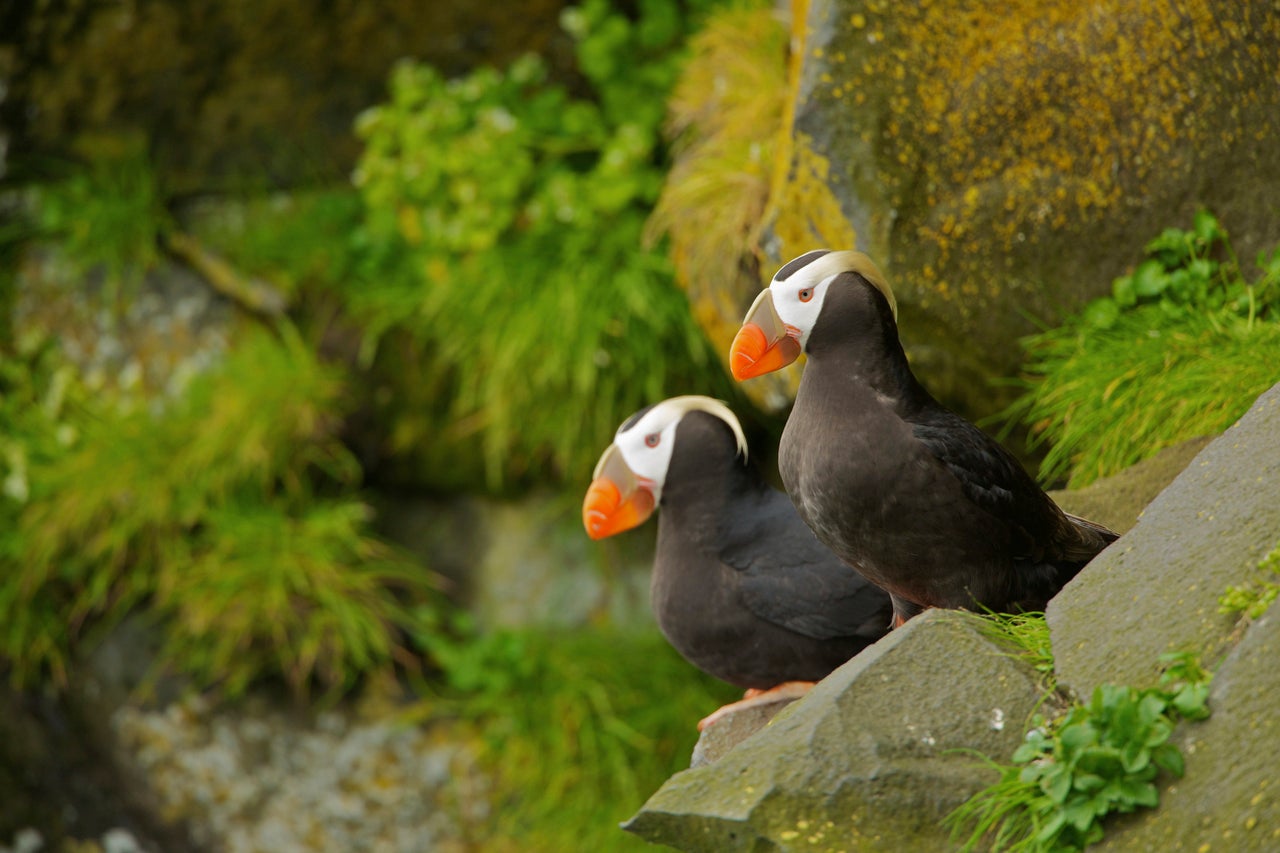 A Far-Reaching Threat
Continued warming of the Northern Pacific could spell trouble not only for local communities, but also for the U.S. seafood industry as a whole.
So far, there's no evidence that the fisheries are under threat, but given the vastness and remoteness of the area, it's hard to say for sure.
"The Bering Sea in the winter is a wild, dark, cold dangerous place," Parrish said. "A lot could be happening, and we would never know."
Duffy-Anderson said NOAA scientists planned to spend more time assessing the area. "We're going to go back out and do some more surveying, because we're pretty worried," she told Nat Geo.
But for islanders on St. Paul, the time for assessment is long past.
"We don't need more answers to our questions. We don't need to dissect every little thing about the ecosystem to know that things are very, very wrong," Divine said. "If we wait to answer any more questions, it's going to be too late. That's just how it is with the rate of change occurring."
Across the state, Native American tribes and other Alaskans are struggling to sustain their ways of life, she said.
"We have overfishing issues, changing distributions, unusual mortality events, contamination, dwindling resources and access to those resources; people in policy and power don't get that," she said. "It's time for action now so that these ecosystems have a fighting chance to recover. The health of Alaska native communities depends on it."
Support HuffPost
The Stakes Have Never Been Higher
Before You Go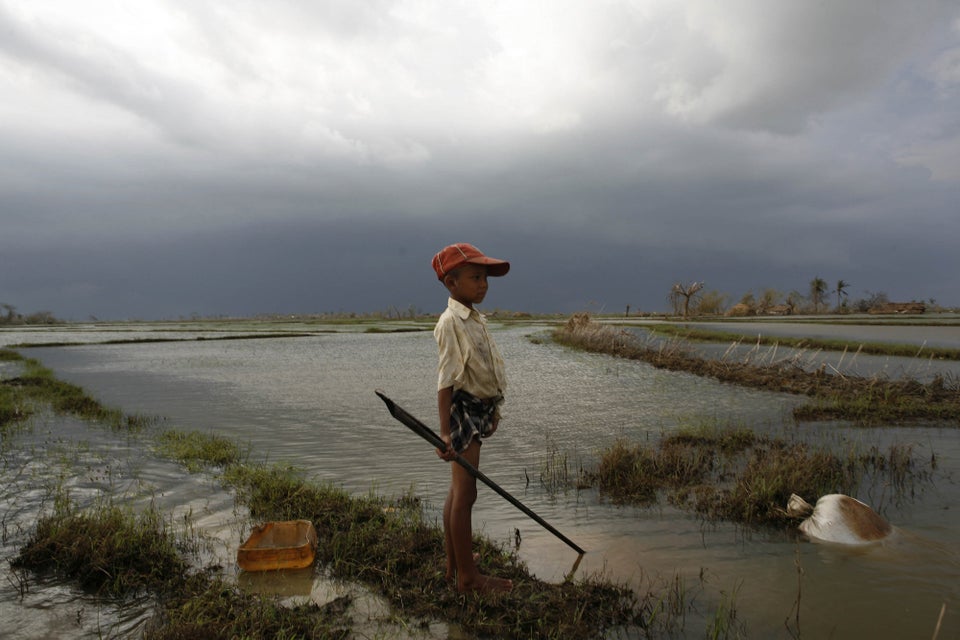 Climate change seen from around the world
Popular in the Community