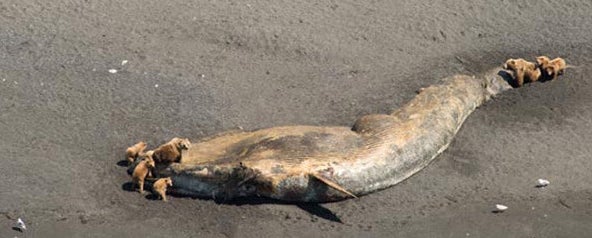 Since May, 30 whales have been found dead along the coast, causing the National Oceanic & Atmospheric Administration to declare and "unusual mortality event" on Thursday.
So far, the toll includes 11 fin whales, 14 humpback whales, one gray whale, and four unidentified cetaceans, according to the agency.
That compares to just five dead whales in all of last year.
"NOAA Fisheries scientists and partners are very concerned about the large number of whales stranding in the western Gulf of Alaska in recent months," Dr. Teri Rowles, NOAA Fisheries' marine mammal health and stranding response coordinator, said in a news release.
"While we do not yet know the cause of these strandings, our investigations will give us important information on the health of whales and the ecosystems where they live. Members of the public can greatly assist the investigation by immediately reporting any sightings of dead whales or distressed live animals they discover.
So far, scientists have been able to reach just one of the 30 whale carcasses.
The broadcaster said an additional six dead whales have turned up along the coast of British Columbia, and Canadian authorities are working closely with NOAA.
One theory is that a toxic algae bloom, created by warmer-than-usual waters off the West Coast, could be playing a role.
So far, one sample tested negative for a type of toxin produced by algae, but the carcass was so decomposed that it may not be reliable, the Dispatch News reported.
The agency also said in an online FAQ that it's "highly unlikely" that radiation from Fukushima is playing a role, but that further testing is under way.
It's the first unusual mortality event for whales ever in Alaska, and just the third of any kind in the state. The agency had previously declared such events for pinnipeds in 2011 and sea otters in 2006.
NOAA asks that anyone who spots a dead whale or a living distressed whale call the Alaska Marine Mammal Stranding Hotline at 877-925-7773, or contact the U.S. Coast Guard on VHF Channel 16.
The agency is also asking that the public not approach or touch the whale.
Related
Popular in the Community