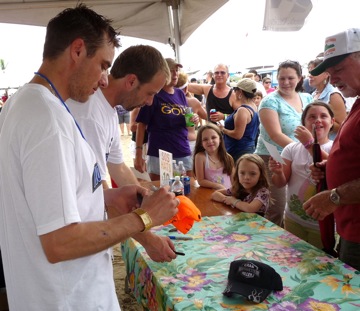 Island Aid was one of those festivals that seemed to come with a live soundtrack to suit whatever was going on. The Deadliest Catch crew members in from Alaska were signing autographs as the Little River Band played "Hang On Help is On Its Way." The festival was organized when the nation's longest running Tarpon Fishing Rodeo was canceled after the oil spill shut down fishing. Organizers who pulled the event off in less than two months held their ground as Tropical Storm Bonnie approached. Full gallery HERE on New Orleans.com.
Speaking of nerves of steel, Discovery's Deadliest Catch Edgar Hansen, co-owner of The Northwestern, and crewmember Jake Anderson signed tee shirts and autographs for hours in a sweltering heat unlike anything they've experienced in Alaska. Both paused a very busy season to support Grand Isle's fishermen through the United Way. "I have to thank Discovery for the PR, I've triple booked myself. With crabbing itself, you get a sense of being around such hard working men. I'm thinking about what it's like for everybody who's done this every year and can't right now. We're glad to come down just to do this in support of them."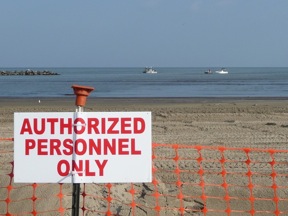 Edgar said that as far as the show's popularity, "I always knew it was something people are interested in. We'd be sitting in a bar talking to somebody and the conversation would always go to what we do as a profession. They'd ask, 'You work for three straight days?'" So he knows how important moral and financial support for Gulf fishermen is right now. What does he tell people concerned about the safety of gulf seafood? "We fish for a living, and if we're willing to eat this, that says a lot."
The two joined United Way to present $20,000 to Island Aid onstage, telling the crowd that Valdez salmon is some of the most popular in America, "So there is hope. All the fishermen and people across America stand behind you guys. You guys are really tough." Edgar added, "You guys are probably in a little bit of a downer mood because of this whole fucking oil spill. Are we allowed to swear?" Then lightened the mood with his joke, "How do you catch a polar bear? You cut a hole in the ice, line the hole with peas, when he comes up to eat the peas you kick him in the ice hole. That's a kid friendly joke." To great applause.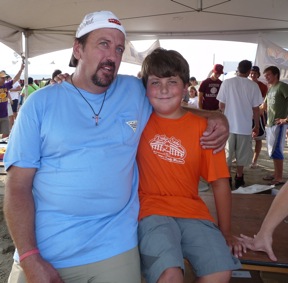 "IT"S THE GODDAMN FISHERMEN," a woman shouted behind us. The Deadliest Catch superfans are legion. The festival was yesterday and for all I know, the crew from the Northwestern are still signing autographs. Island Aid had half the attendance of the annual Tarpon Rodeo but it looked as if all 10,000 were getting photographed with the crew.
Terry Westerfield from the United Way said the two were treated to a crab boil and couldn't believe the difference in size between Alaskan King Crabs and Louisiana crabs. She shared a story of a family in St. Bernard who have been rebuilding their lives since Katrina. The husband just started his own crabbing business, on hold after the oil spill. Stories like his are growing more common as the BP Oil Spill approaches the 100 day mark this week.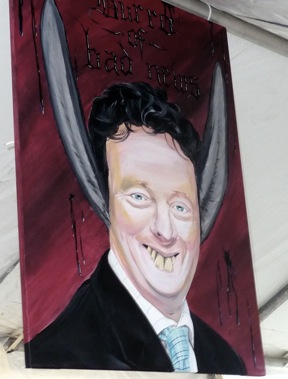 I spoke with Jason Adams, a third generation fisherman concerned that his son will never know the same kind of life. "I'm glad I've been taking him out fishing since he was 8 months old." Eight year old Jason said that the kind of fishing he liked best is shallow water, especially fishing for crabs. Then the Little River Band played, "I was born in the shallow water and it's there that I feel my best" as part of the Day That Had a Soundtrack. We looked out at the water, fenced off from festival goers doing their best to forget their troubles for a day.
Cajun force of nature Doug Kershaw played his classics including "Louisiana Man" to a dancing audience, then brought Drew Landry up to sing his "BP Blues." Kershaw told the crowd the song "made my hair curl." Art up for auction also expressed BP blues, particularly artist Bobby Pitre's renditions of Tony Hayward who is now famous in a way he could never have expected.
The day started with a man in the back of the parking lot shuttle shouting, "Who's ready to have a good time?" Everyone cheered. Even if just for a day, this was the soundtrack Grand Isle needed.
Calling all HuffPost superfans!
Sign up for membership to become a founding member and help shape HuffPost's next chapter