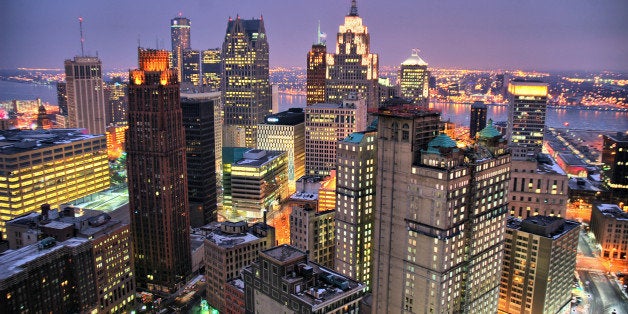 Aug 19 (Reuters) - Detroit's public-employee pension funds, bondholders, bond insurers, vendors, retirees and legions of others expected to oppose the city's bankruptcy filing have until the end of the day on Monday to file objections in U.S. Bankruptcy Court.
So far, only a few former city workers have filed objections with the court in Detroit ahead of the deadline of 11:59 p.m. Eastern Time set by Judge Steven Rhodes, who oversees the case.
For Detroit's Chapter 9 municipal bankruptcy to proceed, Rhodes must first find that the city has proven it is insolvent and negotiated in good faith with its creditors, or that there were too many creditors to make negotiations feasible.
In a court filing earlier this month, Detroit released a list of creditors, including current, former and retired workers, that filled 3,504 pages. Another filing by Kevyn Orr, Detroit's state-appointed emergency manager, said that "further negotiations with all of the city's various stakeholders is impracticable."
Orr's filing included a litany of Detroit's financial woes, including more than $18 billion in debt and other obligations with nearly $12 billion of that amount considered unsecured.
Detroit, a former manufacturing powerhouse and cradle of the U.S. automotive industry and Motown music, has struggled for decades as companies moved or closed, crime surged and its population fell from a peak of 1.8 million in the 1950s to around 700,000 currently. The city's revenue fell short of spending, while its budgets and borrowing ballooned.
Rhodes has scheduled Oct. 23 for the start of a hearing to determine if Detroit is eligible to file for bankruptcy under Chapter 9. If Detroit is deemed eligible for municipal bankruptcy, it would be the biggest such case in U.S. history.
Detroit's largest unsecured creditors are its two pension funds, which have claims totaling $3.74 billion in estimated unfunded liabilities, according to a court filing by the city.
The remainder of the city's top 20 creditors include bondholders of $1.47 billion of certificates of participation (COPs) that Detroit sold for its pension funds and hundreds of million dollars of general obligation bonds.
Detroit's retirement systems for municipal, police and fire workers last week said they plan to file objections to the bankruptcy on Monday. The pension systems said they plan to cite a prohibition in the Michigan Constitution against impairing vested retirement benefits for public workers.
The constitutional arguments that the pension funds are preparing appear similar to those made in lawsuits filed in state court aimed at derailing the bankruptcy. In a hearing on July 24, Rhodes suspended those lawsuits and required all bankruptcy-related litigation to be heard in his court.
Bond insurers, who guarantee payment of much of the city's debt, as well as bondholders that include mutual funds are likely to argue that Detroit's voter-approved unlimited-tax general obligation bonds also have constitutional and statutory protections in Michigan.
While Orr has expressed a desire for the city to emerge from bankruptcy by September 2014, a lengthy eligibility fight could extend the time frame.
REAL LIFE. REAL NEWS. REAL VOICES.
Help us tell more of the stories that matter from voices that too often remain unheard.
BEFORE YOU GO
PHOTO GALLERY
Detroiters Share Their Photos Of The City