For over four years, Greece has implemented strict austerity measures as a condition of the major bailout deals keeping the country afloat.
The Greek government is currently locked in a showdown with its international creditors about how much further they will have to tighten budgets in order to receive a next tranche of loans. The austerity program is highly unpopular in Greece, and the ruling Syriza party won elections in January after promising to scale it back.
Despite a raft of austerity measures since 2010, Greece's economy has not lifted out of the recession sparked by the 2008 economic crisis. Greece instead is feeling the dual pain of reduced social services amid a crashing economy. One area with particularly tragic outcomes is the flailing medical system, with disastrous repercussions for public health in Greece.
This is what has happened to the health sector in Greece during the austerity era:
Healthcare budgets are shrinking
Government spending on public health care has dropped from 6.8 percent of GDP in 2010 to around 5 percent this year. It is the lowest ratio in the European Union, outside of the eastern European countries that joined the union since 2004.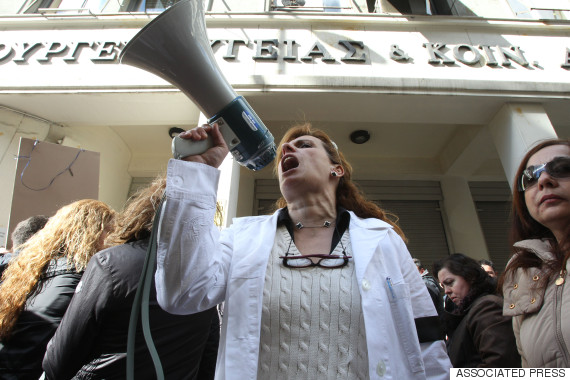 A nurse at a psychiatric hospital at a protest outside the Health Ministry in Athens on Feb. 11, 2013. (AP Photo/Thanassis Stavrakis)
The brunt of Greek spending cuts have been felt in public hospitals, where budgets have been cut in half since the beginning of the year. Doctors have lost their jobs, had salaries slashed and resorted to recycling medical supplies.
The government hasn't paid its medical bills
Among Greece's many debts is one to pharmaceutical companies it relies on to import drugs and medical supplies. Greece owes international drug companies 1.1 billion euros ($1.2 billion), according to the European Federation of Pharmaceutical Industries and Associations.
Even if the drug companies don't turn off the tap, medicine could become prohibitively expensive if Greece leaves the euro, The Telegraph explains. Because Greece imports most of its drugs from international currencies, if Greece reverts to its old drachma currency, the price differential would send costs soaring.
In fact, it's borrowing funds from the health care system
Earlier this year, the Greek government asked the state health care service to hand over some of its cash reserves as part of a wider effort to tap into public funds amid looming public debts.
More are uninsured
Meanwhile, the government hospitals are flooded with extra patients who lost their health insurance when they lost their jobs. A quarter of Greeks are unemployed, the highest rate in the European Union. Greece's government said earlier this year that around 2.5 million Greeks now don't have health insurance.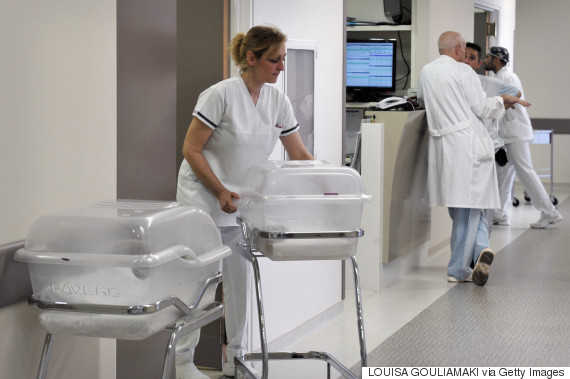 A nurse arranges newborn's cots at a maternity hospital in Athens on April 12, 2013. (Louisa Gouliamaki/AFP/Getty Images)
Crucial services have been cut
Greece cut down its cancer screening program in August 2014, limiting funds and the number of uterus, breast and prostate exams each doctor can perform. Greece was already behind in meeting European cancer screening targets, and concerned medical researchers have warned the cuts would likely increase cancer rates in Greece.
HIV and tuberculosis have surged
New HIV infections have exploded in Greece, as heroin use is on the rise, and needle exchanges and condom distribution have been cut back. The number of new HIV infections among injecting drug users grew from 15 in 2009 to 484 in 2012, according to medical journal the Lancet. Cases of tuberculosis among the same group doubled between 2012 and 2013, the journal said.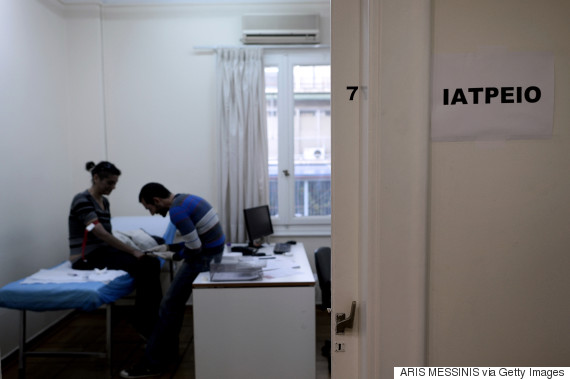 A drug addict gives a blood sample on Nov. 25, 2013, in Athens. (Aris Messinis/AFP/Getty Images)
Malaria is back after 40 years
The last time Greece had a malaria problem, the country was ruled by a military junta -- four decades ago. In 2010, the disease returned, and several dozen cases have been reported since. A key cause, The Atlantic reports, is that municipal governments couldn't afford to spray the pesticides that stop the spread of mosquitoes.
The cost of despair
In Greece, in a pattern seen in similar situations around the world, suicide rates have risen since the beginning of the economic recession and unemployment crisis, especially among men. While some experts caution against directly linking suicide rates to austerity policies rather than the economic downturn more generally, there is a mental health crisis in Greece. Rates of major depression have more than doubled between 2008 and 2011. Among the many cutbacks was a 55 percent drop in mental health funding between 2011 and 2012.
Calling all HuffPost superfans!
Sign up for membership to become a founding member and help shape HuffPost's next chapter