At least 33 deaths across Quebec are being blamed on an extreme heat wave that has gripped central and eastern Canada since Friday. Health officials announced the latest figure at a press conference Thursday morning.
In Montreal, Quebec's largest city, 18 people have died, mostly men aged 53-85, Canada's Global News reported.
Five more deaths were previously confirmed in Eastern Townships, two in Montérégie, one in Laval and one in Mauricie, the CBC reported Thursday.
Temperatures on Thursday are expected to hit 93 degrees in Montreal, though it could feel more like 104 to 113 degrees in parts of southern Quebec because of the heat index, which measures what temperatures feel like, according to government advisories.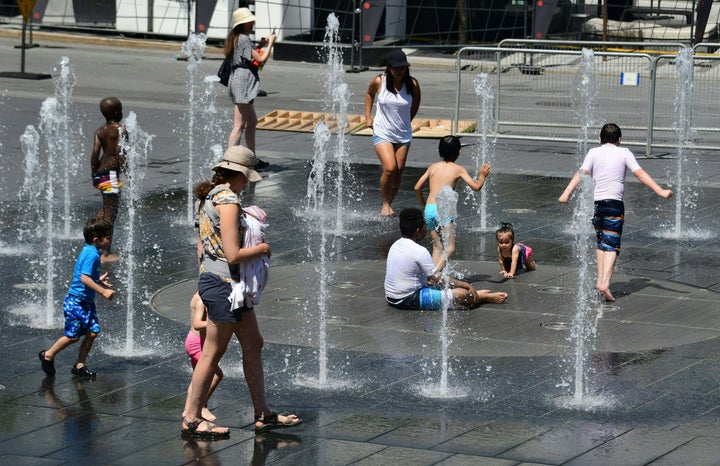 "This has been the hottest stretch of weather in more than a decade and record-high temperatures have been shattered, especially in Montreal where record-high temperatures dating back to 1963 were broken on July 1 and 2," he reported.
Heat warnings will remain in effect for metropolitan Montreal through Thursday night, when a cold front is expected to pass into the region. In the meantime, city officials are instructing people to drink plenty of water, limit physical activities and spend time in an air-conditioned or cool place.
David Kaiser of Montreal's public health department said it's important for people to seek adequate shelter during the intense heat, especially those with health issues.
"What we know about why heat kills people is that people with underlying medical problems are more vulnerable to accumulating heat," Kaiser told the CBC. "So, after a couple days of being hot and living in a place with no air conditioning, the heat just overwhelms the body's capacity to adapt."
Canadian Prime Minister Justin Trudeau issued a statement Wednesday expressing his condolences to those whose loved ones have died from the heat.
"The record temperatures are expected to continue in central & eastern Canada, so make sure you know how to protect yourself & your family," he tweeted, linking to information on how to stay safe.
REAL LIFE. REAL NEWS. REAL VOICES.
Help us tell more of the stories that matter from voices that too often remain unheard.