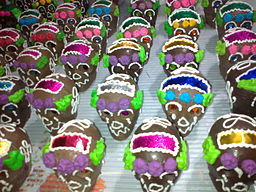 Death and chocolate share a long history. In Latin American countries and cultures, Day of the Dead rituals will feature chocolate balls and beverages at graves and at family altars. Families will feast on chocolate and food as they honor the dead. As a local individual comments, "In this festival, chocolate is the main drink, for the living and for the dead ... When I die maybe the living will put out chocolate for me, because I liked it." Attention will rest on the deceased children on the night of October 31, Dia de los Angelitos (Day of the Little Angels). Adults who have died will be honored with similar chocolate offerings on November 1 or Todos Santos (All Saints' Day). At the customary cemetery evening-watch, families will drink hot chocolate. The pastel painted graves at the cemetery in Chichicastenango, Guatemala, bear chocolate, candles, herbs and sugar laid out in circles. Anthropologists even witnessed chocolate poured into the graves of the dead in the 1930s.
These Day of the Dead customs relate to All Soul's Day when offerings to the dead in New Spain included cacao. One of twelve Franciscan friars baptizing thousands of Indians daily, Friar Toribio de Benavente, (d. 1569) who was also known as Motolinia (the humble one), reported that, in almost all the Indian towns of the 16th century, mourners served chocolate to their dead kin.
Earlier Mayan culture adored chocolate's role in escorting people through the most frightful of all journeys, death. Chocolate's connection to death profoundly reflected the pre-Hispanic perception of it as a precious life force full of sacred energy. Chocolate fed the dead, accompanied the soul's travels and promised the possibility of rebirth. It anointed the transition from one world to the next, blurring between life and death while also easing the sadness of mourners. Mayan funerary implements for food and drink, particularly for chocolate and maize, supplied and decorated the graves. Cacao beans marked the portals to the Underworld. Offerings of chocolate-filled gourds emerging from the underground are depicted at the Temple of the Owls in Yucatan. A supernatural howler monkey holding a cacao pod marched alongside the death god. An incised vessel portrayed a dead man being reborn as a cacao tree, sprouting from his earthly grave.
If you are not able to get to Central or South America for a chocolate-filled Day of the Dead celebration, there are several other options. For instance, in the Boston area, stop by TAZA Chocolate's Dia de Los Muertos block party on Nov 1.
Or, order intriguing (creepy?) products such as these, on line:
*Alma Chocolate Café in Portland, Oregon features chocolate devil icons, chocolate skeletons and skulls.
FIKA, New York City, offers solid chocolate skulls as well as miniature skulls, filled with a gianduja of macadamias, almonds and hazelnuts.
Lilac, New York City features Halloween pumpkins, witches, mummies in coffins, all in chocolate.
Veruca Chocolate in Chicago sells hand-decorated dark chocolate skulls filled with caramel ganache, spiced with a kick of chili and a hint of cinnamon.
Woodhouse, California, boasts white chocolate skulls filled with dulce de leche and brown butter ganache, in addition to chocolate witches and their cats, pumpkins, eyeballs, and Halloween decorated peanut butter cups.
Related