The story of the little island that could, and did take on some of the giant agrochemical companies was the backdrop against which the Food Justice Summit in Honolulu unfolded last month. Gary Hooser, founder of the Hawai'i Alliance for Progressive Action (H.A.P.A.) which organized the summit in partnership with the Pesticide Action Network, described how the Kauaʻi delegation went to Switzerland to challenge Syngenta publicly about their harmful agricultural practices.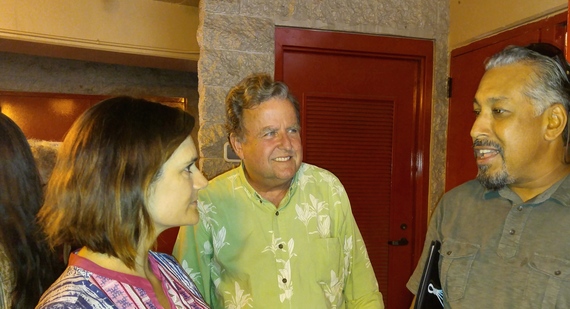 At the Food Justice Summit on Oahu: Gary Hooser, founder of H.A.P.A.(center) flanked by Executive Director, Elif Beall on his right, and Andre Perez whose presentation laid out Hawai'i's struggle for justice on many fronts.
Already Kauaʻi is seeing results. Hooser estimates that there has been a 30 percent reduction in land under production. There are bigger buffer zones around the fields currently in use, providing a little more protection from the chemicals that are sprayed routinely by the companies that operate on Kauaʻi. These include paraquat and atrazine, both banned in Switzerland, as well as chlorpyrifos that the Environmental Protection Agency (EPA) appears to be on the verge of banning in this country. The EPA has already taken steps to protect wildlife from the deadly effects of chlorpyrifos.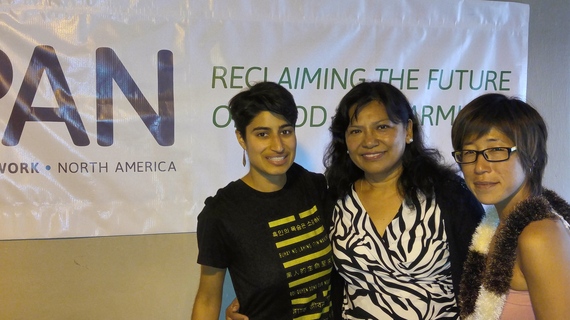 Sarojeni Rengam of PAN-AP (center) is also a Steering Committee Member, Asian Rural Women's Coalition (ARWC). Seen here with colleague Devika Ghai from the Pesticide Action Network office in San Francisco, and Bianca Kai Isaki Ph.D.who teaches in the Women Studies Department at the University of Hawai'i, and serves on the board of H.A.P.A.
Joining Forces to Fight Corporate Malpractice
But more needs to done, locally and globally. Speakers from Switzerland, Mexico, Malaysia, Nigeria and Hawai'i spoke to community groups across the islands, explaining how, under the guise of philanthropy, small farmers were being systematically cheated. Their outrage was palpable. But there was reason to be optimistic as they described some of the success their activism is yielding.
Audiences heard the now familiar stories about farmers being driven into indebtedness by the predatory practices of corporations that control access to seeds. The same companies peddle pesticides detrimental to the health of the community.
Those stories hit home a week after the summit as the media reported on the exposure of Syngenta workers on Kauaʻi to chlorpyrifos. The hospitalization of Syngenta workers left many questions unanswered. But it also begged a larger question: why does Hawai'i allow corporations to do on these islands what they cannot do in their own backyard?
In a recent OpEd, Hooser called for a ban on chlorpyrifos, one of several toxic chemicals that Syngenta uses freely on Kauaʻi .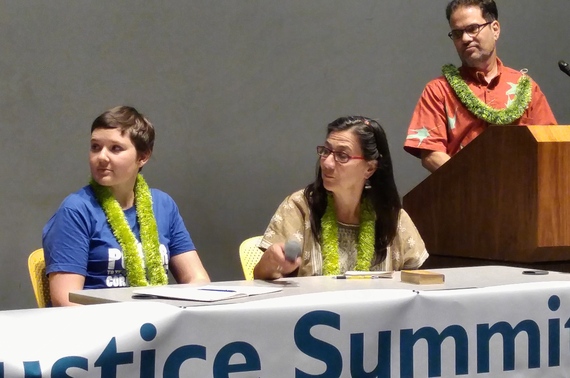 l to r: Eva Schürmann of MultiWatch, Adelita San Vicente Tello of Seeds of Life Foundation, Mexico, and host of the evening, Jonathan Likeke Scheuer, Ph.D.

Eva Schürmann, a practicing attorney and activist with MultiWatch, a Swiss-based group said that she wished it was within her power to "throw Swiss companies like Syngenta out of these beautiful islands." She has done the next best thing: she and her fellow activists marched on the Swiss Parliament, carrying a Kauaʻi banner and calling for justice. And they continue to dog Swiss companies around the world, holding them accountable.
The Food Justice Summit in Hawai'i was a strengthening of solidarity in a shared struggle. The speakers bore testimony to the value of traditional farming practices that have stood the test of time but were being discarded in favor of the American corporate model.

Protect Indigenous Rights, Preserve Traditional Practices
Mariann Bassey Orovwuje from Nigeria would like powerful global philanthropists like Bill and Melinda Gates to back off from their efforts to supplant the sustainable practices of small farmers in Africa with the ideology and practices of corporate America. "Bill Gates does not necessarily know best what African farmers need and want," she said.
"Farmers in Africa have long known how to save and share seeds. They know how to irrigate their lands and rotate their crops. But today they are being swindled out of their lands which had been passed down through their families.They are being sidelined by the introduction of Western concepts of land titles, and deals brokered by corporations with local governments in return for promises of services like schools, roads and hospitals that the governments should provide. And those promises are not being kept. Our communities are left landless, cut off from natural water resources, and unable to farm they way they used to," she said. Oruvwuje, a lawyer, gave up a comfortable government job for the work of advocacy as Program Manager of Environmental Rights Action/Friends of the Earth Nigeria, and as Coordinator, Friends of the Earth Africa's Food Sovereignty Campaign.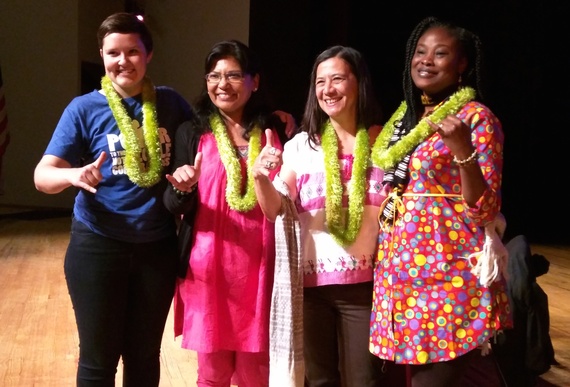 They came from Switzerland, Malaysia, Mexico and Nigeria to share their stories with the people of Hawaii.Pix by Patricia Wistinghausen
The presentations at the Food Justice summit on Oahu built on the foundation of Hawaiian history provided by Andre Perez, co-founder and caretaker of Hanakēhau Learning Farm. He spoke candidly about what Hawai'i has lost, both personally, and as a kingdom. He spoke about what it means to grapple with family dysfunction; with the separation from the ʻāina and the pressure of seeing settlers taking over what had once been Hawaiian places of work and play. He also spoke with confidence about rediscovering his connection to the land and what it means to be Hawaiian.
"The corporate way is to grow houses on every piece of land. Our kuleana is to take care of the land so that it can take care of us. If we respect how our identity is bound to the land, we will take better care of the planet, and of each other," he said.
The encroachment on indigenous rights was a theme picked up by the speakers from Malaysia and Mexico. Sarojeni V. Rengam, Executive Director, Pesticide Action Network Asia & the Pacific (PAN AP), explained how public/private partnerships have provided a smokescreen for land grabs in the Philippines and East Malaysia. Extrajudicial killings of lumad leaders in Mindanao have energized people to demand investigations. In East Malaysia, a Chief Minister was forced to resign in the face of incriminating evidence captured on video. (But Tun Abdul Taib Mahmud thereafter was made the Governor of the state of Sarawak, the very place he is accused of plundering.)
The work continues, said Rengam, of mapping lands worked by indigenous people so that they have some defense against the corporations who prey on them.
Like Sarojeni Rengam, Adelita San Vicente Tello, Director, Semillas de Vida Fundacion (Seeds of Life Foundation) in Mexico and a leader of Sin Maiz no hay Pais (Without Corn there is no Country), believes that a people united will never be defeated. Her coalition kept Monsanto transgenic corn out of Mexico. They organized the free exchange of seeds at fairs to assert their right to be "people of corn," and to continue traditional farming methods.
What will we in Hawaii do?
Legislators--and the Governor--can, and should exercise the power vested in them to stop what we already know is harmful to these islands and the people who live here. They can simply say NO to the spraying of chemicals that undermine our health, poison our food, and impact the well-being of our children in so many ways.