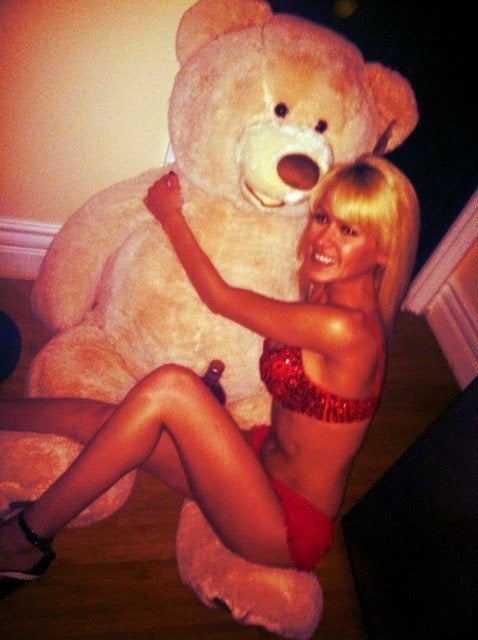 Jokes about the Colorado shooting are not only "too soon," they are the furthest thing from "humor," according to Canadian producer Deadmau5 -- formally known as Joel Zimmerman. So when Playboy model Tricia Evans tweeted about "The Dark Knight Rises" being a movie "to die for" Deadmau5 quickly blasted the centerfold.
I heard the new Batman movie is really "to die for"! 😜 Too soon?

— Tricia Evans (@HollywoodTricia) July 20, 2012
Deadmau5, who previously followed Evans on Twitter, responded:
Evans, who describes herself as "a controversial tweeter" in her bio, quickly attempted to defend her joke about the Colorado shooting by referring to it as just an opinion, but Deadmau5 wouldn't accept Evans' excuse:
Since her heated interaction with the producer, Evans has tweeted a slew of messages regarding her joke about the Colorado shooting. She also retweeted some of the more vitriolic messages she received, which included death threats.
The Playmate's responses ran the gamut from apologetic ("I understand and I appreciate that! I can take being offended but it got taken a little too far. No harm/no foul") to anger ("Where would it get me? Lynched? Like u pieces of s--- on here? Just showing what stupid animals human beings r") to philosophic ("offering forgiveness with a heart full of understanding rather than a fist full of resentment is one of the most amazing things you can do") to flippancy ("Love me, hate me, say what u want about me, but all of the boys & all of the girls r beggin' 2 If u seek Amy").
Social media users have responded forcefully to those attempting to make light of the Colorado shooting on social networking sites.
Celeb Boutique was criticized for its insensitive remark and attempted to offer an apology.
"We didn't check what the trend was about hence the confusion, again we do apologise," the company wrote, followed by, "We are incredibly sorry for our tweet about Aurora - Our PR is NOT US based and had not checked the reason for the trend, at that time our social media was totally UNAWARE of the situation and simply thought it was another trending topic - we have removed the very insensitive tweet and will of course take more care in future to look into what we say in our tweets. Again we do apologise for any offense caused. This was not intentional & will not occur again. Our most sincere apologies for both the tweet and situation. - CB"
A recent photo of Evans is available at the link below:
Popular in the Community