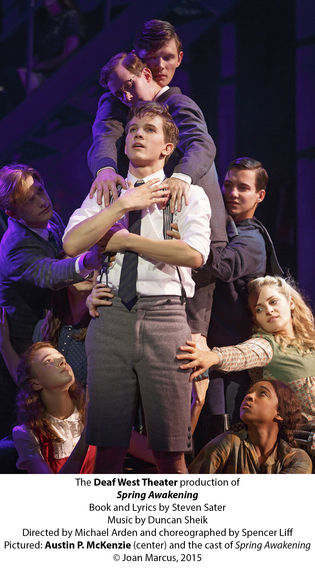 "Where I go, when I go there
No more whispering anymore
Only hymns upon your lips
A mystic wisdom, rising with them to shore..."
In Spring Awakening, Steven Sater's lyrics sing like poetry. Their intimacy tingles in your throat as you repeat them under your breath. Your eyes close, just long enough to dance on the brink of surrender. When they open, they're met by an ensemble staring back, challenging you to let go.
"Touch me just like that
And that, oh, yeah, now that's heaven
Now that I like, God, that's so nice..."
Your cheeks burn and your breath shortens, stifled. Duncan Sheik's score, with its swells and bursts, pumps a ¾ melody into your body, so you can feel the rhythm pulsing through your veins.
"Love me just for a bit
We'll wander down where the winds sigh."
Now, you don't notice you're listening to music. You're engaged in a feeling -- the ambiance is irrelevant.
Desire. Sin. The system. Sexuality and God. Anxiety. Education. Gender roles. Assault. Frank Wedekind's 19th-century play left little un-broached, and where Wedekind did not dare trespass, Sater and Sheik filled the gaps when they conceived of their musical.
In 2006, Spring Awakening charged Broadway with the kind of electricity you'll never find in The Phantom of the Opera or The Lion King. 1890s German kids ranted out their frustrations at gasping audiences, whose stomachs burned with the fire they usually hid. Listeners could hear the velvety texture of Jonathan Groff or Lea Michele's voice and wallow in confused adolescence for a few hours. Thanks to its gripping grit, the rock musical soon achieved icon status.
Now, in Deaf West's revival at the Brooks Atkinson Theatre, director Michael Arden has infused even more complexity into the bildungsroman by adding commentary on Oralism in fin-de-siècle Europe. Spring Awakening's narrative is already rife with miscommunication and ambiguity, the lethal components of a teenage psyche. Arden's fiancé Andy Mientus, who played Hänschen for the original national tour, connected the dots and decided the story lent itself to an ASL interpretation. Arden and Mientus executed their idea in 2014, when Deaf West staged a critically acclaimed run in Los Angeles. Then the cast jumped over to New York, where hearing and Deaf actors revisit the century-old tale that millennials have grown to love.
Projections on a screen or held posters spell out the action while characters sign and say their words. Unlike in the 2006 version, when Bill T. Jones choreographed, ASL becomes a movement rhetoric in itself. Each actor's body speaks and reacts to gesture, emphasizing the visceral nature of the soundtrack. Deaf protagonists Wendla and Moritz are portrayed by paired actors -- Sandra Mae Frank and Katie Boeck, and Daniel Durant and Alex Boniello; one represents the physical manifestation of the character, while the other symbolizes the thoughts in their heads that they can't express through speech. Other pairings cohabit the space, trying to empathize through passion instead of dialect.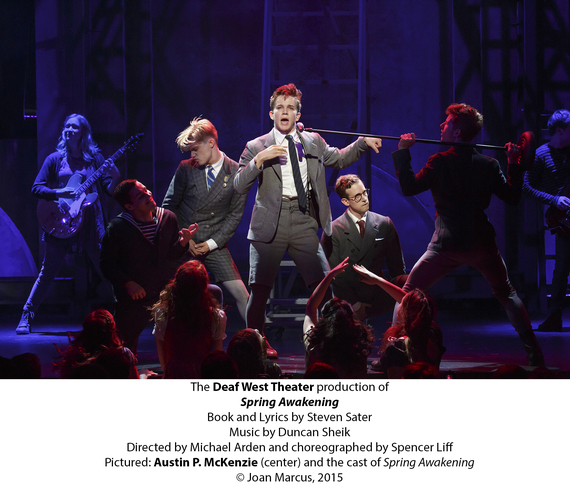 In an extraordinary theatrical debut, Austin P. McKenzie is Melchior, a brash, troubled genius. McKenzie recently graduated from Columbia College Chicago, where he studied special needs training and ASL. His commitment to and personal investment in the project make him a force to be reckoned with in the show, where his freshness and talent give him an intense, youthful energy. When he belts "Totally F*%ked," his pipes hit a pitch that encapsulates all of the anger and rebellion you internalize when you're a young adult trying to rationalize the world's madness.
Nevertheless, it is Mientus who leaves an impression, reprising his role as the cunningly manipulative Hänschen. He's a master of the stage. Indeed, Mientus could read the phonebook and be engaging; however, his devotion to complicated subjects has defined him as an actor/innovator, and he rarely accepts a part that doesn't hold some nuance or struggle. He can be lovable or naughty, as long as there's crux and thrust behind it. In Spring Awakening, he knows exactly how to make a line land, like when classmate Ernst tells Hänschen those three little words and he replies with a swift and convincing, "As you should."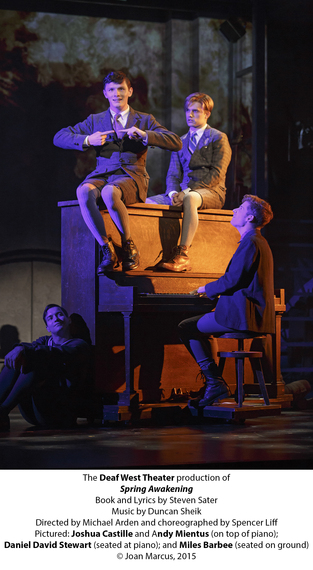 Other notable appearances include Krysta Rodriguez as Ilse and Marlee Matlin as Frau Gabor, Frau Bessell, and Frau Schmidt. Their reputations precede them; however, neither particularly stands out for her performance.
While the work still harbors its furious angst from 2006, it is perhaps softer and more sentimental. The sex scenes have been subdued. A few moments border on pseudo-drama, too overwrought to feel believable, which quiets some of the script's potency. Still, Arden's vision is a powerful one that challenges our misconceptions about communication and how human beings relate. It makes your soul swim in refreshingly muddy waters, and you realize that there are no words to express what you're feeling, no matter the language.
Sometimes all you can conjure is, "God, that's heaven."
Spring Awakening is playing at the Brooks Atkinson Theatre through January 24, 2016.
Calling all HuffPost superfans!
Sign up for membership to become a founding member and help shape HuffPost's next chapter