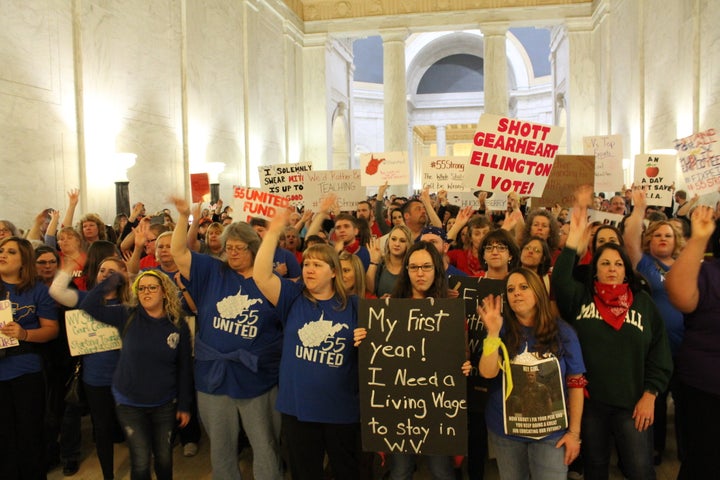 West Virginia officials reached a tentative deal Tuesday to end the strike by teachers and other public employees that closed schools across the state for four days, according to Republican Gov. Jim Justice.
At a news conference Tuesday afternoon, Justice said the state agreed to give teachers and other school personnel a 5 percent raise and state employees a 3 percent raise, marking what could be a major victory for employees to cap the first statewide walkout in nearly three decades.
But Justice offered no clear plan to fix the shortfall in the state employee health care program, which was at the top of many workers' lists of demands.
Teachers are expected to return to school on Thursday after a "cooling off" period on Wednesday. The arrangement still needs to be approved by the state legislature, and union leaders said they reserve the right to reinstate the strike if the deal falls through.
"This has been a huge step in the right direction," said Christine Campbell, president of the American Federation of Teachers-West Virginia, one of the two teacher unions that led the strike.
Teachers and other school employees in all 55 counties across the state were onboard with the strike, making an unprecedented show of solidarity after years of stagnant wages. West Virginia is ranked 48th out of 50 states and the District of Columbia in teacher pay and is wrestling with a teacher shortage that's left 700 positions unfilled.
The governor acknowledged some missteps in his handling of the work stoppage, saying he started to think differently about it after a conversation with a student.
"To be perfectly honest, in a lot of ways I was looking at this maybe not correctly," Justice said. "I was looking at it as what was the prudent thing to do, and maybe not at education as an investment. I went home and thought a lot about it."
Campbell said the raises were offered only because workers had the courage to walk off the job.
"They did this by standing up," she said. "This isn't the end; this is the beginning. If things get better, then we can really start focusing on the investment in public education."
This is a developing story. Check back for updates.
Popular in the Community