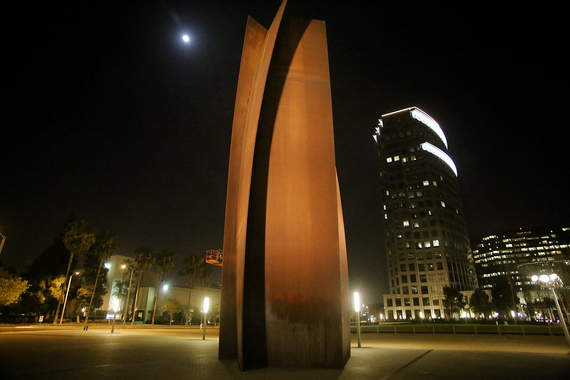 Richard Serra's 66-foot-tall "Connector," at Segerstrom Center for the Arts in Costa Mesa under a full moon. Photo by EMS.
The Broad Museum is about to open its doors this September, and by doing so it's going to explode a U.S. military style daisy cutter on the Los Angeles art scene. Then comes Hauser Wirth and Schimmel (HWS) a few blocks away in LA's undeniably burgeoning Arts District. The Museum of Contemporary Art's former chief curator, Paul Schimmel, will take command of the 100,000 square foot super fortress with a dynamic multi-disciplinary arts center. Its palatial grounds, amidst the growing number of galleries, will cement LA as the new capital of the art world, what I simply call ArtWorldInc.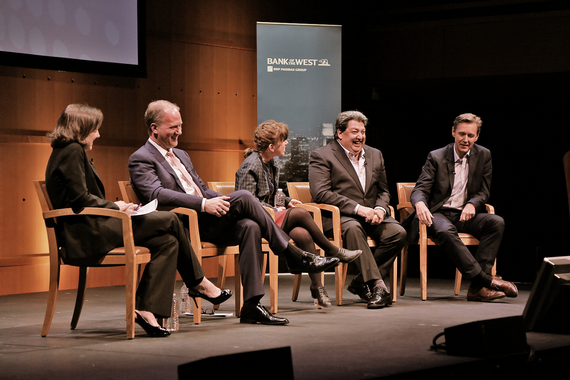 The panel: Robin Pogrebin, Todd DeShields Smith, Samara Golden, Paul Schimmel and Dr. Timothy Potts. Photo by EMS.

On Wednesday, April 1, the New York Times hosted a discussion, "Art and Collecting Now in Southern California (ACN)," as part of their "Look West" series. The event was held at Samueli Theater at the Segerstrom Center for the Arts in Costa Mesa. Staff reporter Robin Pogrebin, of the New York Times moderated the event that included luminaries Dr. Timothy Potts, director of the J. Paul Getty Museum since 2012; Todd DeShields Smith, who became new director of Orange County Museum of Art in 2014; and Paul Schimmel, of the aforementioned Hauser Wirth & Schimmel. Rounding out the panel was acclaimed artist Samara Golden, represented by Night Gallery in Los Angeles.

Most of the night centered on the theme, "LA is the Place." The four panelists were there specifically to talk about the emergence of SoCal's role in the international art scene.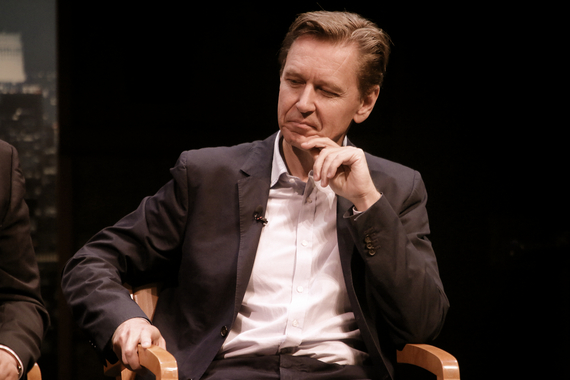 Dr. Timothy Potts, director of the J. Paul Getty Museum since 2012. Photo by EMS.

Timothy Potts promoted the upcoming survey of Latin American and Latino art called "Pacific Standard Time: LA/LA." The Getty describes "PST: LA/LA" as "a fresh look at vital and vibrant traditions in Latino and Latin American art through forty-six exhibitions and events from San Diego to Santa Barbara opening in September 2017." Schimmel and Smith were envious of the Getty's enormous acquisitions budget, and no one on the panel could ignore the fact that the Getty recently purchased a $65 million painting, Manet's Spring (Le Printemps). Despite the press about the painting, Potts said the Getty's photography exhibitions are the most visited at the Getty.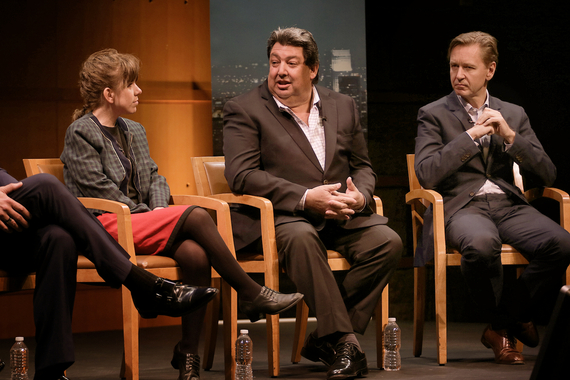 Paul Schimmel (center) of Hauser Wirth & Schimmel. Photo by EMS.

Next up was Paul Schimmel who was excited about the launch of his forthcoming venture partnership at HWS. He said that HWS "will be the most visited gallery in LA." Schimmel noted that HWS signed a 20-year lease and will have three exhibitions going on at one time, including a 20,000 sq. ft. courtyard with a sculpture garden, and an in work-residency for artists. Schimmel declared, "What's happening in downtown LA is unprecedented!"

The panel then talked about the roll of social media and how it shapes their publicity. Schimmel got huge laughs when he said social media is "what we used to call 'word of mouth'." Potts lauded that the Getty was the most Instagrammed museum in the world, while Todd Smith and Schimmel were reduced to jockeying about who will have the most VIP parking at their spaces.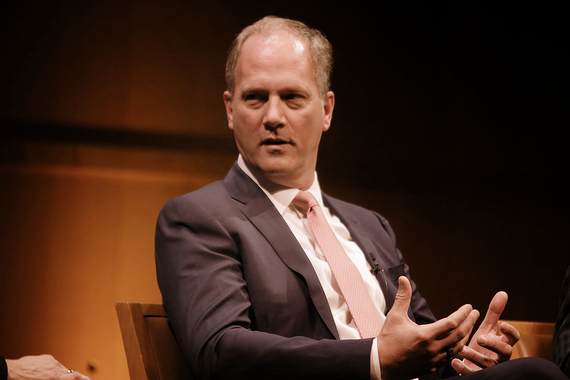 Todd DeShields Smith, director of OCMA. Photo by EMS.

Todd Smith talked about Orange County's excitement over OCMA's relocation to Segerstrom Center, while Samara Golden talked about her years in New York, saying that she is very happy with her move to LA; she is making new friends and she can support herself with her art. She said, "LA has changed my work so much," artist friends of hers are opening their own galleries now, which is something she's never seen before, which is another sign that artists are willing to take risks, make their own rules, and try the marketplace.

The Los Angeles downtown gentrification project, with seemingly unlimited warehouse real estate and artists moving in from New York and Europe to set up studios on the relatively cheap, makes urban Los Angeles prime for a 21st century Renaissance. Within a few square miles you'll have the Los Angeles County Museum of Art (LACMA), MOCA, The Broad and HWS, flanked by garrison outposts of Night Gallery, François Ghebaly, The Mistake Room, Harmony Murphy, MAMA Gallery, and the more established galleries on Chinatown's Chung King Road. This growth expansion of brick and mortar spaces is on top of more established art districts like Culver City and Santa Monica's Bergamot Station, not to mention The Brewery, Santa Fe Arts Colony, and the expanding Highland and La Brea corridor up into the heart of Hollywood where art palaces like Michael Kohn, Regen Projects, and LAXart preside. Yes, Hollywood, where souvenir shops are king. It was recently announced that the private club SoHo House is moving into the Arts District evicting musician rehearsal studios. I'm just waiting for everyone at The Brewery to get evicted for a PGA golf course.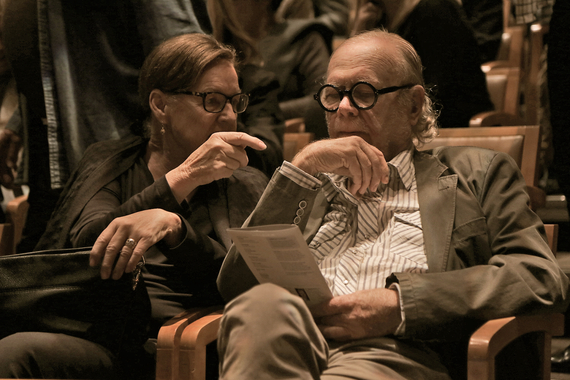 Artist Tony Delap (right). Photo by EMS.
Perhaps, it's a sign of what LA is all about, or what its not. Los Angeles is a safe haven for creative people where international people flock, whether for vacation or to live. Southern California has the highest per-capita population of professional creative people in the world spanning many industries. The area possesses seven unique qualities that combine to make it the place where creatively enthusiastic people want to be. These seven unique traits, which I like to call the "Seven Pillars," are: (1) SoCal's world renown surf and car culture/style/fashions, (2) its balmy year-round Mediterranean-like weather, (3) melting-pot ethnic diversity, (4) its serpentine freeway system fostering uber-connectivity, (5) the aerospace/tech industries suppliers and providers of cutting edge materials, (6) the infamous Hollywood/entertainment industry, and (7) access to publicity and marketing strategies that make it seem anyone can make it here and anyone can be rehabilitated. These Seven Pillars are the fundamentals, the basic forces that align to provide critical mass to support artists throughout the region, and to make SoCal the ideal environment that fosters and generates freedom of creativity.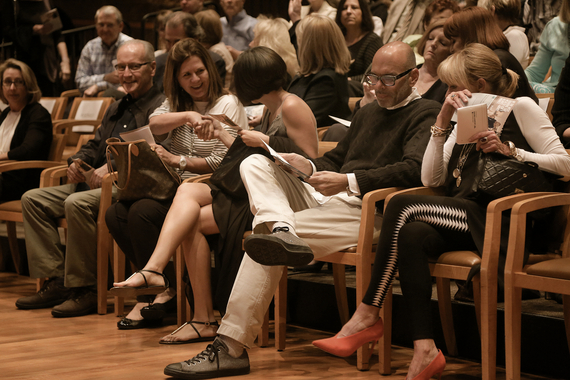 Dealer Peter Blake sits front row center. Photo by EMS.

Based in Laguna Beach, and owner of Peter Blake Gallery of over 22 years, Peter Blake has seen it all. He has weathered three recessions, 1993, 2001, and 2008. He has adapted to the ever-changing market place and has mentored many upstart gallerists over the years only to see some of them unfortunately close their doors. It is acknowledged that he is the most important art dealer in the history of Orange County and has simultaneously maintained a strong regional presence as well. Many galleries have opened and many have failed during his tenure confirming the difficulties dealers face. He has flirted with moving to Los Angeles but has found a greater audience exhibiting in well-respected art fairs over the years.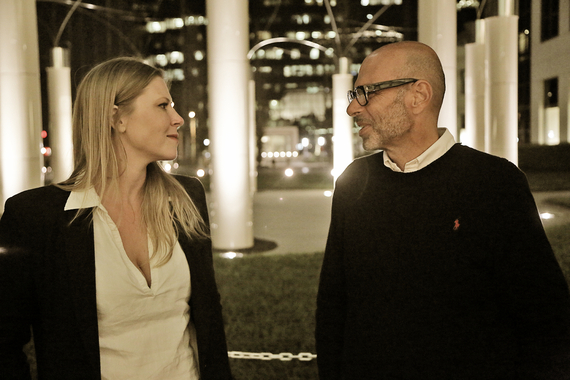 Alex Magnuson (Gagosian Gallery) and Peter Blake at the reception. Photo by EMS.

Blake was front row center at the ACN talk and told me after the reception, "I see Orange County and LA county merging into a large cultural hub that encompasses not only sophisticated art patrons who originated from Southern California but also those who have come here from the East Coast, Europe and the Pacific Rim. " he incredibly fast expansion of the downtown LA Arts District is an indicator of just how fast it will spread south to San Diego as the gentrification of the region takes shape. This forecast spans 10-20 years. The collector base will grow given the relationship of the art world, and LA's inherent association with arts and the merging of it's celebrity subculture. However, he predicts the next few years will be tough given the amount of new galleries that have opened that are vying for the same small group of known and established collectors.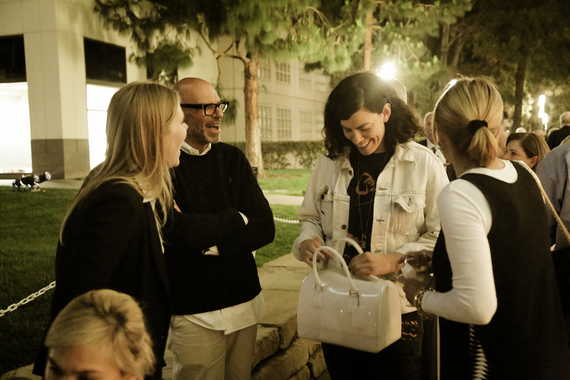 Davida Nemeroff of Night Gallery (white jacket) represents Samara Golden. Photo by EMS.
If Blake's predictions are true, over time, an increasing number of galleries will be added to the already growing art scene. The international art world will be taking note and likely continuing to increase its presence in LA. There are so many openings in LA that you could easily see three exhibitions on a Thursday, Friday or Saturday night easily within the two hour 6 pm - 8 pm time slot, usually set aside for an opening reception. There are monthly art walks in neighborhoods throughout the Greater Los Angeles area. What this means is that there are so many people, so many galleries, so many artists, so many interesting things to look at--and potentially buy to add to one's collection -- in a night. And that's not even accounting for all the museums with their openings and art programming.

I believe the Seven Pillars have created the art garrisons and platoons in an allied support of the bigger goal: to make LA the biggest art market behemoth that only a Hollywood film could create. Think of LA ArtWorldInc. as a Michael Bay film... the biggest explosions, the most magnificent camera movements, dizzying special effects, the loudest music, and the most beautiful women. Now do you get it? Maybe not, because you're not one of the billion people out there who has seen a Michael Bay film. If you don't understand this, then most likely you will not understand where ArtWorldInc. is headed.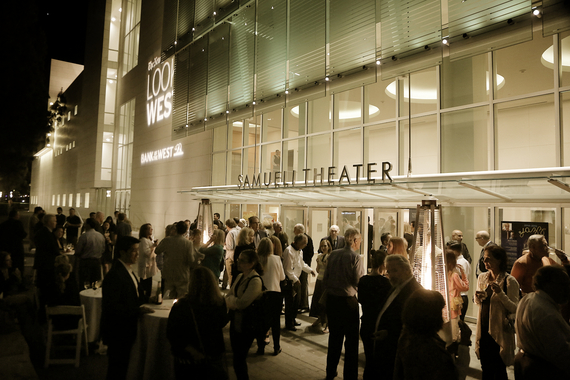 The reception and talk held at the Samueli Theater. Photo by EMS.
Since 9/11 New York City has sobered up. If Andy Warhol were alive, he would have been forced to move out of the city because of high rent and high taxes. NYC lost its innocence, while Southern Californians revel in it, and still love their lifestyle. Like a country music song, no shoes, no shirts, no problems here. Our biggest earthquake was over twenty years ago; so were the riots. Gang violence has all but disappeared. Because of social media, the world gets a daily assault of warm weather and sunsets, while New Yorkers, Parisians and Londoners freeze more than half a year. Then there are LA's art openings after openings posted on Facebook year round. Patrons are wearing t-shirts and shorts in February. This is psychological warfare. If you don't live in LA, it has to be depressing to see these year round images. In LA, the art scene is always in season, but if you move here for the art, don't waste anyone's time, because Angelenos are an industrious bunch. They love money. If you have money, or at least don't act like you need it, you'll be fine. If you're desperate and cheap you'll be a pariah.

So like a good lover LA keeps giving. There is plenty here and plenty for all. Will it last? Yes. For how long? No one knows. What we do know is that the scene is growing exponentially. Will it go over a cliff or will it be an empire? Like Hollywood, it's very possible that LA's new art scene could be the nexus to bring in the biggest art fairs, the biggest dollars and the biggest art scene in history.
This article is part of an ongoing photojournalism survey of art exhibition openings titled EMS N(art)rative. Through my lens I document a photographic essay or visual "N(art)rative" that captures the happenings, personalities, collectors, gallerists, artists and the art itself; all elements that form the richly varied and textured fabric of the SoCal art world. This reconnaissance offers a unique view for serious art world players to obtain news and information on the current pulse of what's in the now, yet capturing timeless indelible images for posterity and legacy. Here is EMS N(art)rative Twenty.
Popular in the Community