When the Drug Enforcement Administration and other law officers carried out their four-state raid on pain clinics and 'pill mills' across the South on Wednesday, they preemptively saved thousands of lives and arrested some of the country's most unassuming sources of illegal drug activity.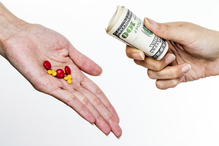 This sweeping action is needed to curb our country's addiction to opioid prescription pain medications like Oxycontin, Vicodin and Percocet. The ruination of millions of Americans lies behind the walls of some pain clinics - also known as 'pill mills' - where prescribers distribute these highly addictive drugs at a rate that would make Pablo Escobar blush. According to results from the 2010 National Survey on Drug Use and Health (NSDUH), an estimated 2.4 million Americans used prescription drugs non-medically each year. That averages out to approximately 6,600 initiates per day, and many people have turned to pill mills to get these medications.
Yet, pill mills have been wolves in sheep's clothing. They have popped up in strip malls with the same normalcy as nail salons. They advertise relief from all that ails us. Because they are run by doctors and appear as simplistic as urgent care facilities, it is easy to disregard them as harmless. Instead, they serve as pickup stations for far too many people struggling with opioid pain medication addiction.
We got into this national cycle of addiction because what is coming out of these clinics looks rather innocent, too. Because doctors prescribe Oxycontin, Vicodin and Percocet, we are inclined to believe they must be safe to take. Multiple studies indicate that the side effects of opioid pain medications, including the likelihood of addiction, are only part of the issue. Opioid pain medications are not the best option for treating most types of acute pain, and assessing whether they are is not likely to happen in a pill mill.
Pill mills typically do not maintain adequate medical records or obtain an appropriate patient history. Many pill mill doctors do not perform any significant physical exam before prescribing medications. There are few, if any, referrals to specialists. Most pill mills only accept cash. These facilities are a revolving door for those who fabricate their pain and those who profit from others' addictions. Doctors become millionaires for betraying the ethics we trust them to uphold.
The DEA-led sting has yielded 280 arrests since last summer in Arkansas, Alabama, Louisiana and Mississippi - four prescribing hotbeds, according to the CDC. Closing pill mills will reduce the number of opioid pain medications in medicine cabinets and on the streets, and fatal overdoses will drop. For proof, just ask residents in Florida. When the Sunshine State passed pill mill legislation in 2010, fatal overdoses from oxycodone fell 50 percent.
As Alabama, Arkansas, Louisiana and Mississippi celebrate their impending drop in overdoses, they cannot lose sight of next steps. The fight does not stop when pill mills shutter. In many ways, it is just beginning. So what will happen next? For starters, when those who are addicted to opioid pain medications cannot obtain them, they will need access to treatment. Others may turn to alternatives like heroin, while others run the risk of overdosing as they identify alternative drug suppliers.
First, closing pill mills will likely lead to an influx in the number of people who need treatment. Successful treatment and rehabilitation programs often require collaboration between states, employers, insurers and other partners. These programs should provide long-term intervention, support and management. State leaders will need to work diligently to get the hundreds of people who will now be without medications the help they desperately need.
Second, if past experience is any guide, these states are almost assured a spike in heroin use and overdoses. Opioid pain medications and heroin have nearly identical chemical makeups, so they have the same effects. Plus, heroin is cheaper and often easier to obtain.
Third, these states will need to reexamine whether naloxone is readily available to those who should carry it. Naloxone, an overdose antidote, known as an EpiPen for drug overdoses, should be legally obtainable by anyone who may have to treat an overdosing individual, including family members, friends and first responders.
But finally, and most important, Alabama, Arkansas, Louisiana and Mississippi should thank the DEA and all the law enforcement officials whose actions systematically made their states safer. The largest public health threat today is sitting in most medicine cabinets, and we need strong and swift actions like these raids if we are going to change that.
•Deborah A.P. Hersman is president and CEO of the National Safety Council.
Calling all HuffPost superfans!
Sign up for membership to become a founding member and help shape HuffPost's next chapter