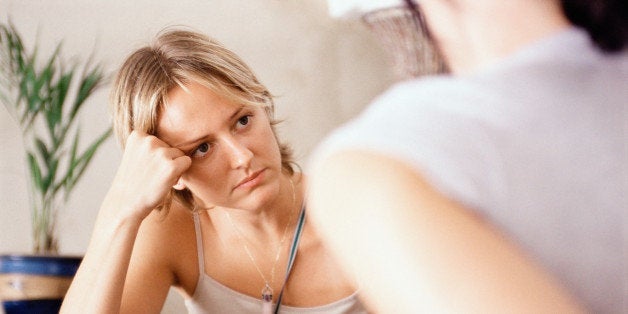 In case you're wondering how to play well with others, we have a few ideas.
1. I Am Really Ticked Off. Do I Have To Be Forgiving?
The last two years I've had several difficult personal and professional problems, which left me feeling mad, victimized and obsessed with a few people's General Awfulness.
This is what Hell feels like: to be obsessed with a generally awful person who isn't even aware of the turmoil he or she is causing. Heaven is to have forgiven -- or to have forgiven-ish, the best you can, for now. When your heart is even slightly softer toward that person, and you are less clenched and aggrieved, you've been touched by grace.
Grace is spiritual WD-40. It eases our way out of grippy, self-righteous stuckness. The question is, how do we avail ourselves of it?
I've learned that if you want to have loving feelings, do loving things. We think we'll eventually figure something out, and get over the grudge, and that this will constitute forgiveness. But it's the opposite: We take an action and the insight follows. Any friendly action will do; intention is everything. We show up somewhere knowing the person who aggrieved us will be there, and we go up and say hi. If the person is a relative, we ask for help with the dishes. (This is very subversive.)
Any warm action will yield the insight -- life is short, and Earth is Forgiveness School.
All of my resentments have been healed. That doesn't mean I want to have lunch with those people, but my heart has softened, which is a miracle. One person still judges me, and bears false witness against me, but thankfully, that is not my business or my problem, because I have chosen freedom. Nothing is more wonderful.
2. What's A Respectful Way To Defend My Beliefs?
I approach every argument as if I'm trying to get out of a speeding ticket: with humor and respect. I listen. And when things get tense, I pretend I'm in a restaurant, debating what to order. Public policy isn't coleslaw versus French fries, but persuasion starts with respecting that there are many valid choices. Another trick? Slow down. Powerful speech can come in at around 120 words per minute—angry or nervous speech can be about twice that. When all else fails, make a joke. There's no better tool for reaching across the "I'll." Yes, I just said that. A little pun, even a bad one, goes a long way.
Donna Brazile is a syndicated columnist, political strategist, and contributor to CNN and ABC News.
3. What's Code For "Mind Your Own Business?"
Liv: Say, "Thank you for trying to help, but I'm not comfortable talking about that right now." Often you can shut someone down by mentioning your feelings.
Dorothea: Offering thanks is diplomatic. Kill 'em with kindness!
Liv: Even if something really offends you, ask yourself whether it contains some truth worth exploring later.
Dorothea: And don't get argumentative about unsolicited advice. Take the high road. The low road is so crowded.
4. How Can Friends Stay Friendly?
Pals Emma McLaughlin and Nicola Kraus have coauthored eight books; the most recent is The First Affair.
Emma: Going back to grade school, girls find comfort in friends who have the same tastes they do. Any difference can provoke anxiety. Some of our greatest tension has been about whether a character's curtains should be cream or ecru!
Nicola: We're with Ben Affleck: Like a marriage, friendship takes work -- the same honest communication and frequent check-ins you need with a partner. Celebrate your conflicting opinions. They only make the relationship stronger.
5. Can I Maintain Sanity In My Nutty Office?
Even in toxic environment we can achieve a sense of calm, through meditation. No one has to know what you're up to. Spend five minutes sitting at your desk, with your back straight but relaxed; try not to look directly at your computer. Breathe at your normal pace and frequency, then sharpen your focus by noticing the sensations in your nostrils, chest, abdomen. You'll feel more balanced with each breath. And the next time a coworker frustrates you, be grateful that her nastiness comes your way only in two-minute bursts; she has to live inside that energy all the time.
6. Why Should I Hang Out with People Who Think Differently Than I Do?
Cultivating contacts outside your social circle brings a little ordered chaos into your life. Most of us find the idea of chaos stressful, but history suggests that the disorder following upheaval often brings unexpected benefits: The Plague, for example, helped usher in the Renaissance. Fortunately, you don't have to wait for catastrophe to strike; just form relationships with all kinds of individuals. I call them "unusual suspects," because they'll naturally push your thinking in new directions. Ask yourself which groups have made you a bit uncomfortable in the past, and try reaching out to them. (I'm from Israel, and one of my unusual suspects runs a church.) Make a point of getting together with your new connections with no agenda. Even if you just chat, you've created an opportunity for ideas to be born.
Ori Brafman is the coauthor of The Chaos Imperative: How Chance and Disruption Increase Innovation, Effectiveness, and Success.
REAL LIFE. REAL NEWS. REAL VOICES.
Help us tell more of the stories that matter from voices that too often remain unheard.
BEFORE YOU GO
PHOTO GALLERY
How To Let Go