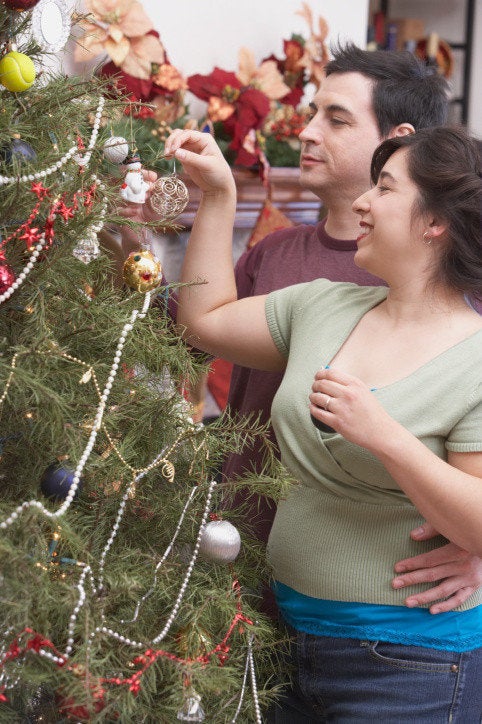 Like everyone else this holiday season, you are in search of more joy, connection and love. This desire lives in all our hearts. Regardless of our spiritual path, or lack thereof, we long to create better lives. Ernest Holmes put it this way: "Create or perish is the eternal mandate of nature."
All we need do is turn to nature and see that this is so, even in December. Because spring always comes again, even after the harshest winter storm, we have faith that what appears barren will blossom once more, given enough patience, nourishment and warmth.
But while we know this to be so in physical nature, we have a harder time rallying faith in those dicey human relationships that have soured, particularly this time of year. Perhaps this is what makes Dickens' "A Christmas Carol" such a favorite. If Ebenezer Scrooge can clean up his act, maybe this is possible for that wayward family member refusing to budge, improve his attitude or relinquish his perpetual hissy fit that leaves caca in the holiday family punch bowl.
Writing the following was the furthest thing from my mind in last week's submission, ("Holiday Grieving: How to Best Support The Mourning This Time of Year,") The fact is that HuffPost reader response, both private and public, caused me to reconsider. The fact is that there is another form of holiday grief that no one dares voice, as indicated by the 49 private e-mails I received from brave readers who suffer this variety. The time has come. What follows is a simple guide to restore joy, connection and love where needed most.
Take an audit. What? No corpse? What do you do when the person whose loss you grieve this year is amongst the living? When we think of mourning, most times, this involves a corpse. Not always, though. One Christmas, I recall my father mentioning that the hardest grief is when the person you love is still walking around. He knew the pain of it firsthand, although I could not understand until my own divorce 22 years later. The truth is that we mask over pain we carry from unreconciled relationships that have grown as cold as the lump of coal in an unfortunate child's Christmas stocking.
Tell the truth to someone you trust, beginning with the one in the mirror. The most painful losses are those lost bonds with people we love who refuse to let us into their hearts. A deliberate choice to stonewall love leaves everyone hurting, including future generations that have nothing to do with the original injury. (For the record, I am not referring to situations of abuse.) Feeling the shame that comes with estrangement, most bury their radical sense of helplessness and say nothing. The unspoken sadness surely pares us down to size, giving another level of meaning to the "empty chair" at the holiday table. Friends have no idea what to say or do. Everyone squirms. Let the person you tell know that their job is not to fix anything, that you appreciate their listening without judgment. This is a precious gift. You have a right to be heard, to know that you are not alone. One of the finest, most loving men I know has suffered such a tragedy for over 41 years with his son and daughter after his wife died. Despite his outreach, both grown children have never come back home, nor introduced their six children to their grandfather. It happens. Most people assume that estrangement like this comes from abuse of some form, but not always. Unexpected death has a funny way of bringing out the ghosts of Christmas past.
Get Assistance. You are not alone. Often the one who goes for help is the healthiest of the family! No joke. An example from a public HuffPost reader response:
My grief is more complicated for friends and other family members, because my daughter is alive. Since her marriage 3 years ago, she has chosen to extricate herself from her entire family and all her friends she's had since 8th grade. She won't take our phone calls or answer the door of her apt. I haven't seen her or my first grandchild since the end of April, when the baby was 2 weeks old. I was the last hold-out of her family, she texted me our relationship was 'too toxic' and she didn't want her baby to be around me and to please respect her wishes. After a month, I called and left messages and texted her to please call me and please let me see the baby... I have a couple of gifts for my grandbaby and don't know if I should mail them or try once more to see her. My grief is just as real as if she had passed, and my friends don't ask about her anymore. I've been seeing a therapist to try and deal with it, but I can't get past my own grief and sadness. ... I've been seeing my Dr for over a year; I started because I was willing to do anything to be a part of daughter's & unborn grandbaby's lives. I made the choice to let her hurtful comments & treatment slide. I didn't talk about my feelings or how our family was heartsick at her complete rejection of us. That choice seemed to work for a while. We had planned for them to come over on Mother's Day and I called her to wish her happy Mother's Day several times but had to leave messages and texted (that's her way of communicating) her all day to find out when they could make it. Finally at 5pm, she texted me and said the day had gotten away from them & they wouldn't be able to come over. I told her that her behavior was rude & inconsiderate. That's when she said I was toxic. My therapist has advised me to stop communicating because it feeds her drama & since it's the entire family, that it's not me, it's her. She said I need to hold her to the same standards I do everyone else and that no matter what I do, it will be 'wrong' and even if she does allow me back in, it will happen again and again. I know she is treating me the way her husband treats her & that kills me. This all began when she started dating her husband & has escalated over the years....

My heart still hurts, but I'm working on not listening to the voice in my head that dredges up memories of the sweet little girl I used to know and seems to keep me stuck in the bog of eternal sadness, which I'm really ...sick of. I'm looking forward to your column and am so ready to build some bridges....
Here are some bridge-building principles that cannot fail:
Meet with yourself. Begin your day verbalizing or writing down your "list of gratitudes." Begin with the fact that your heart is still beating. Begin with remembering that you are part of a much bigger universe than this one troubling relationship.
Build a bridge back to your own heart by getting perspective. Working with a professional may yield progress. You know, it is possible that the person who refuses to budge is struggling with a mood disorder, a character disorder (sufferers of borderline personality disorder are known to create all sorts of havoc in the relationship department, for example) or a partner who, from their own insecurities, is intent upon islolating their spouse. This is not uncommon with addicts, abusers and others so challenged. Just like they tell you in airplanes, secure your own oxygen mask first. Expand the way you frame the situation with objective help.
Identify where can you spend time that your own heart feels heard, safe, inspired. Go there! Locate some place of beauty every day and pay a visit, be it through music, nature, a phone call, bird sightings, whatever. Beauty heals.
Get physical! A brisk, 20-minute walk each day gets your endorphins rolling.
Incorporate ritual. What can it hurt? Refocus your energy.
I once created a ritual around Howard Thurman's famous poem "I Will Light Candles This Christmas," which is a poem that can help us deal with the problematic this time of year, regardless of whether we "believe" in Christmas or not. Yes, Virginia, the hope of this season has to do with finding light in the darkness, be it in the nooks and crannnies of our own small thinking or the endless right/wrong finger-pointing around the planet.
When I came across Thurman's poem some years back, I was struggling with someone I knew who would have made Ebenezer appear lightweight by comparison. So I created a ritual using seven candles. With each reading of a Thurman line, I would light a candle. Over time, by rerouting focus back to joy, hope, courage, space, grace and love the whole year long, I no longer allowed my own Ebenezer to ruin our holidays.
Treat with active imagination. If all else fails, consider the following after centering yourself in whatever way brings you to steady, full breathing. Closing your eyes, imagine the person in front of you, and you are forgiving you. Imagine yourself blessing yourself for your humaness, for what you have done or failed to do. Imagine yourself going forward in your life, thriving, growing, experiencing love, success, vitality, abundance. Imagine yourself as a cell in the One Heart of which we are each a part. Imagine yourself blossoming from this testing time, unfolding in marvelous ways.
Now, reverse this, doing it over for the person over whom you've felt grief. Imagine letting them be free.
Never underestimate the power of your love or the beauty of who you really are. Reclaim the authority of your own spirit and let it soar. You deserve the best.
Now, your turn. What helps you release negativity? What helps you restore perspective? What encouragement can you offer readers such as the above? I'm listening.
For more, see carabarker.net. For updates, contact me at carabarker.net, or dr.carabarker@gmail to save time, click "Become a Fan" at the top of this page. Stay tuned for upcoming developments with The Love Project, including "Practicing Love." I've got a great idea for those of you who are willing to step out on the playing field and have an amazing time. Stay tuned! Follow Dr. Cara Barker on www.twitter.com/DrCaraBarker.