Ever wonder what it's like to travel with a stress expert? Ask my family. Over the course of a 17-day European vacation we journeyed by plane, by overnight train and even by water taxi. Before it was over we would fly across the Atlantic, navigate a series of canals, wend our way through the Swiss Alps and "chunnel" under the English Channel. It was an amazing trip that included stops in Rome, Florence, Venice, Paris and London.

The whole vacation went remarkably well considering how many things that could have gone wrong but didn't. Here are 10 important lessons that I learned about creating a relatively low-stress travel experience that apply whether you are traveling on business or heading out for a well-earned vacation.
1. Create an itinerary and keep it handy.
Write up an itinerary with flight numbers, arrival times, hotel addresses, etc., before leaving home. We did this so family members could get in contact with us in case of an emergency. However, we wound up using this itinerary practically every day. For example, we used it to answer numerous questions like: What's the address of our hotel? It was sometimes easier for the person trying to help us (like a cabbie) just to read it from our itinerary than for us to try and pronounce it correctly.
I also kept a file folder in the outer flap of my suitcase with confirmations from each hotel and any other side trips or excursions we signed up for in advance. Whenever there was a question about how many rooms we booked or when we booked them I pulled out that file. It was a real life saver.
2. Travel light.
We did a lot of moving around and it really helped to travel light. We had midsize suitcases with four wheels. You can drag them by the handle just like a standard two wheeler, but you can also push them sideways through tight spaces like the aisles of a train. We traveled with an average of 30 to 40 pounds of clothes per person and didn't hesitate to wear the same outfit twice. When you have to lift your bag over a subway turnstile, or fit into a small European cab you'll thank me for this advice over and over.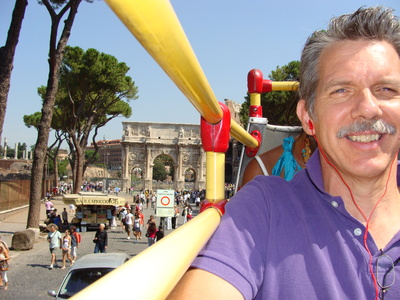 There's a double-decker tour bus in every major city in the world. You pay one price for the whole day and can get on and off anywhere you like. You listen to a guided tour in your native language while you ride around. It's such a great, completely stress-free way to see the sites.

3. Stay for two or three nights, minimum.
If you're traveling for pleasure, try to stay in each place for at least three nights. This really helps lower your stress. You get to know your way around, it makes it worth unpacking your bag, and you get a chance to really chill out in every destination.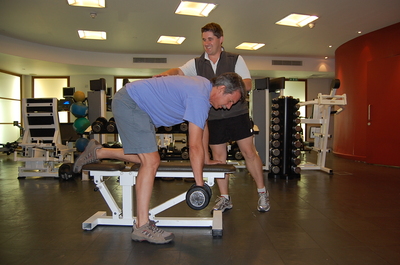 Here I am with the trainer at the hotel in London. He was happy to help me work out an exercise routine with free weights.
4. Work out in the hotel.
Book hotels with nice fitness facilities and use them! If you don't usually work out, start on your vacation. There's no better time to reinvent yourself. Agree to start your day (of touring or your first business appointment) around 10 a.m. That will give you plenty of time to devote to exercise, a long shower or bath, and a leisurely breakfast. I did this on most mornings on our European trip (and I try to do it on business travel, too). It's a great relaxing way to start the day!
5. Read the comments carefully when booking online.
There's nothing more stressful than finding out when it's too late that your hotel is under construction, or located in the bad end of town. So check the recent customer comments carefully on travel websites like Expedia or Travelocity. Don't stay in a hotel with more than a couple negative ratings. (And don't necessarily trust the star-rating which is often a shorthand for amenities that you may not even care about like whether there is a restaurant in the lobby or a pool on the roof.) I always look for hotels where the vast majority of people say that yes, I would stay in this hotel again.
I love this warning on the double-decker buses in England. I think I'm going to make that the title of my next blog.
6. Call your bank and your cell phone provider before you go.
A credit card and a debit card are the hassle-free way of paying for things and getting local currency when you're overseas. Your debit card will work in ATM machines all over Europe but you must let your bank know (what your itinerary is going to be) before you go. Call your cell phone provider, too. Make sure that your mobile phones will work where you are going and what the charges will be if you make a call. Verizon set us up with a loaner phone at a nominal fee and it worked perfectly.
7. Know when to say taxi.
When in doubt -- or in a hurry -- take a cab. We tried to use public transportation as much as we could. We rode the bus in Rome, the metro in Paris and the tube in London and the train all over Europe. It was fun, made us feel more like locals and saved us money. But when we were in a hurry or tired we usually opted for a cab. The minute you get in a cab and make your destination clear to your driver, your stress just melts away.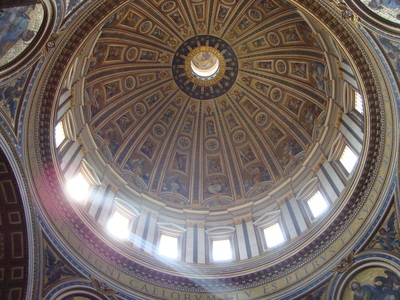 The dome at St. Peter's Basilica in Rome. I don't recommend climbing the 500-plus stairs to the top. Some people experienced claustrophobia and a few had panic attacks.
8. Scout out important destinations ahead of time.
I do this on business trips and I did this for our European vacation, too. On business, I arrive at the destination well ahead of time and figure out exactly where I need to go so I don't stress trying to find it at the last minute. We did a version of this for our European vacation, too. Sometimes I'd check out a restaurant or a sightseeing venue while the rest of the family shopped or rested in the hotel, so we didn't have to all wander aimlessly from place to place trying to decide.
9. Leave plenty of extra time on travel days.
Whenever we were moving from one city to the next it was stressful. There was just no way around it. Missing a connection would be costly if that were to actually happen, so you find yourself getting a bit stressed on these travel days, even when things go perfectly. What worked to minimize the worry was to simply double the time it should take to get from our hotel to the nearest airport or the train station, and be comfortable with the fact that even if we did get delayed there would be plenty of extra time built into our schedule to allow for it.
10. Do yoga or meditate while you are waiting.
I did at least 20 minutes of yoga every day just filling in the time waiting for others to get ready. You don't need a mat. You can do certain standing poses on the rug or even a hard floor. Another suggestion is to schedule downtime just before dinner. On most days we napped from about 4:30 to 6:00 p.m.

So those are my 10 tips for stress-free travel. 1. Plan ahead; 2. Travel light; 3. Stay at least three days in each location; 4. Use the fitness facility; 5. Read the reviews online; 6. Call your bank and mobile phone provider ahead of time; 7. Learn to say taxi; 8. Scout out destinations in advance; 9. Leave plenty of extra time on travel days;10. Nap, meditate or do yoga in your room instead of waiting.
You'll always have some stress when you travel, but if you do these 10 things I guarantee you'll have a lot less stress than you would have had otherwise. Bon voyage!
Photography by Cynthia Porter
James Porter is author of the book Stop Stress This Minute and president of StressStop.com