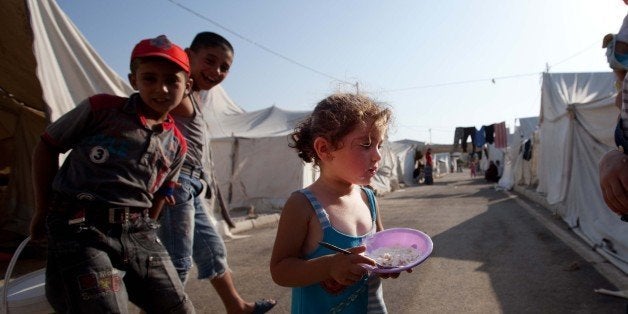 Five years later, what started as a Revolution for freedom and liberty has turned into our generation's worst humanitarian crisis. What we are now seeing in Syria - as refugees continue pouring out of the country - is childhoods shattered and innocence considered only a vague concept. Most people know by now that the non-violent start to the Revolution in fact was initiated by graffiti created by a small group of middle school boys on their school walls in Daraa.
Not many realize that the need for humanitarian intervention was recognized immediately by other young teenages - including 13 year old Hamza AlKhateeb, who got arrested for smuggling in baby milk to starving infants in Daraa, ultimately dying due to extreme torture, refusing to renounce his quest to help others and his belief in God.
These are some of the young heroes of Syria, and with them many, many others under the age of 14 who were determined to not be bystanders to the other children - and citizens - suffering and starving. We don't speak about the children and young people who take matters of humanitarian outreach into their own hands, just like we barely speak about the individual crimes and transgressions that children have witnessed or endured (and still are witnessing).
With the images coming out of Syria, we cannot fathom the level and depth of suffering, so we tend to look away. All of us do this, including myself. There is only so much despair we can watch, before we start feeling helpless and numb.
Looking away, though, is not the solution - neither to us and our conscience nor to the youth and children in Syria, the ones who have to get through each day still, whether or not the world is bearing witness. Instead, there are ways to be a productive part of the solution to ensure these traumatized and wounded children can find outlets for their nightmares, distract themselves by engaging with others productively, and remove the taboo of what they have witnessed (or perhaps been forced into).
Syria is traditionally not a country sharing hurt experiences, or a country where mental health services are available publicly. With the current breakdown in medical services, infrastructure, and displacement of families, actual health services and psycho-social efforts are all depending on grassroots efforts and on the collaboration and interest of local councils and religious and educational leaders within the country. What is interesting and fascinating to anyone with a knowledge of Syria is the reality that there is a very conscious push amongst these group players of extending mental health care and support to individuals and targeted groups, despite the state of emergency and panic that still plague most parts of the country.
NuDay Syria is an organization focused on empowerment and aid with dignity to mothers and children inside Syria - as well as in Turkey and here in New England. Our mission very specifically targets mothers and children, and many of our board members, partners, and activists are, in fact, mothers - ensuring that we stay on top of the needs of a group of beneficiaries that traditionally fail to make many demands. What is fascinating is how female partners do not hesitate to ensure that the mothers and children they are serving as humanitarian aid agents receive the basic requirements for aid that they need, working closely with NuDay Syria to facilitate a process that includes empowerment and self-sustainability.
Groups of refugee mothers and children encountered outside of Syria differ in their verbalized needs for mental and psycho-social support, but if you were to spend enough hours with them, the same stories of atrocities, calamities, and personal attacks emerge, making it obvious that generalizations of shared experiences are the norm, rather than the exception. There are many formal PTSD, therapy, and psycho-social programs - as well as informal - available outside of Syria for refugees, set up on a variety of scales. Considering the issues of taboo, the experience has been that to be effective and most beneficially reach women and children, then a mix of programs have worked the best.
In Turkey, NuDay Syria has conducted social business programs with a group therapy component that mothers a few times weekly would attend, relieve their pressure and share stories and tears, while earning money for their families that now rely on them and not their deceased husbands. Working on a handiwork, such as knitting or bead work, while sharing stories within a safe group has had an incredible effect on these mothers. As refugees, they still consider the reputation of going to a "mental health professional" as a taboo, but disregard that taboo if the same professional shares a cup of coffee and some knitting with them. Meeting these mothers on their turf, so to speak, has ensured that they get emotional and mental relief.
For refugee children in Turkey, the main issues are both mental health and the lack of education (how much further behind can they fall before it becomes an issue that affects their self-esteem?). As such, for NuDay Syria, our focus is to bring children to school and ensure that our school is set up in such a way that it both encourages psycho-social therapy on a classroom level and can identify children in need for personal sessions. Classes are conducted in classrooms that are decorated with happy illustrations on the walls, discipline is more conducive to children who are learning in freedom vs. that of a traditional Syrian public school, and rather than the focus being on immediate academic success, then the mental health of the students is the priority.
Emphasis is on building community, sharing feelings and talking openly, while incorporating many hands on crafts and activities including games and songs, rather than merely doing bookwork. The school day is a bit longer, both to accommodate for the learning gap and alternative forms of learning, but also to ensure that the students have a safe, reliable space to take a breather in, a space where everyone is focused on them processing their past few years, while moving forward with peers. We make sure that there are meals and snacks, that the staff is well acquainted with the students and mothers, and that the teachers are approached if there are specific concerns in the family or mothers need some extra emotional support. The mothers in our school generally are more empowered and feel more independent than most of the women in the social business circles, as they often work jobs with long hours and a low pay, and basically rely on the school as their extended community. Teachers working at the school are themselves refugee mothers who also arrived with similar issues of PTSD, but with training and through their work of empowering both children and students are finding healing and relief.
Children and mothers in Syria live with their memories and loss in a much more raw manner than is the case with refugees. They are in their homeland, yet completely estranged from their usual ways and manners of living, so the wound is very raw and the pain is palpable. What NuDay Syria's team has found, though, is a real level of resilience. Very inspiring resilience that gives many of the children the drive to smile, play, and get on with a new day. The children take mercy on one another, instead of becoming vicious and resentful of their experiences. Our work is in areas that are under siege, as well as in Northern Syria, and the work in these two main areas is very distinct and different.
In besieged areas, the mothers are often widowed. Husbands might be detained or with the rebels. The mother has a dire, urgent need for humanitarian aid, is exhausted from experiences, and from being a caregiver to her children, but she is often emotionally convinced that she is taking a part in the Revolution for freedom by her act of staying within the besieged area - and that gives her determination to get through her days. Children and mothers in besieged areas are exhausted and traumatized. Of course, services for medical and mental health are almost completely non-existent, so there are limitations. NuDay Syria has, for years, been focused on what we can do even in those areas - even if non-traditional - so our focus is on building a strong sense of community amongst the families living there as survivors.
We have alternative schools, meal programs, parties for aid distribution, and social groups taking place in bombed out buildings with safe basements and buildings presumed to be safe from air attacks. We find that the gatherings and events always bring a full house. We do attend to children who cannot attend these events or classes, perhaps due to physical injuries or even the emotional fear of an attack whilst not being home by visiting them at home and having a few teachers give classes in homes.
What is common for all - other than the horrendous experiences and the reality of living in fear of the next bombing - is the reality that everyone is in the same boat and that by holding hands and gathering together, we can only be stronger, not weaker. Our partners and activists in these besieged areas keep these efforts going and the feedback in terms of attendance and smiles are enough proof that children and mothers are on a path to healing instead of getting further drawn down into the everyday despair of Syria.
In Northern Syria, work is different - but the common theme is that mothers change as a result of our empowerment programs. They start actively being community members, leaving their homes or shelters more, and engaging in more everyday conversations rather than focus on their suffering and the destruction of their homeland. Overwhelming numbers of children are now able to attend school in areas of northern Syria where NuDay Syria works, and their metamorphosis is remarkable from the moment they start school to even a few months later.
NuDay Syria schools are not just buildings for education, but places for healing and laughter. With that attitude, the effect shows in very high attendance rates, happy children, and scholastic improvement in skills. All students in NuDay Syria schools in Northern Syria receive rewards of stuffed animals, a toy, and school supplies on a regular monthly basis. We don't do personalized therapy, but our team is very focused on each student - from physical, mental, and educational health perspectives. We are seeing that the efforts we put into the students and that the availability to play on the playground and be in a safe classroom with competent, caring teachers produces happy kids who become active students. Outside of school settings, we continue to focus on building homes, so more families can have a safe shelter, protected community, and look towards the future, while children and the greater community attend sports events, seasonal parties, and have weekly access to medical health clinics for basic check ups.

The Syrian humanitarian crisis is not going to go away, even if military and political issues are resolved tomorrow. Children and mothers are hurt, and the loss of family and family life as everyone knew it will never go away. However, for the millions of children and mothers inside Syria, there is still hope. There are so many things we can do for them, so many things that each one of us here can contribute to, consequently ensuring healing and hope. Providing shelter, finding ways to support schools with a focus on psychosocial therapy, taking part in efforts that directly reach mothers in Syria - all of these are options we each can contribute to that directly affect the healing of very raw wounds. There is no need to look away from these incredibly hard images of suffering in a country that deserves so much more. Instead, decide that you will make a difference and be that catalyst for change, because you believe - as so many others do - that hope is stronger than fear.
Popular in the Community