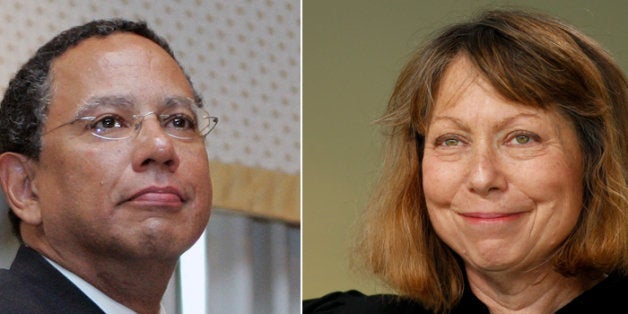 In an in-depth interview with NPR's David Folkenflik, Baquet addressed several of the controversies that have surrounded Abramson's ouster from the Times.
Abramson's allies have said that she suffered from the sexism that seems to greet a great number of female bosses. The Times brass has insisted that she had dug her own grave through a series of bad managerial decisions.
What does not seem to be in dispute is that, at one point, Baquet, who was Abramson's deputy, complained to Times publisher Arthur Sulzberger, Jr. about Abramson—and about her decision to pursue Guardian editor Janine Gibson for a managing editor role at the paper. (Whether or not she kept Baquet in the loop about Gibson is another matter of contention.)
In the NPR interview, Baquet dismissed the idea that Abramson's gender played a role in her ouster, but he did admit that he had complained about her. Though he had denied that he had made any direct calls for her to be fired, he did agree that his intervention with Sulzberger had changed the course of events.
"Obviously, there was a significant disagreement between Jill and the publisher, and Jill and me," he said, adding later, "I don't think there's any question that I made it known that I was a little unhappy."
Seemingly referring to Abramson's famously brusque managerial style, Baquet said he thought it was "nuts" to presume that top editors had to be "rough" on their staff. However, after Folkenflik pointed out that Baquet was known to have punched several holes in the walls of the Times' Washington bureau, he acknowledged that he has a "temper," though he added, "in each case I was mad at somebody above me in rank." (One of the people above him in rank? Abramson.)
That admission could possibly fuel some of the criticism over Abramson's ouster, as many have previously wondered why she was so often condemned for her style while Baquet maintained his beloved status even though he was sometimes angry enough to punch holes in walls.
Listen to the interview here.
REAL LIFE. REAL NEWS. REAL VOICES.
Help us tell more of the stories that matter from voices that too often remain unheard.