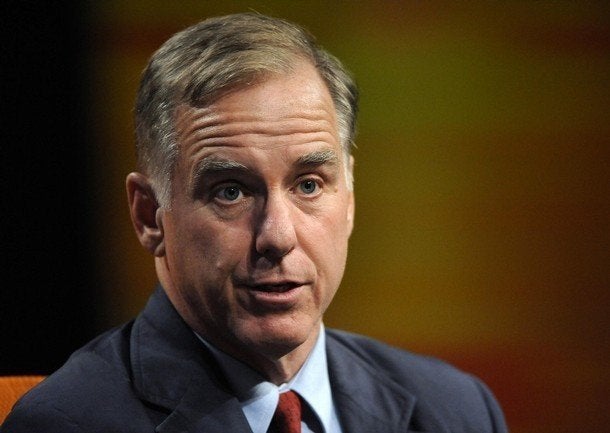 Days after calling Howard Dean as a "bloodsucking leftist" who could only be stopped with "a stake through his heart," CNN host Lou Dobbs reached out to the former Democratic National Committee Chairman to invite him on his radio show.
Dean declined the offer, according to a source close to the one-time presidential candidate.
The attempt by Dobbs to "clear the air" extended to Dean's brother, Jim Dean, who chairs the group Democracy for America (DFA). But he too declined the chance to go on Wednesday's program. The outreach was too little, too late.
Earlier this week, the CNN host, appearing on his syndicated United Stations Radio show, called Howard Dean a "left-wing pest" who perpetuated "liberal fascism" before suggesting the former governor needed to be killed like a vampire.
Dobbs offered a pseudo-apology a few days later, retracting a portion of his remarks while claiming his critics didn't get the Bram Stoker allusion.
The explanation was viewed as insufficient by Dobbs' critics. DFA blasted out an email shortly after calling for CNN and the United Stations Radio Network to fire the host.
"It's time to get Lou Dobbs and his hate speech off the air," the letter read. "With violence from right-wing extremist groups on the rise and Republican-backed mobs hanging cardboard versions of members of congress in effigy, Lou Dobbs' statement is dangerous. Enough is enough.
"It's time for CNN and the United Stations Radio Network to fire Lou Dobbs."
Mary Rickles, Communications Director for DFA, told the Huffington Post that since the email went out nearly 5,000 calls have been made from their members to CNN and United Stations Radio Network.
"Our members are definitely upset about it -- nearly 5K is a lot of calls," Rickles added. "Because of the response, there's a good chance we will escalate and do a petition, but that depends on the response of CNN and United Stations Radio Network. We're not looking for an apology; we're looking for action -- management making a statement that this is inappropriate is the least we expect."
Related
Popular in the Community