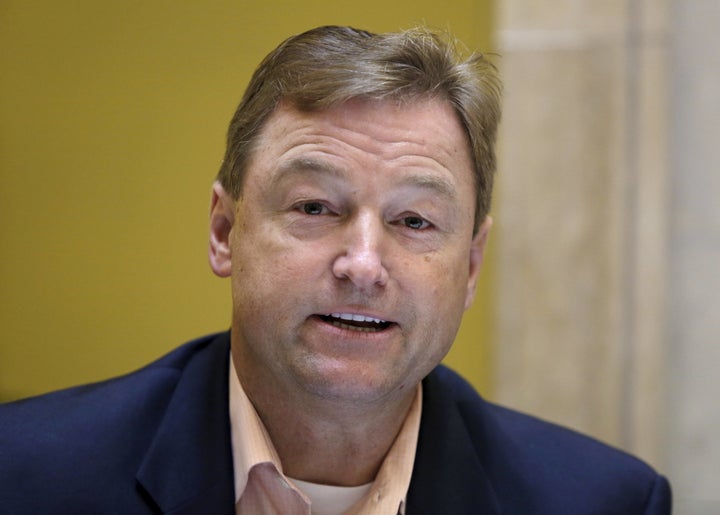 WASHINGTON ― The campaign for Sen. Dean Heller (R-Nev.) sent out an email Thursday night urging supporters to give him money in the face of a massive and coordinated left-wing attack.
But really, Heller is just fundraising off of a handful of mean tweets, including one that's three years old and by a random guy with a couple of hundred followers.
"We've seen a remarkable stream of emails of support from friends like you upset about the over-the-top attacks against Dean, and we hear you," begins the email from Heller's campaign, flagged by a Nevada reporter. "These outbursts and orchestrated messages are part of a coordinated left wing campaign across the country." 
The email highlights this tweet by @jefsauce, aka "Tim, hi." It's from April 2014. 
"Their opposition to common sense ideas like school choice and smaller government have brought on this excessive aggression," the email continues. "When you've been enabled by big government for so long, clearly you will [sic] they say and do anything to protect it."
"That's why I'm reaching out earlier than we have ever needed to before," it adds. "Will you contribute $25, $50, or even $100 to fight the attacks?"
It's unclear why @jefsauce tweeted his message three years ago. When The Huffington Post's Ryan Grim asked him on Twitter, he said he didn't remember. But @jefsauce noticed that Heller was using his old tweet to raise money, which prompted this response on Friday:
"Well it's certainly silly that a public figure would still be upset about a three-year-old tweet from a nobody like me," the person behind @jefsauce told HuffPost. "I just hope that if he made any money off my content, I see my fair cut of it. Thanks!"
Jeremy Hughes, a consultant to Heller's campaign, said the screenshot of the fundraising letter didn't show that the tweet was actually part of a GIF that rotated among three tweets and a photo of people protesting the senator. The 2014 tweet erroneously ended up in the mix, he said, as the two other tweets were from February 2017. 
Heller campaign spokesman Tommy Ferraro added that he has a document with "30 or so more" mean tweets from February.
"There were dozens of vulgar tweets from last month to choose from," he said.
Heller is up for re-election in 2018 and is one of the most vulnerable Senate Republicans.
This story has been updated to include comments from Heller's campaign.
REAL LIFE. REAL NEWS. REAL VOICES.
Help us tell more of the stories that matter from voices that too often remain unheard.
BEFORE YOU GO
PHOTO GALLERY
Least Environmental Senators