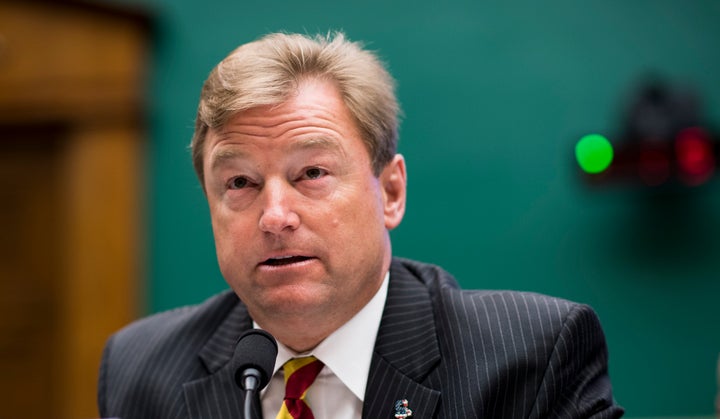 Sen. Dean Heller of Nevada, a Republican facing a tough re-election fight in November, predicted on Wednesday that Brett Kavanaugh will get confirmed to the Supreme Court despite the "hiccup" of the sexual assault allegation made against him by Christine Blasey Ford, a college professor in Northern California.
"I'm really grateful for the White House, for the effort of President (Donald) Trump and what he has done, and the excitement that we have," Heller said on a conference call with Nevada GOP leaders, according to The Nevada Independent. "We got a little hiccup here with the Kavanaugh nomination; we'll get through this and we'll get off to the races."
Few senators have expressed such confidence in Kavanaugh's confirmation proceeding relatively smoothly just days after Blasey went public with the bombshell accusation. Most of his GOP colleagues, even Trump, have struck a more cautious tone, maintaining that Kavanaugh's accuser deserves an opportunity to be heard in a Senate Judiciary Committee hearing scheduled on Monday.
"I'd have to see what she has to say," Trump told reporters on Wednesday.
The politics surrounding the hearing are extremely risky for Republicans. Appearing insensitive or dismissing a woman's allegation outright could harm their chances of retaining congressional majorities in November's midterm elections.
The dismissive treatment of Anita Hill and the sexual misconduct allegations she lodged against Clarence Thomas at his confirmation hearings for a Supreme Court seat in late 1991 is credited, in part, with sparking the "Year of the Women" in the 1992 elections. This year, Democrats have nominated a record number of female House candidates, including in a number of states crucial to control of the chamber.
A spokeswoman for Heller's Democratic opponent, Rep. Jacky Rosen, quickly criticized the senator for his "hiccup" comment.
"I hope Sen. Heller knows that when he shamelessly dismisses allegations of this magnitude against a nominee seeking a lifetime appointment to the nation's highest court, Nevada women are listening," Molly Forgey said. "Make no mistake, we will hold Sen. Heller accountable at the ballot box."
Recent polls have shown Rosen with a slight edge in the race.
Some Republicans haven't hesitated to voice skepticism about the allegation by Blasey, who claimed Kavanaugh held her down in a bedroom at a house party when they were both in high school in the Washington area and attempted to force himself on her.
"This has been a drive-by shooting when it comes to Kavanaugh," Sen. Lindsey Graham (R-S.C.) told The Washington Post' this week. "I'll listen to the lady, but we're going to bring this to a close."
Blasey's lawyers said quotes like the one from Graham, a Judiciary Committee member, as well as from Heller show that many GOP senators have already pre-judged her, necessitating an FBI investigation and the questioning of others about the woman's allegation prior to her testifying before the Senate panel.
"The rush to a hearing is unnecessary, and contrary to the committee discovering the truth," Lisa Banks, Blasey's lawyer, said in a statement on Wednesday.
Support HuffPost
The Stakes Have Never Been Higher
Popular in the Community