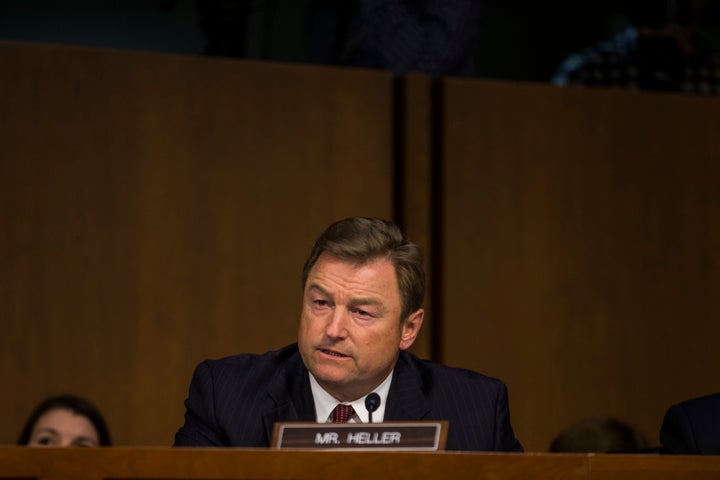 Nevada GOP Sen. Dean Heller's campaign has paid his son, a social media influencer, more than $50,000 since July 2016, according to Federal Election Commission records.
The payments to Harris Heller and his company, Heller Enterprises, were mostly for social media consulting, but they also include small reimbursements for travel and lodging. The Heller campaign said Harris Heller's work for the campaign includes running their Instagram page – which has 1,337 followers – and making videos for Twitter, Facebook and YouTube.
The Nevada senator is considered the most vulnerable Republican running for re-election in 2018. A first-term Republican running in a state narrowly won by Democratic presidential nominee Hillary Clinton, he is expected to face Democratic Rep. Jacky Rosen in November.
Paying family members with campaign funds is legal, as long as they aren't paid more than market rate for the work and the work is for bona fide campaign services. But ethics experts have flagged the practice as problematic. It's ensnared members of Congress from both parties, including GOP Reps. Kevin Cramer (N.D.) and Stephen King (Iowa) and Democratic Rep. Bobby Rush (Ill.).
"A candidate or office-holder contracting with a family member raises questions about personal use of campaign money," said Brendan Fischer, the director of federal and FEC reform at the Campaign Legal Center. "If a candidate can use donor money to fund the lifestyle of themselves or their family members, the risk of corruption goes up."
Harris Heller isn't a social media neophyte. He describes himself as "Musician/social media influencer" on his LinkedIn page, declaring: "If I'm not playing guitar, snapchatting or streaming on Twitch you should probably call the police." He and his wife, the singer Kenzie Nimmo, have hundreds of thousands of followers on their YouTube accounts and were popular on Vine before Twitter shut down the latter service. They've appeared on The View and in ads for Gap, Coca-Cola and HP.
The Heller campaign defended the hire, saying the younger Heller produced most of the video content for the campaign's social media accounts, shooting hundreds of hours of video. He has also started the campaign's Instagram account and provides story-telling expertise that traditional campaign digital consultants lack.
"Harris Heller produces quality content at a cheap discount to the campaign. He creates social and digital media for Fortune 500 companies," spokesman Keith Schipper said. "He is an important part of our team, and we are lucky to have him."
The spokesperson said Harris Heller has produced 28 videos, including spots pushing the campaign's tax reform message and showing his father's extensive travels around the state.
The younger Heller has a YouTube page that went inactive in June 2017. Most of the videos on the page have between 1,000 and 3,000 views, although some have substantially more. One video, titled "I'm Doing a Nude Scene in Grey's Anatomy," has 16,000 views. Other popular videos include "Recording in Justin Bieber's Studio" and "TOP 8 HIDDEN TRICKS IN POKEMON GO."
The payments to Harris Heller began in July 2016 and have continued into 2018. On its most recent FEC report, the campaign said Harris Heller earned two payments totaling $10,000 in February and a $2,500 payment in March. (The campaign said Harris Heller is paid $2,500 a month, although those payments are sometimes delayed.)
In the past, campaign finance reform advocates and ethics groups have called the practice "legally alright but morally kind of sticky." Before his retirement, former Sen. David Vitter (R-La.) introduced legislation seeking to ban the practice. It attracted no co-sponsors, and never saw the Senate floor.