WASHINGTON -- GOP senators are straying from their party's line on a potential Supreme Court nominee, saying they would welcome the chance to vote on a candidate put forward by President Barack Obama.
They're small, but significant, departures. Senate Majority Leader Mitch McConnell (R-Ky.) has warned Obama not to even think about putting forward a name to replace the late Antonin Scalia because the chamber won't act on it.
"The American people should have a voice in the selection of their next Supreme Court Justice," McConnell said Saturday. "Therefore, this vacancy should not be filled until we have a new President."
But since then, GOP senators have indicated a willingness to move forward on a nominee -- even if it's not their ideal outcome. (Their preference would be to wait until after the election to fill the Supreme Court vacancy, in hopes that a Republican will win the White House.)
Sen. Susan Collins (R-Maine) said Wednesday if Obama nominates someone, she will give that person her "full attention."
Sen. Lisa Murkowski (R-Alaska) said the nominee should, at the least, get a fair hearing.
Sen. Dean Heller (R-Nev.) put out a statement Wednesday saying, "The chances of approving a new nominee are slim, but Nevadans should have a voice in the process.
"That's why I encourage the President to use this opportunity to put the will of the people ahead of advancing a liberal agenda on the nation's highest court. But should he decide to nominate someone to the Supreme Court, who knows, maybe it'll be a Nevadan," he added.
His spokesman later clarified, however, that Heller was not indicating a willingness to vote on a nominee, despite the way his comment was initially interpreted.
Sen. Ron Johnson (R-Wis.), one of the most vulnerable GOP senators up for reelection in 2016, also indicated a willingness to vote on a nominee Tuesday after taking a harder line days earlier.
Democrats don't have a ton of leverage. After all, Republicans still control the Senate, and Obama would need to get the vote of every single Democratic senator and 14 GOP senators to get his nominee through.
Still, they've been trying to shame Republicans for their refusal to even consider a nominee, before Obama has even put forward a candidate.
"I ... think that they're going to cave in," Senate Minority Leader Harry Reid (D-Nev.) said during a caucus event in Reno, Nevada, Wednesday, adding he believed McConnell made a "mistake" with his initial comments. "I think the president's going to give us a nominee that's a good one, and I think they're going to have to hold hearings and have a vote."
The fight could have consequences not only at the presidential level, but also in Senate races. Most of the at-risk GOP senators up for reelection have backed McConnell's strategy as the party fights to retain control of the chamber after 2016.
Democrats have to defend only 10 seats in 2016, the residual benefit of the shellacking they took in 2010 when tea party Republicans swept into office. The two Democratic seats most at risk are in Nevada and Colorado. The GOP, meanwhile, needs to defend 24 -- and six of them are in states that Obama won twice.
This piece was updated with additional comment from Heller's office.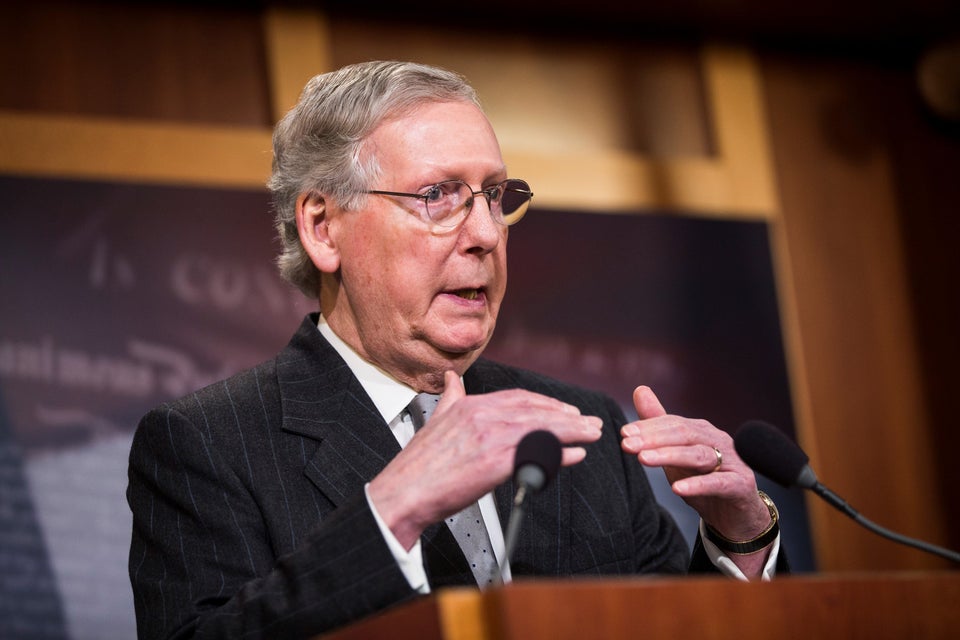 Reactions To Scalia's Death
Popular in the Community