The painful love triangle at the heart of "Bachelor in Paradise" Season 4 exploded in flames on Monday night, in the midst of the taped reunion that ended the finale.
Dean Unglert and Kristina Schulman were an early fan-favorite couple on the summer dating show, but after Unglert also fell for Danielle Lombard, he began to string both women along. Though he seemed to ultimately make a decision, ending things with Schulman to focus on his connection with Lombard, a tense exchange at the reunion show revealed that he continued to pursue both women after taping ended.
As Unglert sat in the hot seat opposite host Chris Harrison, the audience viewed a montage of his relationship arcs on the show ― including an emotional crisis on the final day of "Paradise," which aired just minutes before the reunion.
"Waking up this morning, knowing Kristina wasn't here, and knowing that there's no way I can be in touch with her, it just kills me," Unglert said through tears. "I actually am in love with this girl, and yet I lost that to pursue something else."
He chose to leave the show separately from his remaining love interest, Lombard, telling her that he needed to respect his previous relationship with Schulman.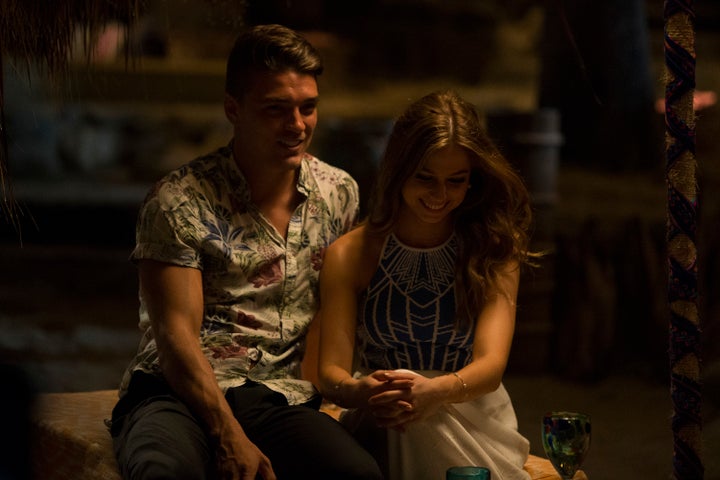 On the reunion show, Unglert confessed that he still had "strong emotions" for Schulman while she admitted she would always have "a love" for him because of their "intense, but ... real" connection.
But Lombard quickly interjected, breaking up the warm moment. "If you were saying that you were in love with Kristina all this time, and you love her," she pointed out, "when we left the show, immediately, within an hour, you called me ... we had a relationship that unfolded after 'Paradise.'"
Apparently this was news to Schulman, who had also seen Unglert since taping wrapped. "Careful, Dean, what you say," she said, "because I thought we kind of tried talking again, but ... are you still flipping-flopping us both?" 
Though he looked flustered, Unglert didn't deny the accusation. "Yes, my indecisiveness carried on after the season," he admitted, "and I understand that."
"I mean," Schulman sighed, "enough is enough." 
Do people love "The Bachelor," "The Bachelorette" and "Bachelor in Paradise," or do they love to hate these shows? It's unclear. But here at "Here to Make Friends," we both love and love to hate them — and we love to snarkily dissect each episode in vivid detail. Podcast edited by Nick Offenberg.
Want more "Bachelor" stories in your life? Sign up for HuffPost's Entertainment email for extra hot goss about The Bachelor, his 30 bachelorettes, and the most dramatic rose ceremonies ever. The newsletter will also serve you up some juicy celeb news, hilarious late-night bits, awards coverage and more. Sign up for the newsletter here.
Calling all HuffPost superfans!
Sign up for membership to become a founding member and help shape HuffPost's next chapter
BEFORE YOU GO
PHOTO GALLERY
Tweets About The "Bachelor In Paradise" Season 4 Finale