DeAndre Hopkins of the Houston Texans is one of the NFL's elite wide receivers by just about any metric. In 2015, the former Clemson standout accumulated 111 catches, 1,521 yards and 11 touchdowns while earning second-team All-Pro honors. This past season, however, the 24-year-old struggled, in large part because of the errant quarterback play of Brock Osweiler.
As Super Bowl LI ― set for Sunday in Houston's NRG Stadium ― approaches, Hopkins (promoting Gatorade's new Gx platform), discusses watching other teams prepare for the big game, his frustrations from the past season and why he believes the Texans are on the right path to championship contention.
This interview has been edited and condensed for clarity.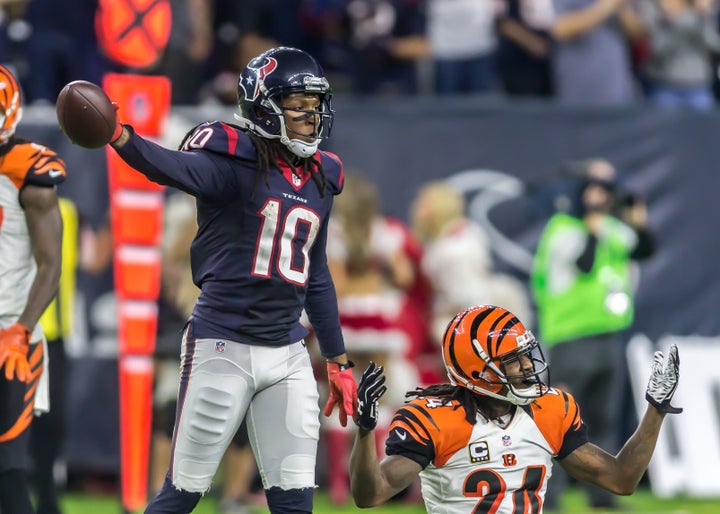 What have you learned and appreciated while hosting the Super Bowl festivities in Houston?
It's bittersweet. You know, I wish I was in that game. That Patriots [playoff] game is still in my head. Knowing how close we were, I feel like we gave those guys the best challenge of anybody. It's tough, man, to watch two other teams in your locker room.
Now that we're a few weeks removed from your playoff loss to the Patriots, have you spoken with teammates about what went wrong and how close you were? 
Of course we have, and that's why we're working this offseason ― the team, the energy, the mindset that we have is different. Because we know what it takes, we know if we play one better half of football, what could have been. This team ― we're not making any excuses this year for anything, like we did last year without having [first-team All-Pro defensive end J.J. Watt], still being the No. 1 defense. Or our offense playing like we did and us still being able to win games. It's right there man ― we know it. The sky is the limit.
Nah, I wasn't surprised at all. I knew Lamar Miller was going to do that. The year before he came here, when he played in Miami, he had like an 80-yard something run on us up the middle. It's not every day you see a guy be able to run up the middle and score a touchdown. So once we got him, that play stuck in my head.  
You had an outstanding 2015 campaign, but this season you didn't generate the same level of production. Obviously Brock Osweiler struggled, but I can imagine you want to continue growing as a player?
Of course I want to continue growing as a player, but in some positions, not like others, your play is dictated by others' play. If there's anything I need to work on this offseason, it's with the guy who's going to be throwing me the football.
Does that mean you'll be in Houston working out with Osweiler? 
I'll be in Houston working out. [I'll be working] with the guy who's going to be throwing me the football.
Calling all HuffPost superfans!
Sign up for membership to become a founding member and help shape HuffPost's next chapter