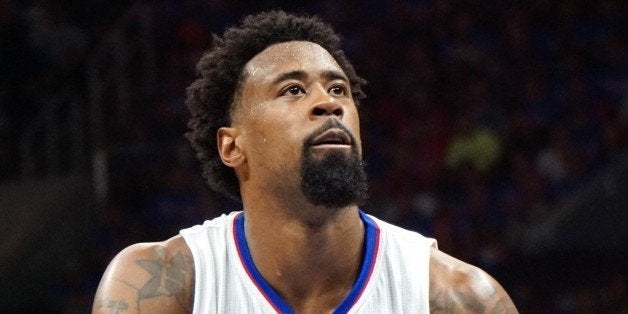 On the face of it, Game 4 of the Los Angeles Clippers-Houston Rockets series on Sunday had all the makings of a good post-season game, maybe even a classic.
Down 2-1 to the Clippers, the Rockets' Dwight Howard and James Harden realistically needed a win to keep their season alive, the latter of whom was in the midst of the best season of his career. Chris Paul, the greatest point guard of his generation, was just two wins away from reaching the conference finals for the first time in his career, a milestone that has eluded him throughout the last 10 years. Blake Griffin, long a human highlight reel, was finally putting it all together and becoming the all-around player we have hoped for since he first entered the league.
These were the NBA playoffs, and fans were ready to watch basketball at its finest.
And then, the Rockets fouled DeAndre Jordan on purpose. Then they fouled him again. And again. And again. And again. And again and again, we had to watch as Jordan, an unambiguously horrible free throw shooter, shot free throws as Rockets players wrapped their hands around him. Again. And again. And again.
Holy mother of God make it stop. (Source: YouTube)
In all, Jordan shot 28 free throws in the first half, an NBA playoff record, then six in the third quarter before sitting out all of the fourth. The first half, in particular, was a soul-sucking affair, filled with expletives from the crowd and self-conscious stares of silence from the Rockets' own players. It was embarrassing and even a bit sad to watch professional athletes (albeit millionaire athletes for which it's hard to elicit much sympathy) stoop to such a low, to utilize such a gimmicky tactic after such a long, impressive, hard-fought season. Harden openly hated it.
But more important than any of that, it was just horrendously, mind-numbingly boring.

We feel your pain, Trevor. (Source: gfycat.com)
Lately, there have been a lot of arguments for and against the newly named Hack-a-Jordan approach to basketball -- it was previously known as the Hack-a-Howard or Hack-a-Shaq approach -- in which an opposing team repeatedly and intentionally fouls a terrible free throw shooter because they've concluded that having him shoot free throws will improve their chances of winning.
Most of these arguments have surrounded whether or not the strategy "works," i.e. whether it improves or hurts a team's chances of winning (for what it's worth, the Rockets lost on Sunday, badly). But those arguments ignore a more fundamental and simple problem: The strategy has the capacity to single-handedly take all the fun out of a basketball game -- and in this case, it did just that during what should have been an iconic match-up between two contenders and four superstars.
All the elements that make NBA basketball such a beautiful thing -- the speed, the flow, the rhythm -- were erased for too much of Sunday's game and replaced by a plodding, groan-worthy affair. It was, it must be said, worse than watching a baseball game.
But most frustratingly, it doesn't have to be this way. The NBA could adopt any number of changes that would fix the problem. Maybe a team who gets intentionally fouled could get the choice whether to shoot the free throws or take the ball out again, as Bill Simmons has suggested. Maybe after a certain number of intentional fouls -- one? two? three? -- the team could get the ball back after they shoot, in a fashion similar to what we currently see at the end of games. There are simple fixes to this problem, none of which would be difficult to enforce.
So why don't we just create some rules and be done with it? Because lot of people don't like the idea of rewarding incompetence, of changing rules to hide the weaknesses of certain players and not others. But this isn't about rewarding incompetence or hiding weaknesses, and it certainly isn't about what's fair or right, two concepts so theoretical and so difficult to pin an argument on that they should be tossed immediately out the window. It's about making the game of basketball as fun as it can possibly be.
And anyway, a sport, by definition, is a collection of arbitrary rules compiled together to maximize how fun it is to compete in or to watch. What is fair and what is right is just a result of the rules that we decided upon, again, arbitrarily. The rules can be changed, and they should be changed, to maximize how much those playing and those watching enjoy themselves. It's easy to forget, but that is the only real objective here.
Some people say this Hack-a-Human issue is not employed often enough to necessitate a rule change. Even if that is true -- and that is debatable in and of itself -- the strategy has the power to ruin critical games, a huge problem for the league. DeAndre Jordan is just one terrible free throw shooter, yes, but the Clippers-Rockets series is one whole playoff series that has been tainted as a result. I have loved basketball since I was a fourth-grader in Los Angeles, but I hated whatever it was I was watching Sunday night, and I was far from alone. That should concern NBA officials who desperately want to grow their audience, not shrink it.
The NBA has a glitch in its system that has the capacity to take what should be a fun game, like Sunday night's, and transform it into an unwatchable mess.
It's one player, yes, but it's also an entire half of a playoff game that was ruined for the sake of, uh, what exactly? Fairness? Morals? These are meaningless concepts in sports, and they are getting in the way of fans enjoying a more beautiful form of the game. To be exact, they are getting in the way of us enjoying more stuff like this:
And to those of you who, for some illogical reason, believe it's only right that basketball fans be subjected to a bad free throw shooter tossing up brick after brick, remember this: Rules change all the time and the reason is to improve the fan experience, not improve the moral integrity of the sport. The NBA instituted hand-check rules to free up wings and improve the offensive flow of the game. It instituted a defensive three seconds rule to free up the lane for the sort of finishes we all know and love. And now, it should create the "DeAndre Jordan rule" to free us of whatever the hell we were watching on Sunday.
Calling all HuffPost superfans!
Sign up for membership to become a founding member and help shape HuffPost's next chapter