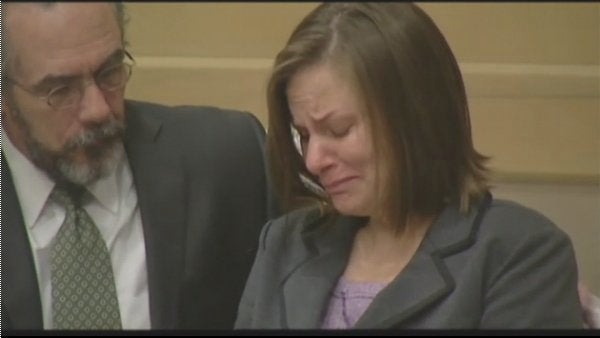 A Florida mother has been convicted of child neglect after prosecutors said she failed to protect her two sons as their father stabbed them during a hostage situation.
The attack occurred when DeJesus' husband, William DeJesus, drove his family to a Deerfield RV park and forced them inside an RV at random before fatally shooting the RV's 76-year-old owner.
William DeJesus then held the man's girlfriend at gunpoint and called 911, telling the dispatcher he had "hijacked a woman."
During a seven-hour SWAT team standoff, the 41-year-old father stabbed every member of his family before killing himself with the knife. His 9-year-old son died from the attack, while his 7-year-old son and wife, Deanna DeJesus, were both severely wounded.
The girlfriend of the RV owner was unharmed.
Prosecutors argued that Deanna DeJesus should be imprisoned for her failure to act. They cited the statement of the younger boy, who told the investigators that he fought back against his father because his mother was doing nothing.
Defense attorney Terrence Moons maintains that his client was merely a victim of a homicidal rampage.
"This is a massacre at the hands of a father," Moons told the court. "You can't go in and second-guess, 'Well, if you would've done this, then things would've ended differently.'"
He also pointed out that after the mother herself was stabbed, she was wounded so severely that she was physically unable to help her children.
The defense was barred from using a battered spouse defense, as it does not apply when a defendant knowingly fails to protect a child.
Documents from the Florida Department of Children & Familes show that she also told authorities that both she and her husband had molested the children, according to CBS Miami. She claimed she participated out of fear that her husband would kill her if she did not, according to the documents.
The boys were briefly placed in foster care, but were returned to their parents in 2009, when their mother retracted her statement.
The foster parents were outraged with the decision, they told the Herald. They said the two children were clearly terrified of their parents, and that the boys called William DeJesus the "bad man" and the "monster."
Deanna DeJesus could spend up to 15 years in prison for the neglect charge alone. A new trial date for the charge of aggravated manslaughter has yet to be announced.
REAL LIFE. REAL NEWS. REAL VOICES.
Help us tell more of the stories that matter from voices that too often remain unheard.
BEFORE YOU GO
PHOTO GALLERY
10 Major Crimes That Shocked the Nation (SLIDESHOW)