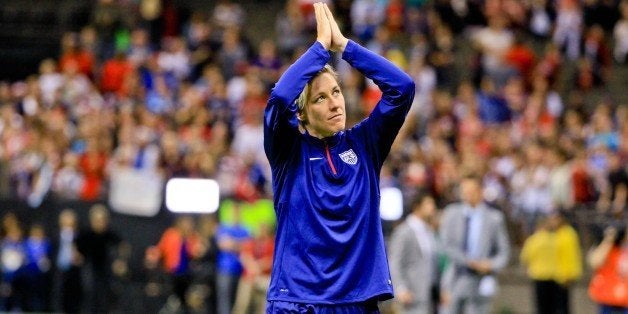 "It's not about the actual failure itself, it's how you respond to it."
I look at these words every day, every morning. They are written in my journal. They are on my boards in my classroom. I even have this quote typed on a sticky note on the desktop of my school and personal computer.
The first time I heard these words, they resonated with me. A failure in your life might not so much be a failure, but a challenge. It's unplanned. Something, anything that does not go your way, but its own way. It doesn't take an F on a paper in red pen to call it a failure. It takes anything that challenges you. We've all had at least one. We want to pout we want to crawl into a hole. An athletic injury, a loss of one's job, or not being accepted to college. These are all considered failures to the person it affects.
Now, let me tell you what person said these ever so simple but poignant words.
That's right. Abby Wambach. That famous female soccer player who was just arrested this past weekend in the early hours of Sunday morning for running a red light and "failing" to pass a field sobriety test. First of all, we're all thankful, ever thankful, that no one else was involved or hurt. I am not here to give any excuse to make Abby Wambach appear or sound not at fault. Let's remember, and I quote, "This is all on me." I'm sure more than a few of us can say we have found ourselves in a similar situation. I could talk about numerous other athletes, politicians, and celebrities who have had such similar or even worse, much worse, failures to overcome. But I'm here to talk about Abby Wambach.
Abby, I'm here to say that where many of us are disappointed, we still first and foremost recognize you for what you have done and what you will still do for us. Us as people, as athletes, as women, and particularly female athletes. Because we do. We expect you to continue making gains for us all. Your accomplishments as a woman and athlete, a champion are untouchable in my eyes, in many other's eyes as well. As you know, there are people who are looking for you to fail. To not come back from this "failure." They want any reason to turn around and say, "I told you so." "She's a has-been." "She's just another female athlete who tried to do something else." Dare I say it ... "She's just a woman."
Prove them wrong Abby. Show the world how you will not run and hide. Show the world how each and every one of us can learn from our mistakes, our challenges, our "failures." Show the world how much more you can do for them.
PHOTO GALLERY
15 More Sports Fails
REAL LIFE. REAL NEWS. REAL VOICES.
Help us tell more of the stories that matter from voices that too often remain unheard.