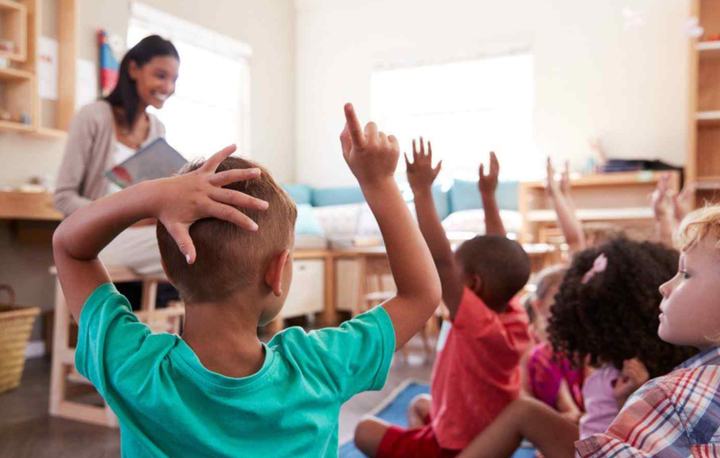 A new study published in JAMA Pediatrics found that children who attend intensive early childhood educational programs from preschool through third grade are more likely to complete post-secondary education later in life.
Although the benefits to early learning opportunities are clear, the problem for many families remains in accessing affordable, quality programs — which creates a cycle that further widens economic divides.
Barriers to quality early education opportunities persist
Children from low-income households, then, are shut out from rigorous educational activities that set them up for future success.
These repercussions are felt for generations
In the new study, University of Minnesota researchers discovered that kids from low-income Chicago neighborhoods who entered the city's Child-Parent Centers (CPC) in the early 1980s achieved associates, bachelors or masters degrees at higher rates in their 30s than children who didn't experience CPC "intervention."
This suggests programs similar to the CPC ones could help low-income children get on track for college, says lead author Arthur J. Reynolds, a professor at the University of Minnesota Institute of Child Development.
"A strong system of educational and family supports in a child's first decade is an innovative way to improve educational outcomes leading to greater economic well-being," Reynolds says in a press release.
For the study, researchers tracked the progress of more than 980 graduates of the Chicago Public School District's CPC program who participated in the Chicago Longitudinal Study, which Reynolds directs. The Chicago Longitudinal Study is one of the longest-running follow-up surveys on early childhood intervention.
The University of Minnesota researchers then compared that information to data on 550 kids who attended other early intervention programs in the Chicago area. They found a 47 percent increase in earned associates degrees and a 41 percent increase in earned bachelors degrees among adults who graduated from the CPC program as preschoolers, compared to non-CPC graduates.
The educational gains were higher for adults who attended CPC through second or third grade as kids: A 48 percent increase in associates degrees achieved, and a 74 percent increase in bachelor's degrees earned.
"This study shows that a well run early childhood intervention program can have benefits well into adult life," says James Griffin, Ph.D., Deputy Chief of the Child Development Branch at the Eunice Kennedy Shriver National Institute of Child Health and Human Development at the National Institutes of Health, which funded the JAMA Pediatrics study.
The researchers also found that the CPC program had a positive influence in other areas of life. According to the study, CPC graduates were more likely to adopt healthy lifestyles habits as adults and were less likely to deal with high blood pressure or mental health issues.
When applied statewide with universal preschool programs, studies show there are short- and long-term benefits that help shrink the achievement gap for low-income kids, according to the Center for Public Education. In fact, a 2005 national study of more than 14,000 kindergartners found that children from families living well below the poverty line had the most substantial gains in math and pre-reading after going to an in-center preschool.
We can make quality early education available to all children
Policies and programs exist that can make preschool and day care more affordable and accessible in the United States — and it seems progress is happening on the state level: According to the 2016 report from the National Institute for Early Education Research, 43 states (plus the District of Columbia) offered some publicly funded preschool options — and funding was on the rise as of a 2017 update from NPR. These programs are designed to make preschool accessible and affordable for low-income and working families, but are not yet universal. (Only three states — Florida, Georgia and Oklahoma — have universal preschool programs for 4-year-olds.)
On the federal level, early education advocates and lawmakers have called on Congress to expand access to high-quality preschool to all children. During his second term, former President Barack Obama had proposed a federal-state partnership, known as Preschool for All Children program, that would make early childhood education programs accessible to toddlers from low- to moderate-income families, as well as middle-class families. However, it seems the current Trump administration may undo a number of gains made nationwide in early childhood education.
As shown by research, including the latest study from JAMA Pediatrics, investments in early childhood education are investments in the future of this country. So let's move forward by making these opportunities affordable and accessible for all children.
Support HuffPost
A No-B.S. Guide To Life
Related
Popular in the Community