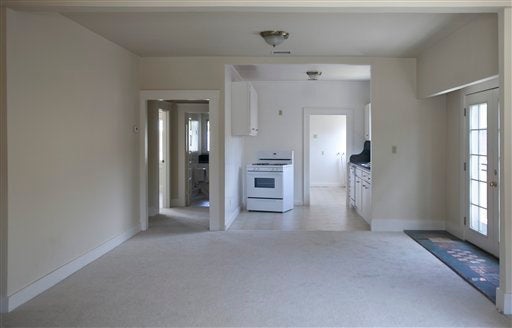 The last two years have presented a perfect storm of unfortunate events for San Francisco couple Noel and Maureen Schmidt. Both lifelong teachers, they met as Peace Corps volunteers in Sierra Leone, where they were married, 42 years ago. Maureen is a renowned quilter, and Noel started his own non-profit working with disadvantaged youth in Sonoma County.
But in November 2010, Noel suffered a stroke and became unable to run his non-profit. Maureen's school district had cut her benefits and hours in 2009, and medical costs piled up. They tried to prolong foreclosure until Noel's health improved and they could find a more affordable place to live. But on Thursday, January 19, the house that had been the Schmidt family home for 23 years was set to go up for auction.
The sad truth is that stories like this are no longer news. But in this particular case, it is -- because of what happened next.
Mary, the Schmidt's youngest child, graduated from San Francisco State University in December 2011 with a degree in international relations. A chip off the old block, she is a former AmeriCorps volunteer. Two of her siblings are teachers, one is a nurse, and her brother are engineers.
Mary was looking for jobs and writing cover letters when her sister called to tell her that the last attempt to postpone the auction had failed and that it would take place on Thursday afternoon.
"I guess you could say it was the straw that broke the camel's back," said Mary. "This had all been going on for the better part of a year, my parents worrying about their house, where they were going to live, how they were going to afford it, all on top of helping my dad recover from his stroke."
Mary immediately put her job hunting aside and penned a "strongly-worded" letter to the Bank of America. Her aim? To enlighten the bank as to exactly what they were getting by requisitioning her family home. Or maybe it was just to vent.
"I was fed up," she said. Without much thought as to whether the bank was ever going to see her rant, she posted it as an open letter on her blog:
Dear Bank of America,

Whenever my siblings and I walked through the front door of our house with tears in our eyes after a coach unfairly cut us from a sports team or a teacher treated us badly, my mom would always threaten that she was going to write him or her a strongly worded letter. My mom and dad, like most parents, hate seeing their children get hurt. Back then they saw the hurt in our eyes and wanted to make everything better.

Well, my siblings and I are all grown up now and we see the same hurt in our parents' eyes. We saw the hurt in their eyes as they struggled to figure out how to pay for an inflated mortgage payment. We saw the hurt in their eyes when, after a job loss, a stroke and increasing medical expenses became too much, they could no longer afford their mortgage. Now we see the hurt in their eyes after countless nights of losing sleep worrying about where they are going to live. Seeing this hurt in their eyes over the last year is what prompted me to write you, Bank of America, a strongly worded letter.

My parents, my four older siblings and I first entered the house on Alejandro Drive in the middle of winter twenty-three years ago. In the time since, we have left quite a mark on the house. I am sharing this with you because I want you to really understand exactly what you are getting when you take that house - our home - on Alejandro Drive.

When you enter the house, you will notice the colorful walls and vibrant tiles. We call that my mom's "mid-life fiesta." Enjoy that. It was a labor of love. Each colorful tile was made by mom and laid by my dad.

Those bookshelves, that mantel, the fence in the front yard...my dad built those. You are welcome.
When you look at the walls, you will see holes. The holes once held nails, which held some of the finest art you have ever seen. This is not art by Picasso or Van Gogh, but by the Bay Area's best fiber artist, Oregon's finest calligrapher and New York City's best abstract artist. You can't have the art.

There are bigger holes in the walls of the bedrooms from when our teenage angst got the best of us and we slammed the doors so hard it left a bit a mark. Have fun fixing those.

You might see some screws, way up on the highest ceiling. Those once secured the famous "Schmidt family Christmas mulberry branch" to the wall. This probably warrants a bit of an explanation but quite frankly, you don't deserve one. Good luck getting them out.

You will notice railings on the walls. Those are a new addition to our house. My brothers built them. They were for my dad, to help him learn to walk again after he suffered a massive stroke last November. You probably remember; it was right around the time when you sent my parents a letter telling them their loan modification had been rejected. We really appreciated that.

There is much more that you will never understand about the true value of this house. It has more worth than whatever monetary value my parents owe you. The dinner parties, the sleepovers, the birthdays, my first steps down the hallway, graduations, weddings, and funerals all happened within those walls but they also happened within each of us and you can't take those memories.

Tomorrow that house, my childhood home, is going up for auction. I will go to my parents' house this weekend and pack up the stuff that my parents have accumulated over the last 42 years. They have been teachers, mentors, community organizers, coaches and so much more. They have given back so much to this community and now you and your corporate greed are kicking them to the curb and forcing them to fend for themselves. I hope you're happy with that decision. I hope the money you get for the house is worth the loss that this community is going to feel in my parent's absence.

Sincerely,

Mary Schmidt

Within hours of posting the letter, people had re-blogged it 13 times. Tidings of goodwill and support began to pour in. Family and friends posted the letter on their facebook pages, tweeted links to it, and emailed it to their contacts. In a time when so many Americans are being rudely awakened from the dream of home ownership, Mary's message was not unfamiliar, and to have it so well articulated gave people a little peace of mind in knowing they weren't alone in their circumstances and their suffering. But empathy doesn't pay the bills, and empathy can't put a roof over your head.
Then something interesting happened.
Two days after posting the "strongly-worded letter," Mary got a phone call. She missed it because she was working, but when she checked her voicemail, she discovered a message from the office of the President and CEO of Bank of America.
Here's how she described the situation on Facebook:
Called the nice lady at the CEO's office. She said that they had received my letter and are willing to work with my parents and drafted up an offer for them. She said it is in the mail, but couldn't disclose the details. When I asked her how she got my letter, she said it was sent up to her office through some high level executives who had received it. I don't know where it's going to go from here...but that's pretty awesome. Thanks again for all your support!
And just like that, Mary saved her family. Possibly. She won't know until she gets the letter from the bank, and even then she's dubious.
"I have a feeling the offer isn't going to be acceptable," she said.
But any offer is better than nothing - which is what the family almost got. On the day of the auction, a case worker from Catholic Charities, with whom the Schmidts had been working, called the U.S. Treasury and asked them to intervene and postpone the auction. And they did.
"If they hadn't, my parents' house very well may have been sold at auction and the letter would have been all for naught," Mary acknowledged.
For now, the outlook seems good. Now that Bank of America has not only offered to compromise but even drafted a letter to that effect, they can hardly rescind their offer without facing some seriously bad press.
The exact nature of the bank's response remains to be seen. For now, Mary can take pride in the fact that she seems to have saved her family home, in some way or another.
But perhaps the sweetest victory so far came on Friday from her brother Joe, who posted on her Facebook feed, "I officially concede the favorite child spot."

Calling all HuffPost superfans!
Sign up for membership to become a founding member and help shape HuffPost's next chapter