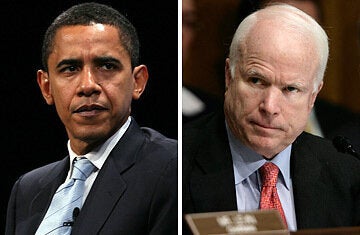 When the McCain campaign tries to manufacture outrage over your "pig in lipstick" comment, the correct response isn't a coy dismissal. You need to say, in a tone of rising disgust:
Is John McCain seriously going to lecture me about my respect for women? John McCain, who used the exact same phrase about Hillary Clinton's health care plan? John McCain who listened to one of his supporters call Hillary "a bitch" right in front of him and said nothing? John McCain who once joked that Chelsea Clinton is so ugly "because her dad is Janet Reno?" John McCain whose idea of a good joke is a story about an ape raping a women? If John McCain has so much respect for women, why has he said such cruel and despicable things about them over the course of his entire career? As the husband of a strong woman, and the father of two girls, I find it disgusting that John McCain, of all people, would go crying to the press about sexism. This is man who doesn't even believe that women deserve equal pay for equal work. He doesn't believe women should have the reproductive rights over their own bodies. And he doesn't give a hoot whether they have health insurance. The only women John McCain does respect are those who might help him get elected.

You don't have to point out that John McCain cheated on his first wife repeatedly, before leaving her for a women eighteen years his junior. But I would. McCain's like any other bully. When someone hits back, he gets flustered and makes mistakes.
This is how presidential elections are won, Barack. Eloquent speeches aren't enough. Being right on the issues isn't enough. You have to summon the moral outrage to condemn these goons in explicit terms. You have to make their hypocrisy the issue.
Everyday you fail to do so, you embolden McCain, you fall further behind, and you betray those of us who support you.
This time the gut check better be in the mail,