It's funny. With all of the furor over Beyonce's losing the Album of the Year Grammy for the third time, you'd think Katy Perry or Britney Spears had snatched the prize out of Queen Bey's outstretched hands. But people, she was beaten by Adele.
While I personally think there wasn't much to 25 beyond "Hello" (for me, 19 remains Adele's strongest album-length work), are we really going to start slamming an artist as important as the Brit with the big, booming voice ― one who apparently also doesn't think she's worthy of her second Album of the Year prize in as many tries?
Everyone, including Adele herself, has been asking what Beyonce needs to do to win Album of the Year. It's a valid question, and this five-part answer has nothing to do with the quality of her music or her race. #GrammysNotSoWhite
1. She needs to release an acclaimed hit album with at least one monster single.
Lemonade was not the "cultural movement" everyone keeps saying it was ― not unless you spend all of your time reading online think pieces. Here in the real world, 2016 was all about "Hello." The 25 power ballad was everywhere. It was the song that launched countless homages/parodies and had us all reminiscing about past loves. Even non-Adele fans can probably sing its opening line.
But here's a task for those who aren't dedicated to the Beyhive: Quick, name one song on Lemonade. While you consider that for a moment, also consider this: Lemonade didn't spawn a single runaway smash. Even "Formation," for all the internet obsession, only made it to No. 10 on Billboard's Hot 100 (a position it held for one week before tumbling to No. 19).
In fact, Beyonce hasn't scored a Hot 100 No. 1 since 2008's "Single Ladies (Put a Ring on It)" from her first Album of the Year Grammy nominee, I Am...Sasha Fierce. And if we're being completely honest, it was the last time a Beyonce song was a bonafide cultural movement. You didn't have to be in the Beyhive to get all those "put a ring on it" references.
For all of Sasha Fierce's chart success, critics were not totally on board. It never stood an Album of the Year chance against Taylor Swift's better-reviewed Fearless. If she's going to finally snag the big prize, Beyonce is going to have to find a way to be a singles lady and a critical darling.
Still trying to come up with a Lemonade title? "Becky with the Good Hair"? No, that was the publicity hook. The title was "Sorry," and it debuted and peaked at No. 11 on the Hot 100. The cheating track was bigger in the tabloids than on the charts. Now I challenge you, casual Beyonce fans, to sing one line from it.
2. She needs to take it down a few notches.
While I don't completely agree with Carlos Santana's assessment that Beyonce is "not a singer, singer," I do understand where it's coming from. I'm reminded of George Clooney, who has been nominated for the Best Actor Oscar three times, but has still only won in the supporting category.
People say he always plays the same character, but anyone who has actually seen his Best Actor-nominated performances in Michael Clayton, Up in the Air, and The Descendents knows that is not the case. Clooney, like Cary Grant before him, simply makes it look too easy. His Oscar-winning turn in Syriana aside, you don't see the sweat in his performances... so that must mean they can't be quite Daniel Day-Lewis caliber.
Beyonce has the opposite problem. She tries too hard. All of the dancers, the costumes, the props can sometimes be too much. It's a gorgeous and gaudy spectacle, one that's more likely to find favor in MTV's Video of the Year competition, where Beyonce has won twice. Understatement tends to have a better shot in Grammy races.
3. She needs to prove herself as a songwriter.
There's long been speculation about just how much Beyonce goes into her music, and it's unlikely to go away as long as her songs continue to be written by committee (several Lemonade tracks are credited to at least a dozen songwriters).
For an artist who has been around for such a long time, we know very little about Beyonce. Her songs are like masks. We pick them apart for clues (note the aforementioned tabloid hoopla over "Becky with the good hair"), because we're desperate for a morsel of revelation.
Then there is the alleged political statement of Lemonade. While Beyonce deserves credit for encouraging black women to be proud of their black beauty, she had to go and muddle that powerful message with irrelevant lines about having sex and eating at Red Lobster later. It dilutes the power of her social statement, and lyrically, it's awkward as hell.
India.Aire covered similar ground with far more finesse and far less fanfare in "I Am Not My Hair" ― and she backed it up with a public image that was considerably less airbrushed than Beyonce's. It's hard to take a supposed statement about embracing natural beauty seriously when it's coming from someone who epitomizes glamor-squad celebrity.
Beyonce, listen to 1999's Album of the Year, The Miseducation of Lauryn Hill (and take a closer look at what your Grammy-anointed sister Solange has been doing). If you ever dare to release an album that is as stunning a singer-songwriter showcase ― one that doesn't need a TV special, a "surprise" release, and a fake tabloid scandal to grab attention ― Album of the Year is as good as yours.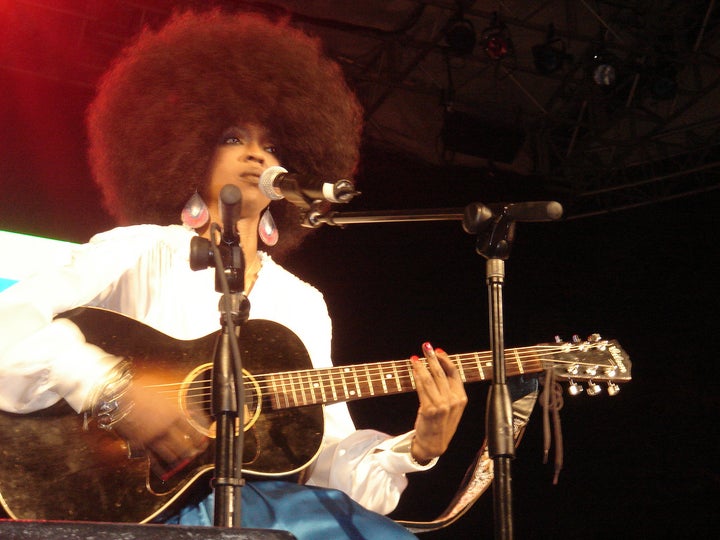 4. She needs to let go of the gimmickry.
In other words, just sing.
Everyone talks about how Beyonce and Lemonade represent a music-marketing revolution. They were released on the sly without months of build-up publicity. While that may have been true of her 2013 self-titled opus, it wasn't true for Lemonade.
Beyonce's latest album practically begged us to drink up and shell out even before we knew there was an album. She pulled the ultimate marketing ploy by getting to plug it with an HBO special right before its "surprise" release. It was a genius commercial move, but not necessarily the kind of move that wins the big Grammy, which, as I've mentioned before, tends to go for understatement.
5. She does not need to be white.
It's really hard to buy that old fallback argument about the Grammys being racist when Beyonce is the most-nominated female artist in its history (with 62 nods, including her cited work with Destiny's Child). She's also the second-most-awarded woman, with 22 wins, right behind Alison Krauss's 27, and ahead of Aretha Franklin, with 18, and Alicia Keys and Adele, both with 15. (Clearly it pays to have a name that begins with A or B.)
Saying Beyonce is due to win Album of the Year is a bit like saying Annette Bening is due the Best Actress Oscar. (Does that A-B thing only work with the Grammys?) Both may have been deserving in the past, but when I think of due for the Album of the Year Grammy, I think of The Rolling Stones, David Bowie, Bruce Springsteen, Madonna and Prince. There are so many notable performers, ones who are even more iconic than Beyonce, who have never won Album of the Year.
Bob Dylan, arguably the most esteemed singer-songwriter in history, didn't win until Time Out of Mind in 1998, and when Robert Plant finally won, it was for his work with Alison Krauss (on Raising Sand), not Led Zeppelin.
When you think of the Grammys' history with black Album of the Year winners, it's hard to cry under-representation. Stevie Wonder won three times in the '70s, Michael Jackson and Lionel Richie won consecutively in the '80s. Quincy Jones, Natalie Cole, Whitney Houston, Lauryn Hill, Outkast, Ray Charles and Herbie Hancock won in the '90s and the noughties. Not exactly a Grammy blackout.
Despite the recent dominance of Taylor Swift and Adele, two artists with very little in common other than their whiteness, the Grammys have actually shown a lot of diversity in its Album of the Year choices over the decades.
The last time Beyonce was up for the honor, she lost to Beck, who had lost 15 years earlier to Steely Dan, a duo more than two decades past its creative prime at the time. In other words, the Grammys have been doing inexplicable forever.
But as travesties go, the 2017 Album of the Year race was not one of them. Sorry, Beyhive. Better luck next album.
Popular in the Community