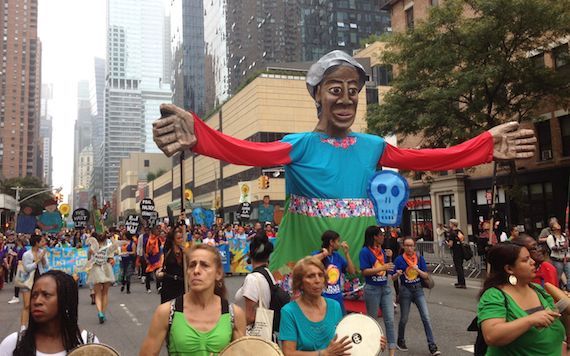 Please accept my belated congratulations on your appointment to the Democratic Party's 2016 National Platform Committee. As you wryly acknowledged at the opening of the first day of hearings on June 8th, you are now that rare and most valuable of things: a radical within the system. ("This is a great pleasure for me - the last few times I've come to Washington D.C., I've ended up in jail. So these are much nicer surroundings..."). I have no doubt that you will be doing your utmost to shape the most ambitious Democratic Party platform ever on climate - but I do want to suggest one way that you can use your newfound power to its most significant effect.
Bill, after the Paris Climate Agreement was concluded last year, you pointed out in the New York Times that if every country in the world achieved its emission reduction target under that pact (and nearly every country in the world has one), "the planet would warm by an estimated 6.3 degrees Fahrenheit, or 3.5 degrees Celsius, above preindustrial levels." That, you quite rightly noted, "is way, way too much." The point is not controversial for anyone who cares about our planet and our future (which is sadly not all of us) and I agree with you entirely on it. With the Paris Agreement leaving it up to the governments of individual countries to determine their own emission reduction targets, it is clear that the only way those targets will ever improve to a point where they are in line with what climate scientists tell us is necessary is if we - the citizens of those countries - insist to our governments that they do so.
Numbers, Bill. Numbers are everything in the climate game (something I hardly need tell one of the founders of 350.org) and America's emission reduction target - a 26 to 28 percent reduction below 2005 levels by 2025 - is one of the most significant numbers there is. It matters at home, where it is the basis for all subsequent government actions taken to achieve it, and it matters abroad, as a signal to the rest of the world that America is eager to play its part in avoiding climate catastrophe. Yet as important as the existing target is, Bill, I think you'll agree: it could be better. Fortunately, it seems the presumptive Democratic nominee agrees, too.
Secretary Clinton's website currently states that she has a plan to reduce emissions by "up to 30 percent" by 2025. In other words, she is proposing not only to achieve the pledge that President Obama made in Paris; she is offering to beat it. Bill, we've got to take that number to the bank. Putting a 30 percent emissions cut at the heart of the Democratic Party platform, along with an ironclad commitment to implement the policies necessary to achieve it, would ensure that it was not simply a little-known Clinton campaign promise, but the official policy of the Democratic Party for the next four years. Such a step would be nothing short of historic: the first time either party has incorporated a specific numerical target into its national platform. Committing to cut #30by25 is a goal that every American could be proud of, and that every person on the planet would benefit from.
Bill, I agree with you that we need to do whatever we can to keep fossil fuels in the ground. I agree that, in the face of the climate crisis, the only responsible attitude is one of radical urgency. But I don't believe that the climate fight can be only a struggle against the fossil fuel industry, as you sometimes seem to suggest. It must also be a struggle for international cooperation, and for American leadership on the world stage. Largely thanks to the efforts of the Obama Administration, it now looks increasingly possible the Paris Agreement could enter into force before the end of this year. Just as important: Beijing has recently indicated that it may be open to further strengthening China's own climate pledge. What better encouragement could the world's largest carbon polluter be given towards taking this incredibly important step than to see an equivalent increase in ambition from the United States?
Bill, I know from experience how frustrating and slow international climate diplomacy can be. But that is no reason for climate activists to turn their back on the process, and to focus only on local or regional struggles. In fact, just the opposite is true. If Paris proved anything, it's that nationally-determined climate targets will require nationally-determined climate activists, pushing relentlessly for governments to set, and achieve, ambitious emission reductions, for as long as those targets need to be set.
I'm sure you will be hearing from many others about what should be included in the Democratic Party platform; I'm sure you have your own views about where the party's priorities should lie. But whatever else the 2016 Platform contains on climate and energy, the fundamental basis from which it must begin is a commitment to cutting American carbon emissions 30 percent by 2025. Anything less would be a seriously missed opportunity.
Popular in the Community