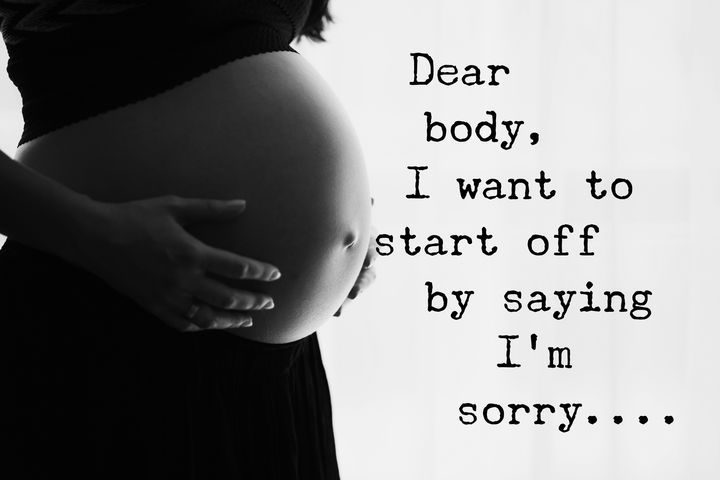 I stood in front of the mirror looking at my five-week postpartum body. I had recently been blessed with a beautiful baby girl, my third child after having two boys. The frustration and the seemingly insurmountable task of having to lose 40 pounds stared me straight in the face and left me feeling defeated and deflated.
Suddenly, a conversation I had recently had with a friend joking about my appearance came to mind and I felt ashamed. I felt ashamed because I had made a joke about my weight. I felt cheap because I realized I was devaluing myself. The reality of a difficult and challenging pregnancy having flown out the window. The reality of carrying a life for nine months and giving birth to a beautiful healthy baby quickly forgotten.
I looked at my daughter lying peacefully behind me and I thought about the message I was sending her. If I wanted her to have a healthy self-image it had to start with me. If I wanted her to realize and know she is valuable, I had to change my internal conversation. In that moment, I reminded myself of my value and I vowed never to talk negatively about my body again.
So here is an open letter I penned to my body.
I want to start off by saying I'm sorry.
I'm sorry for the times I've spoken ill of you and degraded you. For the names I've called you and the bad jokes I've made at your expense.
I have said some not-so-nice things about you, and had someone else been speaking like that about me, I'd be broken-hearted.
You help me to experience life. I go places and I do things because of you. I love, I laugh, I fed, I clothe, I run after my children, I go after my purpose and I get to do life because of you.
So today, I looked at you lovingly in the mirror and I said thank you. I hugged on my stretch marks and thanked my body for the evidence that showed I had carried three beautiful miracles.
I thanked my body for being able to heal and give me strength to go about life continually. With this newfound thankfulness, I also vowed to do better by you. To speak better of you and look after you more.
For you see, there can only be one you. So from now on, I will be more intentional as I learn to grow more in love and in tune with this temple that is you.
You are truly one of a kind, beautiful and miraculous, and I want you to know I love you dearly.