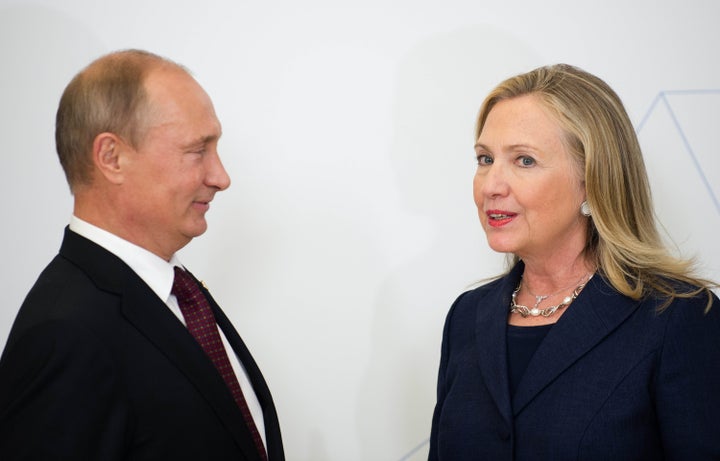 Brian Fallon recently accused WikiLeaks of working on behalf of the Russian government to help Donald Trump. Fallon's Twitter barrage was full of accusations against the whistleblowing organization, including an ironic plea for WikiLeaks to disclose Trump's tax returns. Unfortunately, Hillary Clinton and her campaign have engaged in Cold War-era propaganda, primarily to deflect from numerous cyber-attacks. There's also the tiny issue of 20% of U.S. uranium sold to the Russian government from a company run by Clinton Foundation donors.
Thus far, WikiLeaks, DC Leaks, Guccifer 2.0, and apparently "Russian hackers" have managed to hack into computer networks associated with the Democratic Party. Rather than assess why these various cyber-attacks have taken place, Brian Fallon, Robby Mook, and others in the Clinton campaign have leveled baseless accusations against WikiLeaks and Russia. U.S. intelligence officials might believe Russia is involved with the leaks, but have yet to disclose any evidence to the American people.
The DNC, the DCCC, the Clinton Foundation, and the Clinton campaign have all experienced hacks and it's likely that carless security protocol allowed hackers from around the world a great deal of access. Former Defense Secretary Robert Gates believes Russia, China and Iran have breached Hillary Clinton's server. Since hackers don't leave thank you notes, the chances are high that "sophisticated adversaries" have managed to infiltrate computer networks associated with Hillary Clinton. It wouldn't be just Russia who has targeted an American Secretary of State's private email server; China, Iran and other nations also engage in cyber-attacks.
Furthermore, even if Russian hackers wanted to help Trump, it's the corruption they've uncovered that hurts Clinton's campaign. Blaming the messenger is simply an attempt at evading responsibility for a DNC that favored Hillary Clinton and was never impartial during the Democratic Primary. Just ask the average Bernie Sanders or Jill Stein voter about the DNC WikiLeaks emails. Heaven knows Debbie Wasserman Schultz would never have told anyone that she knew Bernie Sanders (while Clinton was still facing possible indictments) wasn't going to be president.
In reality, the culprit isn't Vladimir Putin, especially since Hillary Clinton wouldn't have done anything differently from previous leaders to prevent the invasions of Georgia or Ukraine; just ask George W. Bush and President Obama. The notion that Putin "wants" Trump instead of Clinton infers that Clinton would be tougher on Russia. However, nobody in the Clinton campaign has ever explained how Trump would be "easier" on Russia, or how Clinton would manage to prevent Russia from endangering other countries.
Thus, with many Democratic voters willing to use Russia as a scapegoat, Clinton's FBI criminal investigation has been whitewashed before Election Day. The FBI's James Comey believed Hillary Clinton was "extremely careless" and "negligent" with the handling of classified data. FBI Director Comey stated "I think she was extremely careless… I think she was negligent -- that I could establish." No doubt, this negligence has filtered down to other Democratic institutions, from the DCCC to the DNC and Clinton Foundation.
It's not the fault of WikiLeaks that former Secretary of State Hillary Clinton was "extremely careless" and "negligent" with classified intelligence. If Democratic officials at the highest levels of government are carless, imagine how the DNC, DCCC, and Clinton Foundation secures its own files. Whether these cyber-attacks are the work foreign hackers or inside moles, someone is sharing the information. WikiLeaks and Julian Assange don't hack into networks; they're given emails from whistleblowers like Edward Snowden.
For example, Democracy Now reported after the DNC Leaks (resulting in the resignation of Debbie Wasserman Schultz and other DNC officials) that "WikiLeaks has not revealed the source of the leaked emails, although in June a hacker using the name Guccifer 2.0 claimed responsibility for the hacking into the DNC's computer network." Someone hacks into a computer network, or acquires the information, then gives this information to WikiLeaks.
Clinton's cavalier attitude regarding classified data has likely trickled down to the various institutions hacked by either Russian hackers, or hackers from other nations. First, Clinton's private server at the State Department was unencrypted according to a Fortune article titled For 3 months Hillary Clinton's email access was unencrypted, vulnerable to spies:
Security firm Venafi has found that Clinton's email server may have been open to foreign intelligence snoops when traveling abroad…
Venafi, a Salt Lake City computer security firm, has conducted an analysis of clintonemail.com and determined that "for the first three months of Secretary Clinton's term, access to the server was not encrypted or authenticated with a digital certificate." In other words: For three months, Clinton's server lay vulnerable to snooping, hacking, and spoofing.
Sorry Brian Fallon, it's not the fault of WikiLeaks that Secretary Clinton's server was unencrypted.
Second, the private server Clinton used during her tenure at Secretary of State stored the highest levels of classified intelligence, including SAP intelligence. The dilemma of using a private server to keep state secrets safe is explained in a piece by NBC News titled Hillary Clinton Emails Held Info Beyond Top Secret:
Emails from Hillary Clinton's home server contained information classified at levels higher than previously known, including a level meant to protect some of the most sensitive U.S. intelligence, according to a document obtained by NBC News.
In a letter to lawmakers, the intelligence community's internal watchdog says some of Clinton's emails contained information classified Top Secret/Special Access Program, a secrecy designation that includes some of the most closely held U.S. intelligence matters...
The declarations cover "several dozen emails containing classified information determined by the IC element to be at the CONFIDENTIAL, SECRET and TOP SECRET/SAP information."
To date, nobody knows how Clinton's team was able to transfer 22 Top Secret emails and SAP intelligence onto a private server. Again, if the most sensitive government secrets were stored on a private server, how safe were DNC and Clinton Campaign servers?
Then of course, one of Bill Clinton's aides mailed a laptop of Hillary Clinton's emails—in the mail. If you don't believe the FBI would ever allow such a thing to take place, just read a Bloomberg piece titled FBI Says a Laptop That Held Clinton's E-Mails Has Gone Missing:
A personal laptop computer used to archive Hillary Clinton's e-mails when she was secretary of state went missing after being put in the mail, according to the FBI's report on its investigation into her use of a private e-mail system.
E-mails that Clinton sent and received through her private server during her tenure were archived on the laptop in 2013 by a person who was an assistant to former President Bill Clinton, the FBI said in its heavily redacted investigative report released Friday...
The FBI sought the laptop as part of its investigation, but it's whereabouts remain unknown, the bureau said: The last time the laptop was seen was when it was put in the mail.
Mr. Fallon, if Hillary Clinton's laptop was shipped to you, please notify the FBI.
For the record, Julian Assange and WikiLeaks had nothing to do with mailing Clinton's laptop.
Finally, Donald Trump and Vladimir Putin never cared about the religious beliefs of Bernie Sanders. Nothing epitomizes the utility of "Russian hackers" advancing American democracy than the following DNC email:
"It may make no difference but for KY and WA can we get someone to ask his belief," Brad Marshall, CFO of the DNC, wrote in an email on May 5, 2016. "He had skated on having a Jewish heritage. I read he is an atheist. This could make several points difference with my peeps. My Southern Baptist peeps would draw a big difference between a Jew and an atheist."
It's doubtful anyone at the Clinton campaign or the DNC would have voluntarily disclosed the possible campaign strategy of targeting Bernie Sanders's faith.
If Robby Mook or Brian Fallon ever receive Secretary Clinton's laptop via UPS or FedEx, then they should inform the FBI's James Comey. Until then, the Clinton campaign should let whistleblowers like WikiLeaks do their job. Blaming Russia for lax security protocol is a dangerous proposition, considering Syria has turned into a proxy war between the U.S., Russia, and other nations.
The last thing we need is Cold War 2.0, therefore it's best that Brian Fallon and others in the Clinton campaign refrain from accusing WikiLeaks of being Russian spies. The U.S. recently called off Syrian peace talks with Russia and we need Russia's help to defeat ISIS. This isn't the time for Brian Fallon to accuse WikiLeaks of working for Vladimir Putin, especially since many other nations engage in cyber-attacks and Hillary Clinton once used an unencrypted private server.
Related
Popular in the Community