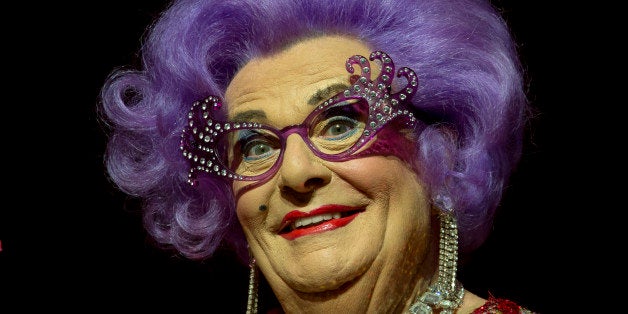 I am a great fan. And I want to let you know that my fandom doesn't come simply. I obsess. And I obsess about humans I find gifted and generous, both in their life and their art. I manically search You Tube for new Garland videos and ravage through Facebook hunting down Ann Margaret and John Wayne. I am an artistic meth head. So, I want to thank you from the deepest part of me, for your enormous contribution to the world of entertainment. Mainly, to the world of funny. I think you're truly hilarious and that's not a word I toss around casually. I put you up there with the great, great comedians: Burnett, Ball, Benny. Mostly people who's last name ends in "B". But I also adore Kathy Griffin, Joan Rivers, and on certain couches: Tom Cruise.
When I was 10 years old I sat transfixed in front of my TV watching Tom Jones wiggle and warble on his infamous TV show. I remember my parents loving him and especially my mother. She would sit, leaning back in her chair, tapping her fingers on the table next to her; mixing up the words to "Delilah" (she thought he was singing: "The Mylar"). And in between alternate lyrics:
"...My, My, MY...The Mylar...!!"
"He's just so Masculine."
As a young boy, my mother's idea of gender was very clear to me. My brother played football and had male friends and was a boy scout. I refused to toss anything, my friends were all girls, and the only camping that resonated with me was posing under our living room lamp and doing a Joan Crawford impersonation. I could not understand male behavior. It was foreign to me. It lived nowhere near me and as hard as I tried, it came out false and unbelievable. I was simply not that good of an actor. I tried, though Dame Edna. I really tried. I did everything I could to become the boy my family, and especially my mother, wanted, needed and demanded. But nothing seemed to work. I was a constant cause of disappointment by my choice of friends, my inability to throw things well and mainly by dressing up in my mother's clothes; especially her shoes...this was the late sixties and her white pleather go-go boots with the chunky heel and the square toe, became a part of my existence.
And with this behavior, came my great shame. It was wrong and people told me it was wrong. So, I believed them. And with that great shame came great distance. I ran into the darkest part of me and I refused to come out. I tried cutting my throat, I tried swallowing pills, I tried sex with men, with women and eventually, I tried charging money for it. I put needles in my arm, stuffed snort up my nose, overdosed numerous times, drank myself into blackouts and hooked up with physically and emotionally abusive lovers who raped me, threw my down stairs and tortured me with duct tape and guns. I contracted AIDS and buried my Transgender friends as all of them were murdered by a plague that overtook our tribe in the 80s and systematically wiped out an entire Trans generation. And eventually, I lost my spirit in a crevice of madness and desperation that drained me of hope and left me barren and wasted. I believed in nothing and I lived nowhere. I was utterly lost. I was Transgender in a world where being that was punished with jail time and humiliation.
There was no one like me, I thought. There was nowhere else to go, I assumed. We simply didn't exist outside of the world we had single handedly, built for ourselves.
And then one by one, we appeared. I saw Rene Richards play professional tennis and I saw Chili Pepper on Phil Donahue. I saw Rupal and I saw Chaz Bono and I now see Catlyn Jenner and Laverne Cox and Ian Harvie and Trace Lysett and Candis Cayne. And I see a future. And I see hope and humor and light and ease and beauty and joy and then I saw you, and you were so joyful and ridiculous and bright and you made me laugh and you stood tall in your identity and even though I knew there was a costume involved in your work, and your history wasn't necessarily mine, I saw in you, a newness and a glorious, brilliant new journey.
For I knew, Dame Edna, that if anyone understood the male and female construct, and if anyone felt kindness deeply and freedom profoundly, it was you. No one could be that funny and not be that intelligent. You see, you saved me, Edna, even if you never meant to. You reminded me that I could be ridiculous and still be me. You continued to show me the way towards a Divine sense of madness. And I know now, that I don't have to leave the planet. Because I still have hilarious things to do.
And I want you to know that I am blessed in my life now, Edna. I am married to my best friend since 1976, and she is witty, and sexy and makes me laugh and puts up with my obsessions, which she considers gifts. By the way, if you haven't, you need to download Dubsmash. Don't even get me started. So when your friend, Barry Humphries came out publically with his Transphobic remarks about Caitlyn Jenner and about our community calling us: "mutilated men," I was thrilled and truly touched by your response. You denounced him and distanced yourself from him. As I knew you would. I want to thank you from the deepest part of me, Edna. Your bravery is commendable. For I am certain, that no matter how you identify, that you are part of the greatest tribe we know: The Human Experience. And that your responsibility to the world at large is to create an atmosphere of joyful celebration and beautiful music through the sound of each other's laughter.
And so, like you Dame Edna, I am working on forgiving him. I am working on releasing my years of past shame and regret. I am gently floating through my mother's bedroom and releasing the look of horror and judgment on her face as I stood, fully clothed in her shocking pink moo-moo and pink slippers. I am reaching towards a new beginning in which we can blossom in education about who we all are, and about acceptance of where we're all headed. For we are nothing in this experience if we are not in this together.
And lastly....remind Mr. Humphries one cannot hide a devious and hateful remark behind a mask of purple eyeliner and a sequined gown. A bully is a bully, no matter what they wear. Please pass that on too. I have a feeling you'll be seeing him soon and perhaps you can sit him down and gently remind him that sometimes purposefully hurting others isn't always the greatest punchline.
Suggest Crawford under a table lamp. It worked for me.
Sincerely and with great hope for your eventual healing,
Alexandra Billings
Popular in the Community