Dear daughter on your last day of preschool,
I know you are very sad that your first year of school is over. I know you don't want to go to a new class and have new teachers. I know you want to stay "tiny" forever so you can always go to the same classroom for the rest of your life. Every time you cry about missing your teachers it breaks my heart and I wish I could fix it, but you can't stay in a class for 2-year-olds forever.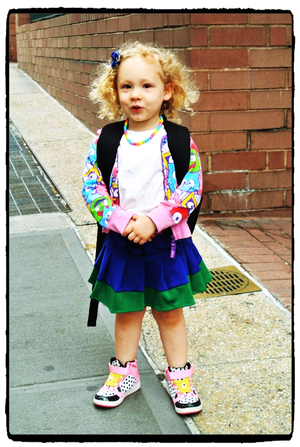 Since your last day of school, I have been wracking my brain trying to think what I should say to you when you cry about going to a new class. I thought about promising you that your new teacher will be just as awesome and you will be just as close with the new kids in your class as you were with your friends last year. Unfortunately, I can't promise that.
As you grow up, you may not always connect with your teachers, you may be in a class that bores you and there may even be some mean kids in your class. As your mom, I will always do my best to put you in the best academic environment but sometimes, despite my good intentions, that may not always be possible.
What I can do is let you in on a little secret that took me my whole life to learn. The most important part of your education isn't what school you go to, who attends it or even who teaches there. It's not about the facilities, the reputation or prestigious alumni. It's about you and what you put into your education. I know people who have received diplomas from Ivy League schools that haven't done much else since while others have achieved their dreams with diplomas from unknown schools. You are always in control of your education if you try your best and are passionate about learning.
So next time you look at me with tears in your eyes and ask me if your new class will be as awesome as your first class, I will without a doubt say yes. Your new class will always be as awesome as your first if you promise to always approach each new school year with as much enthusiasm as your did on your first day of preschool.