Three years ago, late for work at The New York Times, I stepped out of my Upper West Side apartment building to encounter a dumpster filled with old steamer trunks plastered with vintage travel labels. Unhesitatingly, I climbed up and into what felt like my own movie.
Among the treasures were old photographs, a collection of handbags, a flapper dress, and a stunning tangerine bouclé coat with an iridescent lining and single Bakelite button. Amid the chaos, a crumbling red leather diary was found, kept by a young woman in New York, from 1929 to 1934, between the ages of 14 and 19. "This book belongs to," read the frontispiece, "Florence Wolfson." A brittle scrap of newsprint floated out of the pages. On it was Florence's picture. Besides her waved blonde hair, she appeared completely contemporary. Eerily, we looked alike.
I read her entries as if they were personal letters to me. Florence and I shared so much in common, the same longing for love, someone to understand us, the desire to carve out our own path. At the time, I was reporting for The Times celebrity column, traipsing nightly from red carpet movie premiere to party to after-party interviewing hundreds of boldfaced names. The diary was a portal away from the ephemeral world of celebrity to the seemingly enduring world of a young 1930s woman in search of herself.
I could already see the headlines in my mind, "Celebrity reporter finds a discarded 75-year-old diary, in it, the biggest story of her career." But I couldn't help asking myself, because for once I genuinely cared about my story, who was Florence Wolfson? Her eyes wouldn't let go.
Over the next three years, I carved out my own beat, searching out the hidden characters of a New York, which I felt was fast disappearing as everything became more Starbuckified (we need words like this). After a Times story I wrote on Manhattan's last typewriter repairman ran (Florence wrote short stories and plays on a lavender Remington typewriter), I received a curious voicemail from a New York lawyer, Charles Eric Gordon, who works like a private eye. A lover of old New York, he said, "You brought a tear to my eye."
Over lunch at Keens Steakhouse, I shared the diary with Charlie. After weeks of investigation, he located a Florence Wolfson born to a pair of Russian immigrants who came to New York in the early twentieth century. One Sunday morning, eager but a bit nervous, I called up Florence at her Pompano Beach, Flordia home.
"Hell-o?" answered a voice with the presence of an old stage actress. "Florence?" I explained to her the miraculous chain of events that had led me to her. "Oh, yes, the diary is mine," she said. "I want to meet you."
An ageless phenom, full of spunk, wearing Dior glasses and a dab of red lipstick, Florence hugged me the first time we met and ventured back to the girl she once was. "What made you do this, Lily?" Florence asked. I knew from the diary's pages she had wanted to be a writer. "If I had remained true to myself, would I have ended up living this ordinary life?" she asked. "You brought back my life," she confessed.
Recently, I took a trip home to Chicago, where I mined my old diaries, which my mother, an artist, keeps in a trunk she painted with the moon and stars. I flipped through dozens of diaries, dream journals, and notebooks filled with ideas for stories, novels, and film scripts, not nearly as complete as Florence's, who never skipped an entry in the red leather diary's five years.
On June 14, 1996, at 4:45 in the morning, when I was 16, I wrote, "I write this diary as if someone will discover--read--publish?--it someday. Fame. Recognition. The truth is that all I want to be in happy in life w/ myself."
There is something so hopeful about a diary, a journal, a new notebook, which Joan Didion and Virginia Woolf both wrote about. A blog. Perhaps we all are waiting for someone to discover us. "Find me, find me," Florence seemed to be saying.
From being hidden inside a diary with a tiny key, Florence is going to be revealed in a book. How does Florence feel about that? She writes about it in the forward to the book, as well as the death of her husband of 67 years last spring. Their first kiss, when Florence was 13, was also recorded in her diary.
This weekend, on the phone, Florence and I were gabbing like teenagers about the book party, where the red carpet will be rolled out for Florence and the sleuth that helped me track her down. She admitted, "My friends have to take me seriously now. I'm no longer an invisible older woman."
Florence was a feminist even before she knew the word. She hopes she will inspire teenagers and young women, those in perpetual teenager-dom who as my mom calls, "the H&M set," to reflect on their lives and fill themselves with more permanent things, like, ideas. Sixteen-year-old Florence wrote, on June 28, 1932, "Stuffed myself with Mozart and Beethoven--feel like a ripe apricot--am dizzy with the exotic."
What a journey! From diary to dumpster, to newspaper to book -- to blog. Florence and I will be appearing on The Today Show on April 17. On April 10, 1932, Florence wrote: "Wrote all day -- and my story is still incomplete."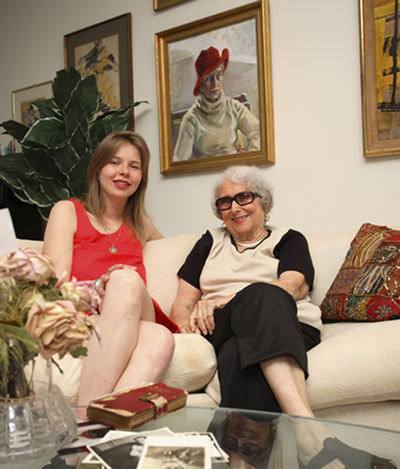 Lily Koppel, Florence Wolfson, and the Red Leather Diary
Check out
The Red Leather Diary
trailer below.
For more information on Lily Koppel and her book, The Red Leather Diary, please visit her website: RedLeatherDiary.com.