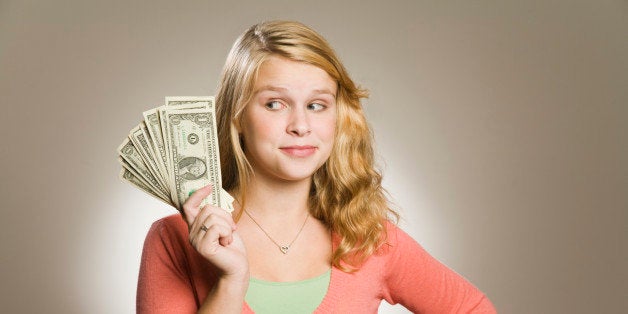 Listen, I get you are passionate. You want to earn some extra income. You want a business you can call your own, something that helps you have your own identity outside of motherhood. I know your products may be fantastic. I know they come with options beyond my wildest dreams: scents, flavors, embroidery. I know these things are the latest fashion or health trend.
And what I want you to know about me is this: I don't want your stuff. Any of it.
I don't want an apple-cinnamon-almond-jasmine organic soy candle that will help my sleep improve by 23 percent (results not typical).
I don't want a poppy-flowered bag, featuring 20 compartments, with my initials embroidered on it in chocolate brown.
I don't want any peppermint-lavender-eucalyptus essential oils that will heal every single medical problem and problems I didn't even know I had.
I don't want any lip-plumping balm made from kale harvested from the depths of South America.
I don't want strawberry-vanilla-calcium-infused-sugar-free slimming shake mixes.
I don't want beer bread mix made with organic flour (beer not provided).
I don't want jewelry that's been hand-beaded in Egypt.
I don't want a set of stainless steel pots and pans that cost more than I make in a year.
I don't want fair-trade, purer-than-pure olive oil from the heart of Italy.
I don't want a wall vinyl that says "live, love, laugh" or "learn to dance in the rain."
I don't want "educational" board books that teach my kids how to count to ten in Mandarin.
I don't want $75 eyeshadow (available in 14 unique shades).
I don't want your lemongrass-aloe-ginger liquid hand soap (that my kids will use up in three swift pumps).
Until further notice, I'm not giving you my cell number, my email address, and I'm sure not going to friend you on Facebook, follow you on Twitter, or "like" your product pictures on Instagram. Your evites and events will go ignored. I'm not interested in your "team building" claims (ahem, did you say pyramid scheme?), the "medical professionals" who have endorsed what you are selling, or any bullet-point lists of guarantees, warranties, or promises. Don't slide your glossy catalog into my non-embroidered bag at the park. I won't attend your by-invite-only meeting held in the conference room at the Holiday Inn. The promise of appetizers doesn't lure me out of my yoga pants and evening plans of watching BRAVO.
I'm perfectly fine with my purse from TJMaxx, my lips, my pots and pans, my unaccented walls, my lack of jewelry, and my un-shadowed eyelids. My kids don't know a single Mandarin word. Our breakfasts of eggs and bananas are working out just fine.
I may not want what you are selling (and more-so, I just don't like your constant preying upon my wallet), but I might want to be your friend, if you could just put down the catalogs and take a deep breath from one of those "calming" tri-scented candles you are selling. Pull up a chair, and I'll pour you a glass of Trader Joe's wine, in an un-etched glass. We can laugh and share, as long as you don't inject "hostess perks" into the conversation.
Related
Popular in the Community