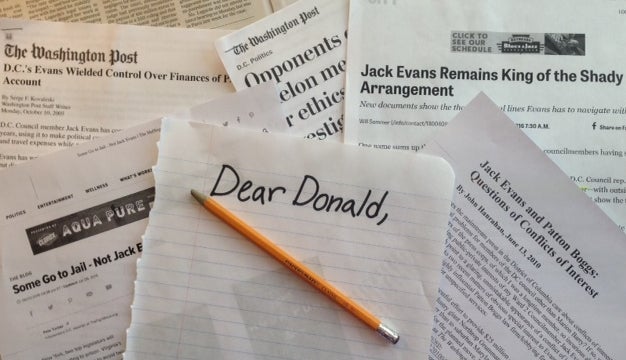 In just a month you'll not only become president of the United States but also a resident of the District of Columbia.
To help smooth your transition to D.C. (where you're not too popular), I'll be briefing you on local issues.
Let's begin with your local representative.
While residing at 1600 Pennsylvania Avenue you'll be represented on the D.C. Council by Jack Evans.
He's D.C.'s longest-serving councilmember – been there for over 25 years.
I know you can't stand career politicians. And I realize you won't have time to schmooze, especially if you're commuting from New York. But I think you'll really like Jack.
In fact one of Jack's deals involved hundreds of millions of taxpayer dollars and a client of his own firm. Yep, for over a decade Jack has earned a second salary from lobbying firms – that's in addition to his $135,000 Council salary.
Just compare what Jack's pulled off with the situation in your home state of New York, where two top legislators were sent to jail for using their public offices for personal gain.
Like I said, I'm sure you and Jack would have plenty to discuss.
This post was published on the now-closed HuffPost Contributor platform. Contributors control their own work and posted freely to our site. If you need to flag this entry as abusive,
send us an email
.