On Tuesday, Nov. 8, I woke up in the middle of the night only to learn that Donald J. Trump had been elected president of the United States. I felt a pain in my belly, fire in my heart, and hopelessness in my soul. I couldn't imagine how this had happened in general, let alone in 2016.
I'm a 25-year-old Black woman with a disability. As someone whose most loyal travel companion is a 200-pound wheelchair, I've always known that racism and discrimination were alive and well. But I didn't believe that my fellow Americans were capable of actually electing the sheer embodiment of bigotry to the highest office in the land. Trump is a man who incites violence during his rallies, is readily endorsed by the KKK, and has admitted to sexually assaulting women. Now, he is our president.
Reflecting on how this happened, I don't buy the argument that Trump won because he symbolized change or provided a voice to working-class Whites who felt abandoned by the political system. America has a sordid history of using the political stage to scapegoat immigrants and people of color for its problems. A vote for this billionaire was not a vote against poverty.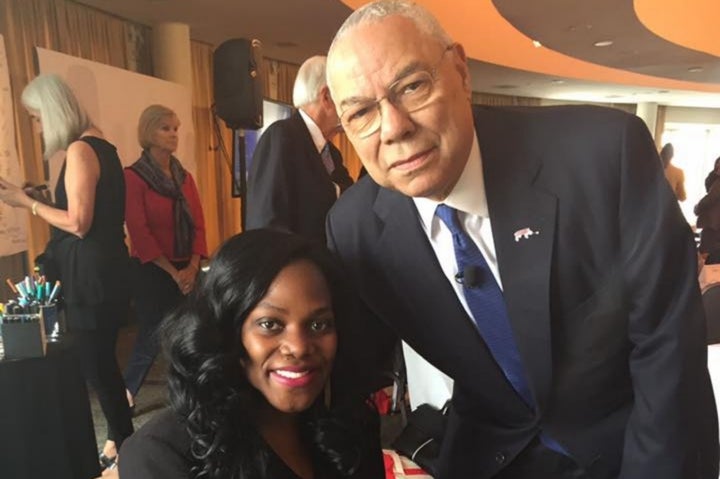 Still, I am proud to be an American – no less so today than I was before the election. This nation has given me, the daughter of African immigrants, the chance to live her dreams (and to live at all) in a country where opportunity is endless. But hear me loud and clear: I am one of millions of people of color and people with disabilities whose lives will forever be changed by our decision to elect Donald Trump.
In middle school, I survived a life-saving heart and kidney transplant. My family promptly received a $1 million medical bill in the mail. Enter: The Affordable Care Act, enacted in 2010 to prevent families like mine from facing bankruptcy as a result of unexpected medical diagnoses. I spent college fearful that I would be booted from my parents' health insurance, but then Obamacare came along, instigating new health care policies that keep me alive to this day. I am still on my parents' health insurance, receiving coverage despite a preexisting condition that requires me to take 22 pills a day (including an anti-rejection drug that costs more than $2,000 for a 30-day supply).
Although post-election, Trump immediately suggested he would keep some key elements of Obamacare, including 20-somethings' ability to stay on their parents' insurance and banning denial of coverage based on preexisting conditions, I had little reason to believe him. He uttered and tweeted countless mistruths during his campaign. His promises are no good to me. He has not earned my trust, and I cannot willfully and blindly put my faith in this man.
So when I felt too sick to go to work on Wednesday, Nov. 9, it was because it hit me that this election could, in the long-term, leave me not just too sick to work, but too sick to live. I can't count the number of needles and knives I have faced, but I know none of them have made me shed as many tears as the election of Donald Trump did.
Watching pundits call for us to unite as a nation under Trump did nothing to calm me down. How can I be expected to join hands with a man who mocked a disabled reporter and has been sued on more than a handful of occasions for refusing to comply with the Americans With Disabilities Act?
Because I use a wheelchair, people regularly assume that I am uneducated and living on public assistance. They offer to pray for me to be healed. Some strangers even place money in my hands when they pass me on the street. Trump has only encouraged these people – the people who would never assume that I have a bachelor's degree and am gainfully employed. They wouldn't believe that I was named among the top 10 most influential college women in the United States, have interned at the White House and founded a nonprofit, which I've been running since I was 19 years old.
Unlike many Trump voters, I'm also a dedicated Obama supporter. I am where I am, in large part, because of our 44th president. Rewind to Sept. 27, 2007, when I waited with my two best friends to hear Senator Obama from Illinois speak. I listened to his voice echo through the crowd as he made a staunch commitment to act to change America's health care system. He would work to eliminate discrimination against those with preexisting medical conditions, he said – and that is what he has done. He inspired me to become an activist and to dedicate my life to public service.
In the spring of 2010, I applied for and was accepted into the White House Internship Program. Until then, I never thought a Black girl from Prince George's County, MD would be rolling through the White House in a wheelchair in any other context than a tour. And when President Obama issued executive orders to increase the hiring of people with disabilities and lessen discrimination, he gave so many of us hope. As a result of his administration's work, my stellar résumé proved enough to land a federal job after graduation.
The federal government is the one of the few employers to mandate affirmative action for people with disabilities, and as a professional among the 11 percent of disabled Americans who are college-educated and part of the American workforce, I take great pride in my ability to provide for myself. I also greatly fear being stripped of that ability should Trump's Administration eliminate these protections. He does not appear to see the value of social security, Obamacare, medicare, and medicaid.
My fear is further fueled by Trump's blatant misunderstanding of and disregard for affirmative action. Case in point: "A well-educated Black has a tremendous advantage over a well-educated White in terms of the job market," Trump said in 1991. "If I was starting off today, I would love to be a well-educated Black, because I really do believe they have the actual advantage today."
Knowing that the White House will soon be occupied by someone with a track record of openly discriminating against marginalized populations makes me feel sick.
I fear for the day that my disabled friends, colleagues, and I become infinitely more vulnerable. I fear that it will come at all, and I fear that it will come entirely too soon.
Images courtesy of Ola Ojewumi/Project ASCEND
Subscribe to receive weekly stories and advice from The Well in your inbox.
REAL LIFE. REAL NEWS. REAL VOICES.
Help us tell more of the stories that matter from voices that too often remain unheard.
BEFORE YOU GO