It was 1972 and Donny Osmond's "Puppy Love," was blowing up the charts. I was a first grader, about to turn 7, and could not get enough of it. Luckily, the song was on heavy rotation on the radio station my mother favored and that she listened to in our kitchen as she made my brother and me breakfast or in her car as she drove us around to get gas or pick up a head of lettuce.
When Donny's sweet voice hit the airwaves, all conversation in the car or around the table ceased while I sang along. "And they call it puppy love."
I was not one of those performing, center-of-attention kind of kids. Quiet and serious, I preferred sitting alone during recess and drawing pictures of horses.
So this sudden need to burst into song was greeted by my mother with great fan fare. She was known to tap dance through the first floor of our house and spent Sunday afternoons watching forties movie musicals so she must have figured her influence was finally starting to take effect.
It wasn't long before I transferred a love of the song to a love for the singer. Donny was cute, in a way that was doll-like and familiar. Big eyes, even bigger teeth, and a hairdo unlike that of most of the boys I knew, including my brother. My mother called my brother's haircut the bowl cut, like someone had placed a small mixing bowl over my brother's blond head and just cut around the edges. Donny's hair was thick, like my brother's, but dark brown and coiffed more carefully, his waves framing his face like the male mannequins at Lord & Taylor.

"What happened to Bobby Sherman?" my mother eventually asked.
My traitor's heart was on the move. Before Donny, I had fallen hard for the hair-feathering and neckerchief-wearing Sherman after seeing him guest star on The Partridge Family. I'm still not sure what a six-year-old girl sees in a man with an Adam's apple other than on an aesthetic level. Perhaps Bobby was unthreatening in his soft features and dimples. Perhaps one of my babysitters had come over with a Teen Beat magazine and told me she liked him best. More than likely, one of my friends had a Bobby Sherman lunchbox and I had gazed upon his face on a daily basis and, in the same way a duck patterns on its mother, I had latched onto Bobby Sherman.
My mother understood devotion. When I found a bunch of old Elvis Presley 45's in my grandparents' basement, she told me that in junior high school she had been the Connecticut chapter president of the Elvis Presley fan club. And even after her father punished her when she told him she thought Sidney Poitier was handsome (a negro!), she refused to forsake her man, hanging pictures of him in her bedroom and humming "To Sir With Love" whenever my grandfather was within earshot.
My mother also understood the fickleness of children and especially the changing winds of her own daughter. I was famous for only wanting one thing - to wear a particular red wool dress for days on end or to eat oatmeal at every meal for a month straight - only to change course and reject the things I had come to love entirely.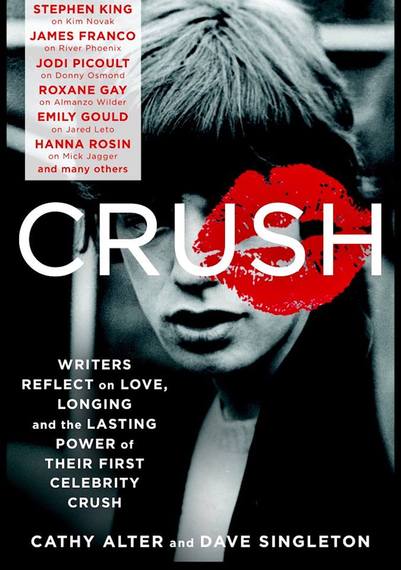 For now, I loved Donny Osmond and my mother supported this yearning unconditionally.
In fact, my mother encouraged my crush on Donny by encouraging what would eventually take seed and turn into a lasting love: writing.
"You should send him a letter," she told me. "I bet he'll write you back."
That was all I needed to hear. We went to King's, the local five and dime store, to select a box of stationary, purple of course, which Donny revealed to be his favorite color in a much poured-over "Teen Beat" interview. Finally, my mother and I sat down to compose this letter. I wrote all that was in my six-year-old heart:
Dear Donny,
I love you.
Love,
Cathy
My letter-writing campaign continued daily and for months and through multiple boxes of stationary--but the letters were always the same.
Dear Donny,
I love you.
Love,
Cathy
Every night after dinner my mother and I would sit down to write. It always started with the same question.
"How do you spell 'Dear'?" I'd ask my mother, who would sometimes use my letter-writing time to polish her nails with a few coats of Revlon's Love that Red, her trademark color. After she spelled it out, I'd glide over the word "Donny" until the next roadblock. "And how do you spell 'love'?" Once she spelled that word for me, I could refer back to it in my sign-off, since the word appeared twice in my letter; the best word to convey everything I had to say. After a few weeks, I no longer needed to ask my mother how to spell words, but she still sat next to me every evening, either polishing her long, oval nails or just watching me at work. The radio was constantly on and if we heard "Puppy Love," we looked up from our respective tasks and smiled at one another.
"That's a good sign!" my mother always said. And I believed her.
Calling all HuffPost superfans!
Sign up for membership to become a founding member and help shape HuffPost's next chapter