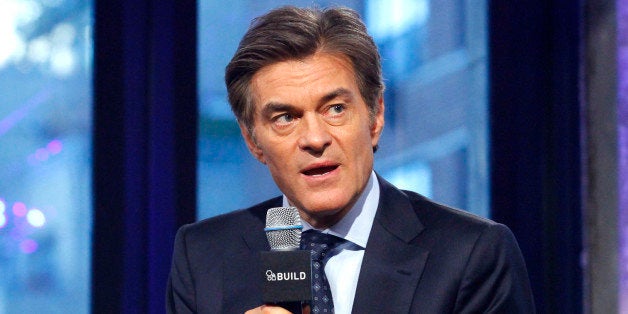 I come to you as an advocate. As someone on your side. I'm sure you can relate being the wonderful doctor that you are, an advocate who advises people to make better choices. Even when they'd rather make poor ones. (After all, we all know pizza tastes a lot better than kale!). So, for your own good, I'm staging this intervention: your choice to have Republican Presidential-nominee Donald Trump on The Dr. Oz Show is a highly damaging decision.
I've watched and supported The Dr. Oz Show since it's debut in 2009, loving your tireless approach to educating people on their health and your open-mindedness to alternative approaches both proven and experimental (even if your critics don't like it!). You have a talent at taking complicated medical information and distilling that down into easily digestible information. You haven't shied away from controversial topics either, and there's been times you've even been confrontational. But perhaps because you're such a warm, gracious and kind host -- and that's what viewers like about you -- some of the harder hitting stories have fallen on correspondents like (fair but tough) investigator Elisabeth Leamy and Consumer Reports contributors like Dr. Urvashi Rangan. And if Trump is going to be on your show he merits a hard-hitting interview on many fronts.
Trump's agenda for being on your show is obvious. He's failing among suburban women. And minorities. And we both know who some of your biggest supporters are. (And I've been to a show taping, so I can attest!). Considering The Oprah Winfrey Show helped launch your television career (and Oprah's production company, Harpo, produces your show) it makes sense that you've enjoyed a crossover with her diverse audience. Trump will love having access to your audience considering he polls so low with them. But having Trump on your show -- this well-documented racist, sexist, xenophobic, mocker of the disabled -- is an insult to a large portion of your viewership. It's definitely to Trump's advantage to try and "soften" his imagine being interviewed by a nice guy like you. Especially when a Washington Post/ABC poll released just this past weekend reveal 60 percent of Americans believe Trump is "biased against women and minorities."
So, I must ask you, Dr. Oz: why use your platform to legitimize this voice? To join with this voice? If you ignore what Trump has said, you are complicit in it. An accomplice. An enabler. A bystander to the disgraceful things he has said to and about many members of your television audience. (And I won't even wade into the white privileged businessman helping another white privileged businessman argument, but I'm sure someone will...)
You can try and justify it by saying the focus is on Trump's health. But from a medical standpoint, Trump's ridiculed and insulted the medical field as well. So far Trump has released the least amount of medical information of a Presidential candidate in modern history. And the letter he did release by his "personal physician" Dr. Harold Bornstein, the doctor admitted writing in just five minutes while Trump's limo waited outside, using such ridiculous language as his health was "astonishingly excellent."
The Washington Post deemed it "a comical four-paragraph letter." Bernstein also admitted: "I think I picked up his kind of language and then just interpreted it to my own." Hardly a serious medical document. Trump and his surrogates have also aired conspiracy theories on his opponent Hillary Clinton's health that many have deemed sexist. (Though perhaps unsurprising from Trump who gained political favor riding on another false conspiracy theory: that President Obama wasn't born in the United States.)
Will you be taking a hard look at Trump's mental health? Besides "the numbers" and physical health, there's a number of top U.S. psychologists who have openly expressed concern on Trump's mental well-being. Donald Trump is a "textbook" narcissist, says Harvard professor and researcher Howard Gardner. "He's so classic that I'm archiving video clips of him to use in workshops," George Simon, a clinical psychologist, told Vanity Fair. And as RawStory noted: "This puts Trump in the same category as a number of infamous dictators like Muammar Gaddafi, Napoleon Bonaparte, and Saddam Hussein."
Trump has already made a mockery of the health profession. Don't let him make a mockery of you. I understand you have reality stars on The Dr. Oz Show sometimes. But having a breezy conversation with random Housewives on health issues just isn't going to cut it this time. Just ask Matt Lauer. His town hall with Trump last week has caused considerable damage to his credibility. His daytime, lightweight interviewing style was no match for master media manipulator like Trump. So while the Trump interview might seem like a real coup for you, my guess is you'll end up a laughingstock. (I should add, MSNBC hosts are already having a field day digging into your credibility on this.)
As someone who works in television, I understand the need for ratings: everyone has a bottom line, and it was reported your last season started on a real slump (according to one report down 50 percent in viewership). Nonetheless, I shouldn't need to explain the need for a code of ethics to a doctor. Back in the late 1990s your mentor Oprah Winfrey made a critical, ethical decision for herself and her brand: she decided to distance herself from the tabloid tv topics and culture that she had become part of. In an interview with Morning Joe in 2011 she explained: "I made a decision in the 90s. I was interviewing skinheads in the Ku Klux Klan, and I made a decision... I was not going to use the platform for anything that I thought would not bring a little piece of light into people's lives."