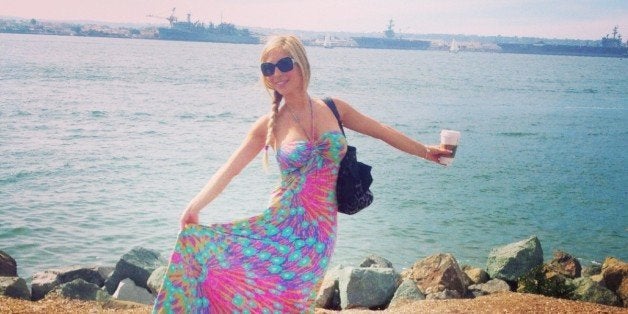 In an ideal world, you would be able to openly and fearlessly state your stage name, or even your birth name; however, it seems you are not as lucky as me to have gone to a school which celebrates your diversity and sexuality. Sadly, the exact opposite is being done to you, and for that, I am so incredibly sorry to hear. I hope I may be able to offer some advice, or at least support.
I want to apologize for all the ignorant, fearful comments your schoolmates at Duke are unloading on you. It is our school systems' responsibility to provide their students with better knowledge and understanding of sex workers and an overall humanitarian outlook on mankind -- but your school, and the schools they attended before Duke, did not. Your peers have degraded you, misrepresented you, judged you, and made you feel unwelcome at an institution at which you seek a higher education. I too go to a great university -- UCLA -- but compared to your experience, my extracurricular activities are well known. I am favorably regarded as being a feminist, bold enough to proudly make and create pornographic material, while attending UCLA's classes.
People will always have questions and opinions. I too have experienced judgment, due to a lack of understanding. Your letter resonated so deeply with me; I can't help but tear up thinking about our predicaments as sex workers.
Though people in LA seem to be more understanding about my career choice, my own family has disowned me. My younger sister did not invite me to her own wedding this December, and I am shunned from ever meeting my nephew, her husband, and their family. Plenty of people I went to high school with have also stopped being my friend. You and I know the very uncomfortable truth of that particular situation -- they just are not able to handle being "guilty by association" with "people like us."
There are others in our industry too shy, or too shamed, by their family and past friends, to ever publicly voice what you have said. Those same, shaming people who have passed judgment on you, have also asked me what I intend to do after college. They have reduced me to my current profession, regardless of the fact it is a legal and legitimate career choice.
I read some of the comments that bullies, who all seem to lurk behind computer screens, wrote to you. Reading them made me want to share with you some of the comments I've received as well. The first is from my ex-stepfather, who was once the district attorney of Orange County:
"From my perspective, you are destroying your life. The best thing you could do for yourself, and for your sister, is to stop. I can't imagine either of your parents could possibly be proud of you, yet you seem so proud of yourself. What decent man would ever want to be with any woman who is doing what you do? You are defining your own future in a way that is a dead end. What happens when your age takes away your desirability for this work? Who is going to want to be with you knowing what you have done? What will you do for a career at that point? What will you do for a family of your own at that point? I would urge you to stop immediately and make those of us who know you once again proud of you. You are, and can be, much better than you are right now."
The idea that I love what I do and feel empowered by it never occurred to him.
Here is more shame from another who "loves" me:
"The idea that my brothers and nephews have seen your twat is more than nauseating. For the rest of your life, this stuff will hang over you -- it's never going away - you'll never be hired for any legitimate job, you won't even be able to volunteer to work with people. I think your future is set in stone. I can't imagine any man wanting to spend his life with you. How would anyone take you seriously after viewing your performances? Do you have any idea how this stuff will affect your children, should you ever choose to have any? I love you and care about you, but you seriously need to get psychiatric help."
The most difficult part about being in the adult industry is the way people treat you outside of the business. We are taught in school to be individuals, to choose our paths as empowered women. Even if our choices go against public judgment, we should be rewarded for taking a stand. Even if our choices go against public judgment, we should be rewarded for taking a stand as strong, empowered women. People want so badly to marginalize us and to make us mutually exclusive to enlightened, autonomous women. You and I own our bodies and what we choose to do with them, and for that we will always be feared.
We have to fight to provide a strong, positive voice for sex workers worldwide. Knowledge is power, and while sexuality is controversial, we need to fight for our freedoms as women to express ourselves and put slut-shame to an end.
We are so blessed to have the opportunity to choose our destinies, to decide what we want to do, and to be able to follow through on those choices. I feel the combination of sexual empowerment, with proper education, positive societal awareness, and ownership of our passions can create the change we hope to see in the world.
I sincerely hope you keep voicing your involvement in porn to the masses, so they will gain the awareness they need to accept sex workers like us. I wish you a fulfilling, long, successful, and wonderful career in whatever and wherever your brilliant, beautiful mind and body take you!
Rachel Swimmer, AKA Tasha Reign
Related
Popular in the Community