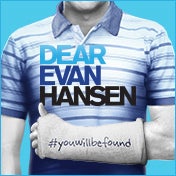 Loneliness and anxiety are feelings many teens can experience. In school, online, no matter where kids are, these feelings can catapult into places where you would never think your teens would go.
The struggles teens face today are so much more real today. Dear Evan Hansen one of Broadway's biggest hits (and I'm guessing a show that will win more than one TONY award on June 11th) has brought real life to the stage.
The show is an amazing musical about a teenage boy who is isolated and anxious and only wants to connect with others. The things he does and the mistakes he makes will leave parents filled with questions about how to help their teens, and leave teens realizing they're not alone.
Dear Evan Hansen shows us how kids get caught up in wanting to belong, how they use social media and their digital devices. Teens check their social media accounts a minimum 100 times a day!
It leaves parents in tears, when one of the characters commits suicide and parents are left asking is my kid okay? What can I do to ensure their safety and well-being? What are they doing online?
It leaves kids seeing things differently and the way they see anxiety and depression in themselves and in others.
In 2015, the National Institute of Mental Health estimated that 3 million adolescents aged 12 to 17 in the United States had at least one major depressive episode in the past year. This number represented 12.5% of the U.S. population aged 12 to 17.
Signs and symptoms of depression in teens
· Sadness or hopelessness.
· Irritability, anger, or hostility.
· Tearfulness or frequent crying.
· Withdrawal from friends and family.
· Loss of interest in activities.
· Poor school performance.
· Changes in eating and sleeping habits.
Parents should not be afraid to talk to their teens about depression. Communicate and often. Seek the help of a professional who can help your teen.
Teens may choose to isolate themselves, or it could occur as a result of bullying or exclusion by their peers. Some common reasons for isolation:
· Isolation can be caused by the way they look, dress, act, or any number of factors.
· Depression is another prime cause of isolation. A depressed teen loses interest in everyday activities avoids participating in school activities.
· Some teens may be ostracized at school due to being academic achieves or underachievers.
· In some cases, a teen may spend too much time on social networking sites and lose touch with peers. Teens often replace real social interaction with chat rooms and conversations with strangers.
· Conditions such as Asperger's syndrome and ADHD can lead to social isolation.
· Shyness can be a cause of social isolation.
Isolation affects teens in a number of different ways and with varying degrees of severity.
Teens may end up in a situation where they can't help themselves. If parents see teens in a situation where they cannot help themselves, encourage your teens to take positive action to overcome their problems. Don't hesitate to seek the help of a professional if needed.
Never underestimate the effects of isolation on a teenager. With the right help and support, most young people can improve their social lives.
Depression, anxiety and loneliness have been age-old problems for teens. Dear Evan Hansen rocks you to your core, and makes you laugh and cry. The music reaches everyone. This show is much needed for parents and their teens and the general public.
Thank you to the writers, songwriters, producers and cast for bringing this issue to the forefront and for entertainment you will always remember. It's a fabulous show and the music will have you tapping. #YouWillBeFound!
Related