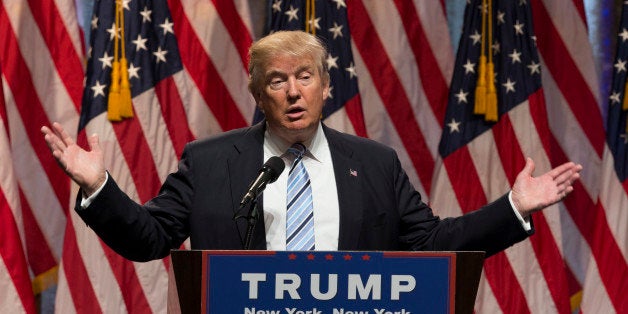 I know the election is tomorrow and I'm unlikely to change any minds, but I'd like to understand all the reasons why you support Donald Trump for president. So hear me out as I try to rationalize your arguments.
"HE'S A POLITICAL OUTSIDER WHO WILL FIX THE BROKEN SYSTEM IN WASHINGTON."

Isn't it great that Trump has no experience whatsoever in politics? That's a real plus. But hey, if your toilet is leaking, would you hire a butcher? No, you'd go on Yelp and look for plumbers--and you'd probably hire even the shittiest plumber over someone who has no experience in plumbing whatsoever. Because at least the worst plumber--a guy named Olaf with a handlebar mustache and ample buttcrack--is better than a really good butcher who's trying to learn on the job by hacking away at your pipes with a meat cleaver.
"BUT HE'S A SUCCESSFUL BUSINESSMAN WHO WILL GROW THE AMERICAN ECONOMY."

Okay. Well, we don't know how successful Trump actually is given that he hasn't released his tax returns. So, as a businessman, he's somewhere between Bill Gates and a guy who owns a ton of Dunkin' Donuts franchises. But let's just assume that despite all his bankruptcies and failed business ventures (Trump Steaks, University, Vodka, Airlines), Trump is, as he says, a business genius. You're going to put him in charge of the American economy for four years, perhaps eight if he's lucky. So he's going to be President, or this country's "CEO", for eight years max. He has been the President/CEO of the Trump Organization since 1971, and I assume he'll be involved with it until he decides to retire. So, if Trump is elected, do you think he's going to put the American people first, or the Trump Organization first? If you think the former, then he's a bad businessman. If you think the latter, then he'd be a terrible choice to lead the country. In both scenarios, you're contradicting yourself.
"I LIKE THAT HE'S GOING TO BUILD A WALL TO KEEP MEXICANS OUT."

Cool. First, let's ignore the super racist part of this ridiculous plan and talk logistics instead. Trump says he's going to make Mexico pay for this wall. So that's basically like giving your ex-girlfriend a restraining order and telling her to build a fence around your house. Do you really think she'll do a good job with it?
"I THINK HE WILL MAKE THE COUNTRY SAFER BY TAKING DOWN ISIS."

ISIS has yet to insult Trump on Twitter so I don't see how they would be on his radar.
"I'VE ALWAYS VOTED REPUBLICAN BECAUSE I BELIEVE IN SMALL GOVERNMENT AND FISCAL CONSERVATISM."

If you believe the government shouldn't spend money, then you probably don't want to see the Trumps in the White House. First, they'll put up a garish Trump sign since Donald claims that having his name on a building increases the value by 25 percent. Then they'll redecorate the interior to make it feel more like home, which means everything has to be plated in gold and Barron will get his stuffed lion to listlessly sit on. They'll tear up the rose garden and construct a golf course so that visiting dignitaries can watch Donald cheat at golf. The White House staff will be forced to serve nothing but well-done Trump steaks and Trump Ice. And Melania will lock herself up in the Lincoln bedroom to administer her daily enemas. You don't do fiscal conservatism in the Trump White House and Golf Club in Washington D.C.
(If you're truly a thoughtful, small-government-minded Republican, how pissed are you that Trump is your party's nominee? I'd be pretty pissed.)
"I JUST DON'T LIKE HILLARY. SHE DESERVES TO BE IN PRISON BECAUSE OF SOMETHING TO DO WITH EMAILS."
Yeah, Hillary Clinton is the worst. It's so unthinkable that a woman who spent thirty years of her life quietly serving her country behind the scenes should dare try to step in front of the curtain. Her ambition is unsettling: She studies too hard. She wants this too much. She's too polished. Sure, her approval ratings were high as a Senator in New York, and yes, Trump himself even spoke glowingly of her back in 2008, but now that she is running for President, she is crooked, corrupt, evil. There's that whole email server thing (in which the F.B.I. cleared her of any wrongdoing, twice now), then the other email thing (when the Democratic National Convention emails were hacked by the Russians to interfere with the election), then the really awful email thing (when she gave away confidential government secrets relating to properly cooking risotto). Hillary may have owned up to her mistake with the email server but no one should be allowed a mistake when they're in the public eye. Can you believe she tried to make an issue of Trump's abhorrent sexual assault comments? Aren't you furious that she repeated his deplorable quotes about minorities, Muslims, the disabled, and Gold Star families? And then those debates! It's just so frustrating when a woman points out that a man has no idea what he's talking about. When she demolished him across the board on every policy point, when she showed her superior temperament, when she didn't lose her cool while being baited--well, that was the last straw. Hillary is truly a monster who belongs in jail.
I still like Bill, though.
-- Signed, all insecure males in America
"BOTH OF THEM ARE TERRIBLE, I JUST THINK SHE'S WORSE."

If you honestly believe Hillary Clinton is somehow worse than a misogynist, racist, megalomaniacal sociopath, then we should not be friends. Donald Trump is a dangerous idiot who blames all of America's troubles on minority groups (Muslims, immigrants) and spouts rhetoric reminiscent of a 1940s German dictator. He is the worst presidential candidate in this country's history (except for maybe George Wallace; they could duke it out). If you are going to vote for him, please unfriend me now and save us both a terrible argument in the comments section.
Calling all HuffPost superfans!
Sign up for membership to become a founding member and help shape HuffPost's next chapter